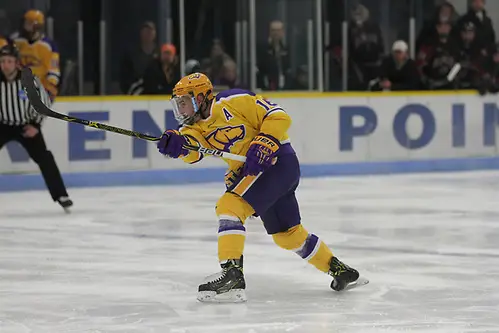 Hey there Santa, hope all is well with you in the North Pole.
As you prepare to make your journey around the world in one night, I have a few requests for you on behalf of the West region of NCAA Division III hockey.
I'll start in the MIAC. Augsburg could really use a winning streak again. The Auggies started off so well, winning eight consecutive games. They've dropped their last five. A few wins under the tree would be great.
But even if you can't deliver, Augsburg is going to be fine. They have a great deal of talent, including Nate Flynn, who is tied for the league lead in points (15). He is second in the league in goals scored (8) as well.
Gustavus and St. John's would both love to stay in first place in the MIAC. Of course, every other team would love to be in first place, too.
At any rate, the Gusties and Johnnies are tied with 15 points apiece, but Gustavus has the better league record at 5-1; St. John's is 5-2. The two teams square off in the final weekend of the regular season, and it could very well be the series that decides the championship.
Bethel could use a few more wins for Christmas. A long winning streak would be great. The Royals are 1-13 and have dropped their last six games. It's been a tough start to the season to say the least. The Royals play hard, and they have lost four games by two goals or less, including two by one goal. So there is hope, and here's hoping Santa delivers for the Royals.
Over in the NCHA, Trine finally has a couple of wins under its belt and the Thunder want to keep it going. The Thunder is a first-year program, so winning doesn't come easy, but it would love to keep the momentum going in the second half of the season.
I'm guessing the rest of the league would love it if St. Norbert lost a game, but the odds of that happening aren't likely. The Green Knights are 11-0-1 and have won their last five games. They have won some close calls along the way, with four victories coming by a goal, and it's a safe bet you will find St. Norbert making another deep run in the postseason this year.
St. Scholastica is hoping to keep its momentum rolling and could use your help as it heads into the second half. The Saints are one of the hottest teams in the league, winning four in a row, and they have the ability to keep moving in the right direction and contend for the conference crown. Nate Pionk has been one of the team's top players, tallying four goals and three assists. He'd love for you to help him keep his remarkable freshman season going. It's certainly been impressive so far.
Like Bethel in the MIAC, Finlandia could use a dose of success for Christmas. The Lions have lost their last eight games and are 0-11-1 overall. Their last win was November 2015. Every team goes through tough times, but this is taking it to the extreme. They need your help desperately Santa. Bring the Lions some Christmas cheer and a few wins, too.
In the WIAC, Wisconsin-Stout is currently in first place in the league standings. The Blue Devils hope to stay there. They have five wins already and have scored 34 goals. Mathias Ahman has played a key role in that success, scoring six goals and dishing out eight assists. He's hoping to keep that up. Wis.-Stout believes in you Santa and is confident you will deliver a WIAC title.
Wisconsin-Stevens Point is looking to win another conference title, and they look like they are in good shape to do it. They have won three in a row and have one of the best offenses, racking up 55 goals so far. They'd love for you to help keep their offense going. Tanner Karty leads the way with 10 goals and 15 assists.
I know you can only do so much Santa, but if you could make those above-mentioned Christmas wishes come true that would be great.
Have a great Christmas everyone and best wishes in the second half.