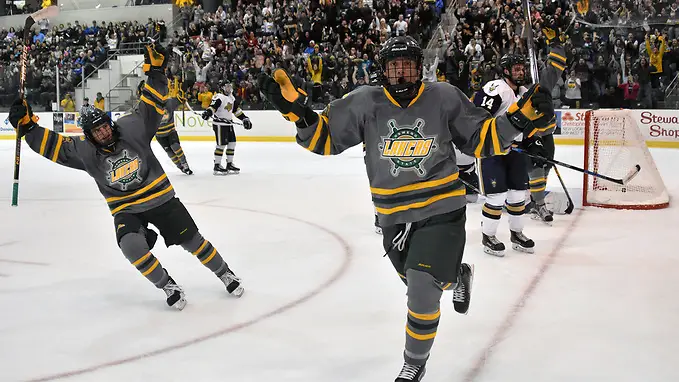 While last weekend's tough 4-3 loss in the championship game of the Middlebury Classic ended a nine-game unbeaten streak for Oswego, the Lakers are still on solid footing entering their own tournament this weekend with a 9-2-1 record and room to grow as a team in the second half, according to coach Ed Gosek.
"We lost 13 seniors, 70 percent of our scoring, and our goaltending in the off season, but these kids have really stepped up their commitment level and work ethic to get us where we are at right now. Everyone has bought into the defensive game and playing hard for 60 minutes each and every night, one period at a time. That may be a bit of 'coach-speak,' but I am pleased with how the guys have come together and the effort they show on the ice in practice and in games. We are still a work in progress, but we got off to a good start, and the players are now really understanding what it takes to be successful at the collegiate level."
The sophomore-laden team has matured quickly, and two prime examples are among the leading scorers on the roster. Josh Zizek and Aaron Huffnagle both recorded six points in limited playing time last season as freshmen. This season, Zizek leads the Lakers in scoring with eight goals and 10 assists for 18 points, while Huffnagle has chipped in with four goals and nine assists for 13 points. Add in junior Cameron Berry, senior Mitchell Herlihey, freshman Tanner Spink, and sophomore Joseph Molinaro and you have a half-dozen players with 10 points or more and secondary scoring from multiple other players in the lineup.
"Everyone has worked really hard in the off season," stated Gosek. "They all know that nothing is going to be given to us -– we have to earn it. We have played a lot of close games this season that could have gone either way with a bounce or mistake. We have made our own 'puck-luck,' and will need to continue to put ourselves in good position to score goals and win games. Everyone understands that, especially after the loss to Middlebury. They competed hard and took advantage of our mistakes with goals. Their goalie came up with timely saves and enough of them to beat us. It's hockey. We have to bring the compete level every night because regardless of a team's record, the talent and skill on all the teams is just so good now that it's true that any team can beat any other team on any given night."
Another area that the Lakers have seen accelerated learning and quality play from has been the pair of sophomore goaltenders, David Richer and Cedric Hansen. Both have split the playing time thus far this season with six starts each. The level of play has eased concerns about the goaltending situation that emerged as a challenge before the season started.
"We knew we lost one goalie with David [Jacobson]," said Gosek. "We didn't find out about the other leaving until just before we got started in the fall, so on top of the graduation losses and impact to the offense we were a bit concerned about what we had in the crease starting the season. Both guys have been terrific as students and as teammates on the hockey team. They are competitive, but encourage and challenge each other with their work in the gym, practice sessions, extra sessions, and focus during games. They have been very consistent in their overall level of play, and I know the team has confidence in both of them, regardless of who plays on any night."
So, what's next in the on-ice curriculum for the 2017-18 version of the Lakers? There are obvious areas of improvement in the coaches' minds and opportunities to achieve certain milestones and accomplishments in building their resume collectively.
"We can be better on special teams," noted Gosek. "The way the game is officiated today, special teams are an important ingredient to any team's success on the ice -– we are no exception. Another learning step would be winning our tournament this weekend. Any chance to win a trophy during the season is important, and to do it on our home ice would be great. While we don't have a team from the west this year, for the first time since we've hosted the tournament the three teams are all very good programs, and any one of them can come in and win this thing. We know what Hobart is about having lost to them earlier in overtime at their place in October. Skidmore has played well against talented teams like Hamilton, Norwich, Babson and New England College, and Manhattanville brings an up-tempo speed game to their matchup with Hobart who is out of their conference for the first time this season. It is a good field, and it will take two very good games by any team to win the tournament this weekend."
Following the Pathfinder Bank/Oswego State Hockey Classic this weekend, the Lakers have just a couple of nonconference games remaining with Nazareth and Utica before closing out the season with eight SUNYAC contests, including five away from home.
"We haven't played Morrisville yet," said Gosek. "But we know for sure they are going to play hard like everyone else we have seen so far this season in the conference. The depth in the conference is very good, so picking up four points on a conference weekend is a big accomplishment -– not easy to do with teams like Potsdam and Plattsburgh back-to-back. We hope the effort and desire to learn and be better will continue to help the players and the coaches improve in the second half."