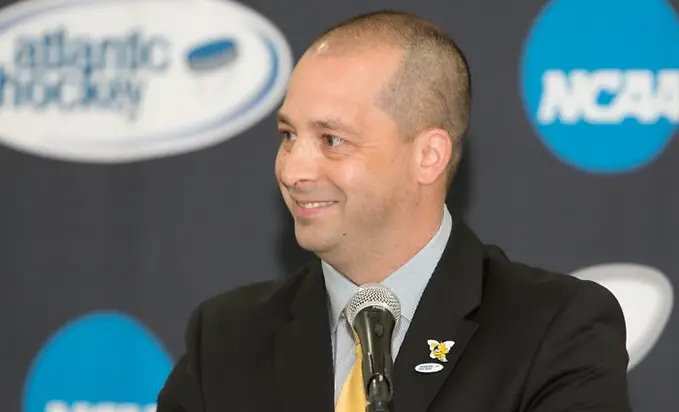 At first glance on paper, the Northeastern-American International game last Saturday probably seemed like a sure bet.
The No. 8-ranked Huskies, after all, have one of the nation's most prolific offenses, averaging over three goals per game with one of the nation's best power-play units. They paired that with one of the nation's best defenses and individual players likely to dot final awards and future NHL rosters.
But 40 minutes into the game, the Huskies learned they didn't lead the Yellow Jackets in one major category never quantified on paper — heart.
"We had a game plan to make sure that anything we gave up would be on the outside of the ice," AIC coach Eric Lang said. "They have a high-profile offense, and we defended it. There were big portions of the game where I thought we had them on their heels. We weren't in survival mode for 60 minutes, and maybe it was quite the opposite."
The Huskies ultimately wound up with a 3-1 victory, but the game taught the nation that AIC is simply willing to bring the fight to anyone on any stage at any time. It limited the Huskies to a 12-8 shot advantage in the first period, then turned in a 12-7 advantage of its own in the second period despite being handed three penalty kills, only one of which resulted in a goal.
The Huskies regained a one-goal advantage in the third period, scoring again on the power play, but never pulled away before a late-game, empty-net goal sealed AIC's fate.
"The power plays were 6-2 (for Northeastern), and usually the team with more power plays will have more shots," Lang said. "But we outchanced them five-on-five and outshot them five-on-five. I thought our guys were unbelievably resilient, and they had no back down in their game. That's a great sign for AIC hockey."
It's continuing the build of a reputation as one of college hockey's toughest outs.
Saturday ended in defeat, but it's the fourth game decided by two or less goals against teams from bigger conferences. Earlier this year, AIC jumped out to a 3-0 lead and led 4-3 in the third period against Connecticut before ultimately falling 6-4. They followed it up with a strong showing the next night against Massachusetts, only losing 3-1.
That led to the Penn State weekend, where another two-goal loss preceded an overtime win in Hockey Valley over a nationally-ranked opponent. In late November, the Yellow Jackets arguably outplayed Niagara but came up short 3-1 thanks to an empty netter.
On Saturday, it happened again.
It's a modest step forward for a team changing its expectations, both internally and within the greater hockey community. In virtually every game, AIC has been competitive. That's hardly a silver lining for players who want to win, but that the Yellow Jackets are in that position to be angry at a result is in and of itself indicative of the program's new foundation.
"The part I liked most about Saturday was how genuinely disappointed our guys were (with the loss)," Lang said. "It's no longer the standard for AIC to just hang (with teams). Our guys want to win those games. I told the guys that I loved how disappointed they were. I'm hoping we can bank it and capture it and grow from it, and this will help our guys start to believe in (their performances)."
It's also something that can both battle harden and prepare the Yellow Jackets for a return to Atlantic Hockey play. They'll spend the majority of the season's second half on the road, playing only four road games between now and the end of February. They have road trips to Canisius, Mercyhurst and Air Force, with four games left against Holy Cross and a remaining game against one of their biggest rivals, Bentley. There's also the last nonconference game sprinkled in against UMass Lowell, on the road, right before the season's last three games.
"Our guys are pretty glued into the metrics of what will make us more competitive," Lang said. "When I first got here, we wanted to become more competitive. Right now in conference, we're giving up the least amount of shots on goal, and that's going to set us up for success. We're not scoring as much as we like, but we're defending really hard and defending the right way. I'd rather have it that way and find ways to chip in than have to patch it defensively.
"We're playing to get to Rochester," he said. "That's the goal. And I feel like our group is as good as any to take that step."
The Yellow Jackets play a home-and-home with Holy Cross this weekend. On Friday, they host the Crusaders at the MassMutual Center at 7:05 p.m. EST before heading to the Hart Center on Saturday, also at 7:05 p.m.
On the defensive
Lang's claim that his team limits opponents' shot selection isn't wrong.
The Yellow Jackets are allowing a sliver over 25 shots per game in Atlantic Hockey play. That's nearly a shot better than second-best Air Force, who enters this weekend with 25.9 shots allowed per game. They're the only two programs under 26 shots per game, with Niagara and RIT joining them as the four teams currently under 30.
On the flip side, Bentley is allowing a league-high 33.2 shots per game, followed by both Sacred Heart (32.2) and Holy Cross (32.1). The middle pack sees Army West Point, Canisius, Mercyhurst and Robert Morris all between 30 and 31 shots per game allowed.
Obviously the bigger stat to focus on is a team's goals against average, but Murphy's Law has a point to make: you can't score if you don't shoot.
Here are the teams, stacked up through this week:
AIC: 25.1
Air Force: 25.9
RIT: 27.1
Niagara: 27.5
Mercyhurst/Robert Morris: 30.3 (tied)
Canisius: 30.7
Army: 30.9
Holy Cross: 32.1
Sacred Heart: 32.2
Bentley: 33.2
Grinding it out
Northeastern finishes its Atlantic Hockey tour this weekend when it plays a home-and-home with Bentley.
It'll kick off a grueling stretch for the Falcons featuring eight games in three weeks. They'll return to conference play with Sacred Heart on Tuesday, then head to Army West Point for a pair of games next weekend. They'll then host the Pioneers again the following Tuesday before heading to Robert Morris in a return match of the league's longest bus trip.
Sacred Heart has it arguably as tough. The Pioneers play Army West Point at the Nassau Coliseum on Saturday, then head to Bentley on Tuesday. Next weekend, SHU draws a home-and-home with Holy Cross, a deceptively long road trip of about three hours. After the second Bentley matchup, they head to Air Force for a pair of games in Colorado Springs.
At least Sacred Heart has a weekend bye on Jan. 26-27?
Players of the month
In lieu of the weekly awards, here's who earned recognition for their play last month as the first half wrapped up.
Player of the Month – Robert Morris' Brady Ferguson: Ferguson had five goals and eight assists in six games last month, finishing December with a plus-7 rating.
Goalie of the Month – Bentley's Aidan Pelino: Bentley enters Friday night's game as winners of six straight games dating back to last month. That's due in no small part to Pelino, who went 3-0 with three straight 30-save performances and a .958 save percentage.
Rookie of the Month – Bentley's Luke Santerno: The Falcons' power forward had six points, including two goals, in his team's wins over AIC, Brown and Dartmouth.