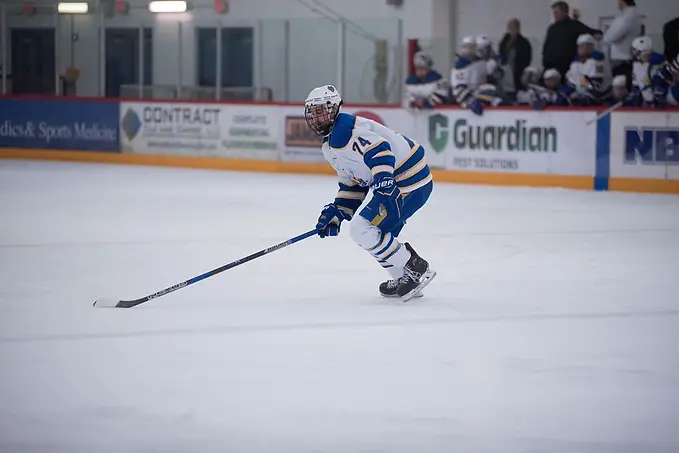 Mark Whiteley has been a consistent contributor on both ends of the ice throughout his collegiate career. Whether it was his freshman season at Marian when he earned a spot on the NCHA All-Freshman Team, or last season when he landed on the All-NCHA squad, the senior defenseman out of British Columbia has made his presence felt on the ice.
This season might be his best yet. He already has four goals and nine assists, but more importantly, St. Scholastica is storming through its schedule, rattling off eight consecutive wins to establish itself as one of the hottest teams in NCAA Division III hockey.
"It's been a lot of fun coming to the rink every day," Whiteley said. "The atmosphere is a lot of fun, and we feed off each other."
Whiteley has taken a give-everything-you-have approach to this season, and that's not a surprise. He is, after all, a senior, generating a sense of urgency inside of him.
"As a senior, with this being my last year, I'm playing every game as if it's my last," Whiteley said. "I'm doing what I can to help the team. Personally, I'm having a pretty good year offensively, and I guess defensively as well, and the credit goes to my teammates."
The Saints are 11-5-1 overall and 5-4-1 in the NCHA, good enough for third place in the North Division. They are two wins shy of matching last season's win total. This season didn't start out looking like one in which St. Scholastica would be a contender. Things went south in a hurry after a 3-0 start to the year as the Saints dropped five consecutive games during a six-game winless streak.
Times have certainly changed. The Saints haven't lost since falling 4-1 to Adrian Dec. 1. Their unbeaten streak stands at nine games.
"It took us a little time at the beginning of the year to grasp the systems," Whiteley said. "Once we came together and bought in, we have been clicking on all cylinders. It's been fun."
Whiteley has been instrumental to the success, maintaining the consistency he has enjoyed since becoming a college hockey player. He scored four goals and eight assists as a freshman and finished with two goals and 12 assists as a sophomore, his first season with the Saints.
A year ago, Whiteley tallied three goals and 14 assists. He hasn't missed a beat this year and credits a productive off season for being able to step up his game another notch.
"My overall fitness has improved," Whiteley said. "I took this off season and did a little extra. I got extra workouts in and improved my speed, and it's been paying off with getting up and down the ice and getting shots off."
Whiteley isn't the only one fueling this special season for the Saints. Kyle Star leads the team in points, tallying four goals and 11 assists, and four others have come through with at least 10 points, including Nate Pionk, who has managed to punch in four goals while dishing out eight assists.
Parker Mismash has tallied four goals as well. Jordan Fralich leads the team in goals scored with five. Stellar goaltending from Nick Trenciansky has been huge as well. He owns a 5-1 record and has racked up 158 saves.
Whiteley also points out that compared to a season ago, he and his teammates have paid more attention to one important thing.
"The little things," Whiteley said. "We pay more attention to detail and have gotten good contributions from our freshman class. They have proven to be a big asset to us."
Leadership can't be overlooked either. Whiteley and his senior teammates have done a solid job of providing it.
"For me, I just try to lead by example, working my tail off day in and day out," Whiteley said. "I do extra workouts and spend extra time on the ice, and my teammates see that and are eager and excited to join me."
Whiteley can't say enough about the experience he's had at St. Scholastica. It's one he won't ever forget.
"I've really enjoyed my time here," Whiteley said. "The city is fantastic and beautiful, and I love the school. It's been a wonderful experience. It's bittersweet it's coming to an end."
However, it's not over yet. The Saints still have games to play, including a showdown with top-ranked St. Norbert Saturday night at home.
"It's a game we have marked on our calendar, but we don't want to overlook Friday night (against Finlandia)," Whiteley said. "But we know the importance of that game with St. Norbert, and we've matched up well with them over the years. Anything can happen. We are rolling right now, and hopefully, we can continue to roll."
MIAC
Concordia coach Chris Howe won the 100th game of his career Friday night after the Cobbers overcame a 2-0 deficit to knock off Saint Mary's 5-4 in overtime. Howe is only the third coach in program history to get to 100 wins. He began his career at Concordia in 2008 and is only the third coach at the school in the last 40 years.
Augsburg scored five or more goals in a game for the seventh time this season in its 6-2 win over Wisconsin-Stout Saturday. They have outscored the opposition 63-38. It was also a special night for first-year goalie Daniil Gerasimov, who earned his first collegiate win.
NCHA
Derek Thorogood of Marian recorded his second hat trick of the season as he helped the Sabres knock off Finlandia, 6-0, Friday night. Thorogood pushed his season goal total to 11. He also has 13 assists. The senior forward has scored nine or more goals in each season of his career and needs only one more to get to 40 for his career.
A.J. Smith recorded a shutout in Northland's impressive win over the Milwaukee School of Engineering Friday night. The Lumberjacks won the game 1-0. Smith made 39 saves for his second win. The junior has appeared in nine games this season, making 289 saves.
WIAC
Brennen Miller scored a pair of goals for Wisconsin-Stevens Point in its games against Augsburg and Saint John's. The goals this past weekend are his first since Dec. 1. Miller, a sophomore, now has six goals on the year to go along with his three assists.
Zach Dyment made his fifth consecutive start in goal for Wisconsin-Eau Claire Saturday and helped the Blugolds to a 4-2 win over St. Olaf. He stopped 20 shots to earn his third win of the season. Dyment has made 122 saves in all this season.
In the poll
St. Norbert is still the No. 1 team in the nation and one of three teams from the West ranked in the top five. Adrian is third and Wisconsin-Stevens Point is fourth. Augsburg checks in at No. 14 this week.