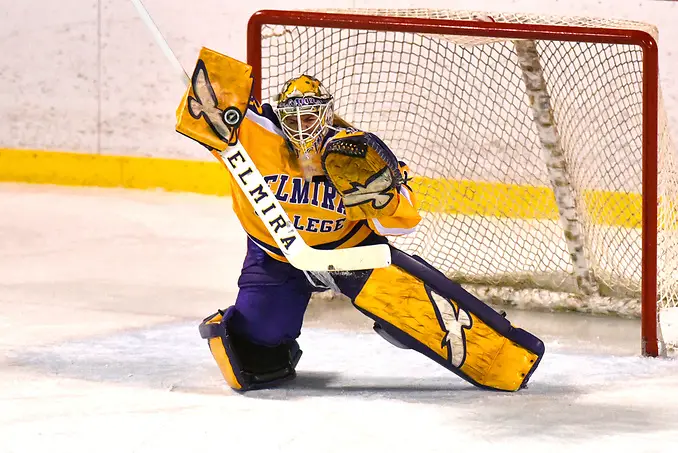 An overtime loss to Adrian in the national semifinal was not the way the Elmira Soaring Eagles saw their season ending last year. So far this year, they've avenged that loss and upended four-time defending national champion Plattsburgh. They are undefeated in conference and 13-2 overall as they head into a key weekend match against No. 3/2 Norwich.
With senior Sarah Hughson having a career year up front and senior Kelcey Crawford settling in for her first season as the full-time starter, Elmira is primed to make another run for the postseason and is feeling confident that this year will have a much happier ending.
It's been an interesting and unique run for Elmira, whose coach left before last season to join D-I Penn State. The university promoted an assistant, but by the first week of the season announced she was leaving the program and men's assistant Tim Crowley was named interim head coach.
The Soaring Eagles handled themselves well despite the off-ice distractions, and Crowley is back in the head coaching role, this time officially. Having had a season and then some to get used to his style and implement his systems, this season is as comfortable and confident as the team has felt, said Hughson and Crawford.
The Soaring Eagles are coming off a pair of wins against Utica, which served as an effective rebound for their confidence after losing twice in four games — once to Amherst and once to Plattsburgh.
Competing for the first time in the brand-new UCHC, the Soaring Eagles are learning to balance the highs and lows of their schedule while also trying to build toward the postseason. Though most coaches try to keep their team at a pretty even level throughout the season, it's impossible for the players to ignore the importance of this weekend's game with Norwich. Not only will it affect both team's rankings, but there are quality win points on the line and the likelihood that the winner of this game will earn home ice.
"This game is huge, and I think we're all just focusing on that," said Crawford. "We know how big this game is going to be. We know what it means for our chances in March, so (we want to) give it everything we have and hope for the best. It's just making sure that we are system strong. Being confident. Playing our style of hockey. We know it's going to be a physical game, so we're getting ready for that as well."
On paper, there doesn't appear to be much that separates Elmira and Norwich. Their team defense and team offense numbers are virtually identical. One big advantage Elmira seems to have is in Crawford.
After having split time in net in her junior year, Crawford is the starter for the Soaring Eagles. She admits that in the past she's struggled with confidence and finding her role on the team, but that work with the team's goaltending coach and the strength of the team around her have left her feeling as strong and sure of herself as she's ever been. There's more pressure, but there's a lot more excitement as well.
Her personal confidence is backed up by the third-most-prolific offense in the country, leaving her about as sure on the ice as anyone can be.
"It helps me relax a little bit (knowing how good Elmira's offense is); in the Adrian game, I made a little mistake and my team had my back and we ended up winning 5-1," said Crawford. "They're going to pick me up and they're going to pick the whole team up. The defense is blocking shots and stepping up and then we have the forwards taking care of it in their end. It boosts my confidence. It's awesome to be part of a team like that. They say, 'We got you.'"
Though the immediate focus is on a pair of nonconference games this week, Elmira will finish out the season with a month of UCHC contests. While the team can't help but think about the long-term implications of a win or loss against Norwich, those are all a bit hypothetical until the Soaring Eagles take care of business in their conference.
"Conference is huge," said Hughson. "We like to stay on top the whole time through. It's the first step to getting to where our final goal is. Winning conference and being number one throughout the season is always going to be our first step, and it's not something we can overlook. Our conference games are just as important as playing big teams."
It's a delicate balancing act, being both short- and far-sighted about the season and trying to hone their skills and grow as a team when the schedule flips between nationally ranked squads and those who sit at the bottom of the UCHC table.
It can be difficult for a goaltender to play in games where they only face a few shots a period. Crawford said they're more difficult than the games where she might face 60 shots. When she's facing that much pressure, she doesn't have time to think. She relies on her reflexes and muscle memory and years of working to become the type of goalie she is now. There is little-to-no thinking that happens in those types of games.
However, there's something to be learned in each situation, she said. The lower shot-total games are the ones where she works on her own mental game and on keeping herself prepared for whatever might come her way.
The Soaring Eagles have already proven the can handle a lot of upheaval, and they've only grown and gotten better thanks to it. Rolling with the changes of last season brought them together as a program, and there's a comfort level and closeness to the squad that might not otherwise have happened organically. They've weathered it all, come out stronger, and are focused on making the very best of the time they have left on the ice.