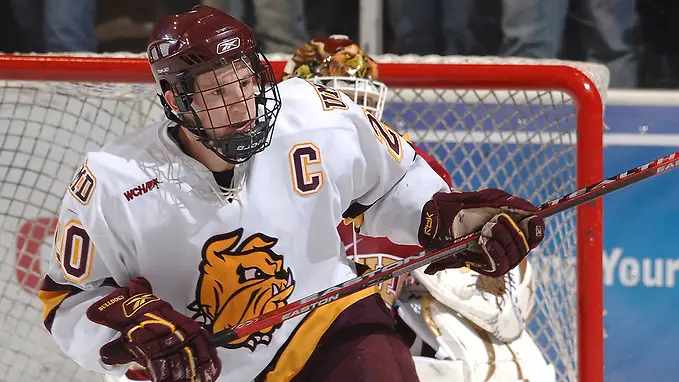 Andrew Carroll, a four-time Minnesota Duluth letterman and multi-year team captain, has passed away at the age of 32.
The Shoreview, Minn., native owns the distinction of being the only individual in the 74-year history of UMD hockey to hold some type of team captaincy role for at least part of four different seasons as he served as a tri-captain during his final collegiate go-around in 2008-09, co-captained the Bulldogs as a sophomore, and was an alternate team captain in 2007-08 and for the month of December while a rookie.
A three-time WCHA All-Academic Team honoree, Carroll skated in 153 lifetime games with the Bulldogs and had 69 points (34 goals and 35 assists) to show for it.
"We are devastated and heartbroken by the news our former captain, Andrew Carroll, has passed away," said the UMD staff in a statement. "Andrew was a driven student-athlete, loyal teammate, and selfless leader. He exemplified Bulldog hockey in every way, and it is clear how much he meant to this program by the outpouring of emotion we have received from his teammates and other alumni since we heard of the accident."
"We are deeply saddened to share of the loss of Andrew, an amazing brother, son, uncle, nephew, cousin, teammate, mentor, and friend who died tragically after a fall at the Chicago O'Hare Airport," added the Carroll family in a statement. "We are deeply grieving but have the assurance that he is in the loving arms of Jesus because of his decision to accept Christ. At this difficult time, what also gives us comfort is that his life meant so much to so many people and he was able to give the gift of hope by donating his heart and organs so that others might have life. May his love for Jesus and others live through each of us. We are in the process of making arrangements for his celebration of life and hope you can join us as we honor Andrew."
*** (UPDATE, Jan. 23, 2018): According to a report in the Duluth News Tribune, Carroll's death has been ruled a suicide. ***
In 2008-09, he became the first Bulldog men's hockey player to receive the Shjon Podein Community Service Award (presented annually to a UMD student-athlete who best exemplifies leadership qualities on and off the field of play and has made noteworthy humanitarian contributions in the Duluth and UMD communities).
Carroll was also one of 10 NCAA Division I hockey players who were chosen as finalists for the 2008-09 Lowe's Senior CLASS Award.
After graduating from UMD with a Bachelor's Degree in physical education, Carroll went on to play professionally for seven seasons with nine different American Hockey League and ECHL teams.
In honor of Carroll, the 2017-18 Bulldogs will sport a special "AC" decal on their helmets.