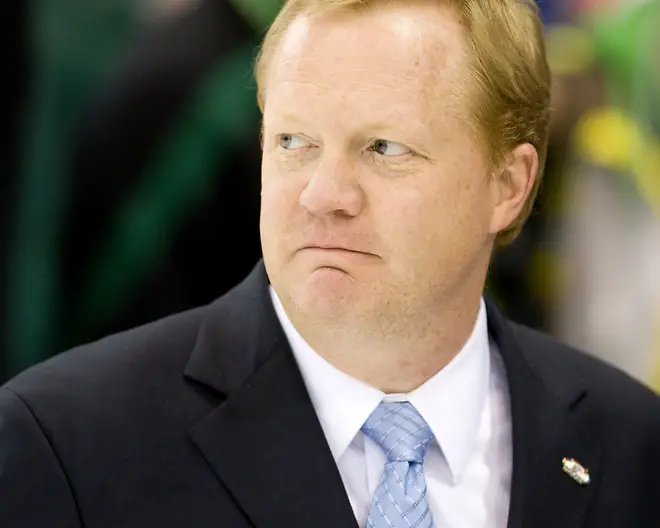 Longtime college hockey television analyst Dave Starman remembers well the night in Saskatoon when Team USA won gold at the 2010 World Juniors.
The U.S. had lost on New Year's Eve to Canada in the preliminary round, but the Americans found themselves leading their international rivals 5-3 late in regulation.
That was until Jordan Eberle scored twice in 1:14 to ignite the pro-Canada crowd in what seemed like another inevitable moment for Team Canada.
The reality was this was Canada's tournament. They'd won five straight gold medals and though the Americans looked like they were about to end that streak, Canada once again had found a way to stomp on the American's hearts.
Not so fast.
This was an American team that was the long-awaited prospect of greatness. Hockey had grown in the United States and revolutions in developing young players helped assemble a roster of players who didn't need a fluke to win international titles any longer.
So when John Carlson's shot slid through the pads of Martin Jones at 4:21 of overtime and the Americans had captured gold for just the second time in tournament history, the reaction of USA Hockey's Jim Johannson was appropriate.
"I looked over to the booth next to me to see USA Hockey's reaction," said Starman, who was broadcasting the game for NHL Network. "There were a couple of guys in the with their arms in the air celebrating. And then there was Jimmy in there. And he had this look on his face like a proud dad.
"He wasn't jumping around or going crazy. It was a just a look of pride to what he had just witnessed."
That pride was likely an understanding that years of work for Johannson and his USA Hockey staff had finally not just delivered the Americans gold, but allowed them to slay the Goliath, Canada, to take the ultimate prize.
Johannson was a major architect in that victory as well as the five medals – two of them gold – that the Americans have since won in that tournament.
On Sunday morning, Johannson passed away suddenly in his sleep, sending shockwaves across the hockey world.
Johannson, who was known as "JJ" to almost anyone whose path he crossed, was only 53.
Since 2000, USA Hockey has been Johannson's pride and joy.
He joined the staff as manager of international relations and Olympic committee relations, but he quickly ascended to his position of assistant executive director, which included serving as the general manager of not just the U.S. Under-20 men's team that competed at World Juniors, but also the U.S. men's Olympic team.
Anyone who has followed American hockey in recent years, knows that miracles, like the one that occurred in 1980 in Lake Placid, aren't as miraculous any longer.
With Johannson a major influence, USA Hockey has grown to a leader in coaching and developing its youngest players creating a pipeline of top-tier American players that not just dominate in international play but, in recent years, have become the backbone of the NHL.
Johannson's passion for USA Hockey should shock no one. He himself represented the U.S. at the Olympics in 1988 and 1992. Maybe it was those two Olympic games that changed the blood in his veins to add the colors white and blue to the existing red.
But to know Johannson was to understand that he loved everything about his job.
In essence, Johannson's job as general manager was to identify talent, something he did extremely well. But he went about it without any ego.
He had no problem seeking out other people's opinions to get a broad understanding of each and every prospect. His collaborative nature not only gave him a complete and thorough understanding of his teams, it allowed him to feel assured he had assembled the best on-ice product.
I only had the opportunity to meet or talk to Jim about a dozen times. It was always some sort of interview, either for a story or on a radio program. Jim was a pretty quiet guy, but when given the opportunity to talk hockey, he could talk for days.
It was talking hockey where you could understand the spirit he had. It was a spirit for hockey and a spirit for Team USA that seemed unsurpassed.
Going back to Johannson's role as general manager, this year the role took on a new meaning. With the understanding that NHL players would not be allowed to participate in the upcoming Olympics in South Korea, it became Johannson's job to assemble a competitive team of both college and minor league players to represent their country.
Johannson met this challenge head on. I know on a given Friday or Saturday night, I might see him around a college arena while he and his staff undoubtedly combed the American Hockey League and international professional teams to select Team USA.
He said afterwards that the best days of his life were those in which he had the opportunity to call players to let them know they had made the team. He was telling players who, in most cases, had worked so hard their entire athletic lives that they were now Olympians.
To understand the significance of those calls and know how special they were showed Johannson's persona. This wasn't just a job and a business. This was a passion and his passion allowed him to reward the passions of others.
In a few days, those 25 Olympians will board a plane for PyeongChang. They'll be going there with hopes of representing their country well and, maybe, bringing home a medal.
It's unlikely, though, whether they leave with a medal or not, that any of the 25 will be able to leave South Korea without thinking of the man who brought them there — the man who meant so much to USA Hockey.
Jim Johannson will forever be missed in the world of hockey.
Fortunately, as Team USA succeeds in years to come, his fingerprints and legacy will be impossible to forget.