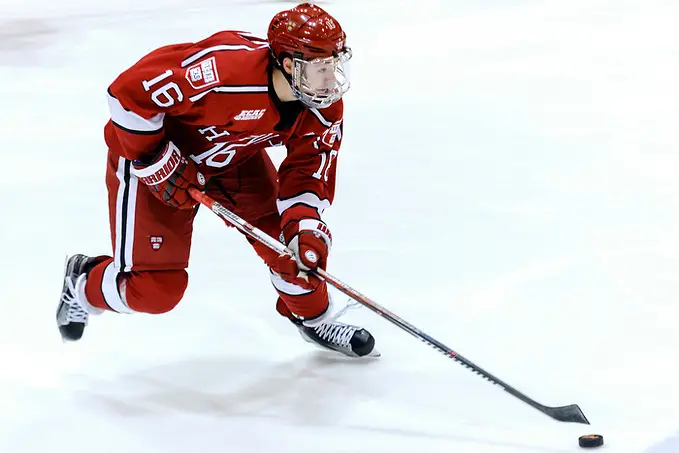 Each week during the season, we look at the big events and big games around Division I men's college hockey in Tuesday Morning Quarterback.
Paula: Well, Jimmy, it was probably bound to happen some time.
Notre Dame's win streak came to an end at 16 games after Wisconsin beat the Fighting Irish 5-0 Sunday afternoon. It was the first game since Nov. 11 that Irish had given up more than two goals and only the second time in 21 games this season that goaltender Cale Morris had surrendered more than three goals in a game.
For the Badgers, it's only their second win in their last eight games. There were a bunch of penalties in the game, a lot of shots on goal for both sides, and Wisconsin netminder Jack Berry stopped 40 shots in his third shutout of the season, the sixth of his career.
Entering the weekend, Clarkson was enjoying a 14-game win streak, but that came to an end with Friday's 6-6 tie against Harvard and the unbeaten streak ended with Saturday's 3-2 loss to Dartmouth.
The outcome of those games along with other results among the top 10 teams has voters divided. Now Cornell's unbeaten streak is at eight (7-0-1) with two impressive shutout wins over Colgate this weekend, earning the Big Red 15 first-place votes. Clarkson earned a first-place vote. Denver beat Omaha 5-0 and 4-0, and the Pioneers extend their win streak to three games and earn a first-place vote. St. Cloud, Ohio State, Northeastern and Providence all split series, while Minnesota State and Minnesota Duluth both swept and each of them edged up in the poll.
I can't think of any word other than "interesting" to best describe the weekend, and I can't help but think that this is what happens when conference play intensifies down the stretch.
Jim: I'll add another word – tumultuous – to this weekend, because the various results, with so few teams across the country able to exit the weekend with two wins, it creates a lot of movement in both the poll and the PairWise.
One of the biggest winners on the weekend was Minnesota Duluth. The Bulldogs are now eighth in the PairWise and moved from 14th to ninth in the USCHO.com poll. That's a big jump at this point in the season.
This is a great time to be playing good hockey for Duluth as Friday began a span of five games in eight days ALL against teams ranked in the top 10 in the USCHO.com poll. The offense, which as the first half came to a close was struggling a bit, is producing, having scored 21 goals in the last four games.
Also impressive about the weekend sweep of North Dakota is the continued dominance the Bulldogs currently have over the Fighting Hawks. Duluth has won eight straight dating back to the 2015-16 season and including a victory in last year's NCHC championship game. It's difficult for one team to beat any opponent eight straight times. Make that opponent North Dakota and it's so much more impressive.
Paula: Tumultuous for sure.
Minnesota Duluth is a prime example of how the importance of strength of schedule can be amplified, especially at this time of the year. A good showing in this little span can solidify Duluth's position in the PWR heading into the last full month of regular-season play. It doesn't hurt, too, that the Bulldogs play in the strongest conference in college hockey.
This past weekend at Madison Square Garden, the PWR was the topic of discussion more than once among those in the press box. Minnesota has been struggling all season but has managed to move up from a tie for 15th to a tie for 10th in the PairWise – not as solid as the Golden Gophers would like, but not the bubble team they were last week. The Gophers are also a good example of how a team can be affected by the action around them in terms of the PairWise. Sweeping last-place Michigan State isn't the only factor that affected their modest move up the PWR, but what went on with teams around them – Providence, North Dakota – had an impact.
There was talk this weekend, too, of Cornell's chances for a top seed in postseason, and I immediately thought of the Big Red's strength of schedule with the remaining games. A few losses may change Cornell's fortunes. Of course, if Cornell takes care of business on its own, that's a moot point.
Jim: I'll admit that I haven't really jumped onto the Cornell bandwagon … until now.
I think shutouts are difficult in college hockey, so when a team posts two in a row against a nationally-ranked opponent in a very important league series, you can draw a lot of attention.
The ability of Cornell to shut down Colgate can't be overlooked.
The thought that the Big Red could jump into a No. 1 seed is quite possible. Though in this year's tournament I'm not sure if there is much advantage. There is a very good chance that the NCHC would get six teams in the NCAA field, thus the odds that a No. 1 seed will align against the "lowest" NCHC seed is very possible and hardly an enviable matchup.
Cornell got a bit of experience last season by reaching the NCAA field, so that may help. But seeds likely won't matter in this year's tournament as all 16 teams will likely be able to win.
Before we close this week, I want to change pace a little and recognize a major loss in the hockey world. USA Hockey's assistant executive director Jim Johannson, who serves as general manager for this year's Olympic team and has maintained that role for the US World Junior team as far back as I can remember, passed away suddenly at his home in Colorado Springs on Sunday. He was only 53 and leaves behind his wife and young daughter.
He also leaves behind such a legacy as a great leader and friend in the world of hockey. One of his last official duties he completed with USA Hockey was telling 25 men that they will be Olympians, something that is a little more special this quadrennial given the absence of NHL players. Thus, Jim helped make the dreams of a few collegians and a number of journeymen hockey players. He said making calls to those players was one of the best experiences of his life.
Jim will be undoubtedly missed but the work he has done over the last 18 years to build USA Hockey into an international power will certainly be felt for years to come.
A Tip of the Cap…
Paula: … to Harvard forward Ryan Donato, the first Division I player to reach the 20-goal mark this season.
Donato has eight goals in January, including six in his last four games and three this past weekend. Donato, a junior, is now one goal shy of his career-best 21 goals in 37 games last season.
Jim: Impressively, Donato has reached 20 in just 19 games. It seems that if Harvard is going to have a chance to dig from the early hole it dug itself, Donato will be a big part.
The downside for the Crimson, though a major upside for Donato, is that he will be donning the red, white and blue for Team USA at the Olympics. It's likely he'll miss at least six games for the Crimson, including both games in the Beanpot.
But what player could ever pass up a chance at Olympic glory?