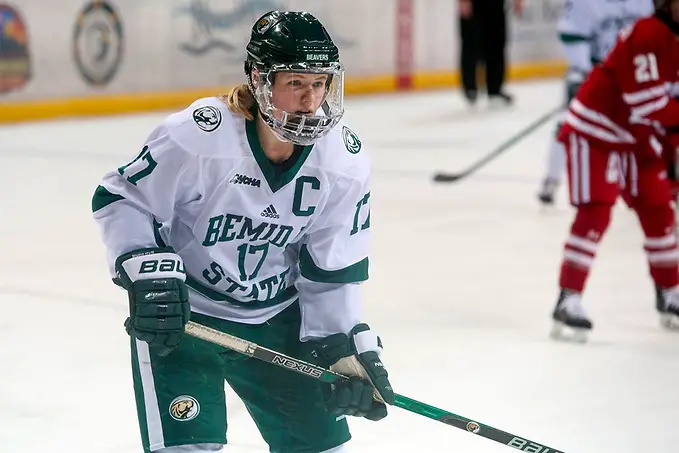 Arlan: The past weekend saw teams ranked first and second pushed to the limit in both games of a series, including a total of three overtime games, by teams with losing records both in league play and overall. Wisconsin and Boston College emerged from the challenge mostly unscathed, although the top-ranked Badgers' hopes of a perfect conference season came to an end when they settled for a 3-3 tie at Bemidji State on Saturday. In any case, the Beavers and BC's foil Vermont demonstrated themselves capable of playing spoiler in the weeks to come.
Clarkson and Colgate, the remainder of the country's clearly-delineated top four and the co-leaders of ECAC Hockey, had an easier time of things. Each scored 11 goals in posting two sweeps, as they combined to outscore their opponents by a 22-3 aggregate.
Ohio State emphatically made the point that it is the second-best team in the WCHA by sweeping Minnesota out of Columbus. Meanwhile, St. Cloud State celebrated being part of Hockey Day Minnesota, including hosting an outdoor game at Eastman park, by taking five of six points from Minnesota Duluth.
BC's closest pursuers in Hockey East, Providence and Maine, suffered losses over the weekend and lost ground to the Eagles, who are on the verge of another season title. The Friars went winless in a pair of games at longtime rival New Hampshire, while the Black Bears split a series down the middle while hosting Merrimack.
In the CHA, Mercyhurst is looking more and more like it's determined to regain the throne, as it swept Lindenwood comfortably, while Robert Morris displayed two drastically different ways of defeating last-placed RIT. Syracuse kept itself relevant in the race by pulling out a pair of overtime wins at Penn State.
What stood out to you from this varied slate?
Nicole: Based on their series last week at Minnesota and this week at Boston College, I'd think we have to talk about Vermont. The Catamounts have been a team to be wary of for a few seasons here. They continue to upset ranked teams and surprise programs and frankly anyone that underestimates them does so at their own peril. But while I'm super excited for what they've accomplished, I'm also a bit sad that they've not been able to do more. Where they struggle most is in tight games. Eight of this year's 16 losses are by two goals or fewer, and they have four ties. Last season, they had nine ties. There's so much potential here, and their 6-16-4 record is not indicative of what they're capable of.
Bemidji State has seemed to have Minnesota's number in recent years and now they played a great series against the Badgers, and I thought the Badgers' youth showed. Sophomore Abby Roque is Wisconsin's leading scorer, but as she's gone through a small slump here, and she's getting frustrated. She's a physical player, and she gets a bit reckless when she's frustrated. Her three straight penalties in the second half of Saturday's game were not her best look. Really though, give Bemidji so much credit. Not only did they stymie the Badgers a bit, they were patient for their scoring chances, ending a 250-plus minute shutout streak for Kristen Campbell. Campbell had given up just 22 goals all season before this weekend, and Bemidji scored six. The Beavers did not quit and came back from three goals down on Saturday, something that would be tough for any team in the country. The question for BSU has always been about consistency. They seem to be able to dig deep for their best against ranked teams and then struggle against teams far below.
I kind of expected that the series in Columbus would be big for one of the two teams — either Minnesota was going to dominate, and it would be a big confidence and momentum builder after the Vermont series, or Ohio State was going to sweep at home and prove that they deserved to have been ranked this whole time. It didn't feel like there would be any in between. I am a bit surprised that it was the Buckeyes that came out of the weekend having made an emphatic statement just because they've had a couple of opportunities this season to go big and they haven't been able to pull it off. I think there's a lot of growth happening at OSU, and the Buckeyes and that program are only going to continue to improve under Nadine Muzerall.
Both Bemidji and Vermont have played spoiler in recent years, but have been unable to make the jump to contender. Do you think that's a step either of these teams can take in the coming seasons, or are they going to be consistently relegated to that underdog spoiler role?
Arlan: Both Vermont and Bemidji State have the capability to progress beyond where they are now. Both are teams that have shown that they can compete in any game. That's a nice step, and it is good for the sport. The biggest obstacle to such programs taking yet another step is that everyone can compete with them as well.
Vermont often struggles to score; the Catamounts had a stretch of six straight games earlier in the year where they scored one goal or less. Not surprisingly, they didn't win any of them. That came on the heels of their biggest win of the season, the 3-2 upset of Clarkson. So UVM is likely feeling pretty good coming off that game, just one game under .500 and ready to make a move, and then the offense goes into hiding. More recently, they score four times to knock off Minnesota and have followed that up by scoring one, two, and one goals in the second game at Minnesota and a series at BC. Even the two goals are fewer than the Eagles' defense averages. It's difficult to have success over the course of a season when the offensive output is so inconsistent. Or maybe it's not that scoring is inconsistent as much as it is that it is consistently quite low. Either way, such teams are better built for the short haul of the playoffs, where they can capitalize on a couple of bounces and spring an upset.
Bemidji State, in my opinion, is a better skating team, it scores more, and is thus better equipped to compete in the standings. The result is a squad that is one game under .500 instead of 10. From what I've seen of the Beavers, their inconsistency has been in net. If they were getting the type of goaltending performances that Zuzana Tomcikova or Brittni Mowat gave them game after game in seasons past, then they'd be a team could make some noise and might be in the hunt for the national tournament. Thus far, however, neither of the BSU goalies are stopping around 93 percent of the shots faced as Tomcikova and Mowat did.
Looking beyond this season, perhaps Vermont is facing an easier road. There is opportunity in Hockey East after Boston College. A number of teams are at roughly the same level, but nobody has shown that they will be in the national picture year after year, other than the Eagles, now that BU has slumped a bit. So if Jim Plumer can put the pieces together in Burlington, there aren't as many roadblocks to the top in Hockey East.
Bemidji is going to have to play at least four games a year against perennial contenders Wisconsin and Minnesota, teams that will both be getting back players from centralization. Maura Crowell's team in Duluth will be bolstered by the return of Maddie Rooney, and the Buckeyes look like they'll be coming off the best season in program history.
Getting back to the present, the best league race looks to be Clarkson and Colgate. The former has the longest unbeaten streak in the country with 10 consecutive wins, and the Raiders have been almost as hot. How do you see that pursuit of a title playing out?
Nicole: I'll definitely like I have a bit more of a grasp on it after this upcoming weekend. Clarkson hasn't really been on my radar among all these upsets as they've been going through a stretch of ECAC games against teams at the bottom of the conference table. I did wonder a bit at needing overtime to beat Rensselaer, but as you've said, they've won 10 in a row and have just sort of been doing what they do. It's not their fault this is the stretch of their conference calendar they've been in.
This upcoming weekend's games should be the two toughest each of these two teams have left on the schedule. In terms of building toward the postseason and getting better, I'm not sure either of their schedules this season is conducive to that. The staff and players are going to have to work extra hard to push themselves and make sure they are where they need to be when the postseason comes. Clarkson still has Princeton and Quinnipiac after this weekend, teams that should push them at least a little, but Colgate's final stretch sees Harvard as their toughest opponent. With every point mattering, it definitely looks like Colgate has the smoother path to ending up on top. Even though we're weeks out, how their head-to-head goes this weekend could be key in determining the league winner. Getting points while the other does not will be a big advantage when they both look like they'll earn all the other points available to them.
Colgate's Livia Altmann was just named to the Switzerland roster for Pyeongchang. I'm not sure when she'll be leaving the Raiders, but they'll have to make some adjustments. She's an assistant captain and a second-line defender for the Raiders, and they'll definitely miss her presence on the ice.
You mentioned the CHA race earlier. Based on the roster and their early play, it felt Robert Morris earning that conference's top spot was a given, but they've faded down the stretch and Michael Sisti's Mercyhurst Lakers were so quietly closing the gap. The Lakers' overall record is 12-12-2, but in conference, they're 9-2-1. It was sort of easy to overlook Mercyhurst based on how they performed before they got into the meat of their CHA schedule, but now anyone who did likely is regretting it. How do you see the CHA race playing out?
Arlan: Mercyhurst looks to have turned some type of corner once we reached 2018. The Lakers lost their first time out after the new year in Bemidji, but they've only allowed six goals in six games and never more than two. They held Lindenwood to a single goal this weekend and none at even strength. Mercyhurst's recipe for success was primarily not to allow shots in the first place; the Lions only had a total of 23 in the series, while the Lakers fired off 75. Maybe Mike Sisti has found success with the type of blue-collar team he coached in the program's formative years. Nobody is averaging a point a game, but the team is making it work, in spite of an absence of stars.
Robert Morris had a totally different weekend. After scoring a dozen times before the series was 50 minutes old, the Colonials fell behind by a couple goals early on Saturday. It wasn't until Jaycee Gebhard's power-play goal in the final two minutes of regulation that they were able to draw even, and then Maggie Lague won it with a couple of minutes gone in overtime with an unassisted goal. RMU already trails by a point in the race and has to travel to Erie, so it was critical to take home all four points from Rochester.
Syracuse needed bonus hockey twice at Penn State to claim a narrow sweep. Given that the Orange are another three points off the pace, one can argue whether that made their sweep either more or less vital. They get another crack at both of the leaders, so catching them isn't hopeless, but Mercyhurst comes calling on Friday. Paul Flanagan's charges really need to sweep that series to have a realistic shot at a league title. They may need the type of magic they displayed in OT, because on paper, they're lacking. Seniors Stephanie Grossi and Alysha Burriss aren't putting up points at the rate that they've come to expect, so the contributions of former UNH forward Brooke Avery have been vital. She leads the team with nine goals and 16 points after a six-point season in her first year at Syracuse. Even that was a jump from the two points she scored in limited action during her two years in Durham. Senior Abbey Miller gets almost all the of the minutes in net, and her main stats are average or below. All of that suggests that there won't be any playoff byes coming the way of the Orange.
Of course, some teams have to earn their way into the postseason. Union earned an unexpected point over the weekend versus Cornell. Did that do anything to improve the Dutchwomen's hopes of getting into the tournament, or did it merely weaken the Big Red's grip on a hosting spot?
Nicole: Can it be both? Making the ECAC tournament is definitely doable for the Dutchwomen, especially considering they've got two games this coming weekend against RPI, which is currently in possession of the eighth and final spot, but only three points ahead of Union. Offense isn't the issue for Union; they're outscoring all but five teams in the league. It's the 51 goals allowed that are really holding them back. If they can get a big weekend in net and on the blue line, they can make up some ground. From there, it will be about beating the teams they should and trying to earn a point here and there from teams further up the table.
Cornell's been sliding a bit each week and now is in serious striking distance for Quinnipiac. Their biggest advantage is that they have two games in hand. The Bobcats will play out-of-conference games with New Hampshire this weekend, meaning Cornell has to earn some points and create a bit of separation. Unfortunately for the Big Red, they're playing Clarkson and St. Lawrence. Points won't be easy to come by.
Last week you gave some insight into Maine from Vermont coach Jim Plumer, and I am admittedly high on the Black Bears. I really like Tereza Vanišová and think there's been some great growth in Orono. Of course, they followed all that attention with a loss to Merrimack. Is it that the Black Bears still have some growing to do and these sorts of lapses are going to happen? Or was it just a really spectacular game from Merrimack, a really young program that continues to grow and show themselves to be pesky. Katelynn Rae's hat trick certainly helped, of course, but what do you think that series tells us about the top of Hockey East and who belongs?
Arlan: Union has gotten solid goaltending at times, and despite some rough minutes of late against Clarkson and Colgate, the save percentage for Coco Francis is still above 92 percent. Versus Cornell, Amelia Murray got the call in goal, and performed well, but the problem was the 53 shots on goal allowed. The Dutchwomen are going to have to defend better as a team, because Cornell typically generates under 30 shots a game.
I'd like to stall a bit more and avoid your question about Hockey East entirely, but I may as well get it over with. Sometimes it almost looks like teams in the league are perfectly willing to step on each other to climb the ladder of the league standings, right up until they climb high enough to glimpse the Eagles waiting at the summit, at which point they retreat a bit to avoid the Eagles' ire. And to be fair, a decade ago BC seemed perfectly willing to do the same thing when New Hampshire was the league bully. Boston University, on the other hand, doesn't look to be intimidated by its rival; the Terriers just don't seem to have much of a climb in them this year.
In reality, there might not be a world of difference between the rest of the conference after BC. With that in mind, no result is that surprising.
Rae is fourth in Hockey East in goals and ranks in the top 10 in the country in goals per game. So she has the capability of turning the result of a game almost single-handedly. The problem for the Warriors is that after Rae's 18 goals and nine more by Mikyla Grant-Mentis, nobody else on the roster has scored more than four. So if an opponent can stop those two, it is likely in good shape to get a win over Merrimack. The Maine series was a perfect example of that, as the Black Bears stopped everyone not named Rae from scoring. On Friday, they held her to a single goal and won, 4-1. Apparently, either the defensive strategy doesn't work two games in a row, or Maine forgot to employ it on Saturday when Rae exploded for four goals and put an end to the Black Bears' 10-game unbeaten streak.
In theory, Maine should be able to get another positive stretch going. The Black Bears travel to Storrs this weekend, where Connecticut has yet to win a league game. Then they host a UNH team that is rather lukewarm. Goals scored versus allowed, wins versus losses, in league or overall — the Wildcats are about even any way that you look at them. They don't have anyone who is having a great season, but just about everyone contributes. So for a team looking to make a move in a positive direction, UNH should be a beatable opponent. Alternatively, if you take them for granted, the Wildcats likely won't go down without a fight in what is a rivalry series.
You spoke earlier about the race to squeeze into the playoffs in the ECAC. What about Hockey East? All year, UConn has been holding onto that ninth spot like it belongs there. The Huskies are seemingly better than the type of teams we've seen miss out on the postseason since Merrimack joined the circuit, and I'd guess BC wouldn't be too sorry to avoid a first-round series with them after the way the head to head played out. But when we look at the other teams near the bottom as potential quarterfinal opponents for the Eagles, we see Vermont, a team that just gave them fits, and BU, a rival with dangerous seniors in Victoria Bach and Rebecca Leslie. The fourth alternative is Merrimack, who BC handled with comparative ease. Anyway, can Connecticut do anything to change its lot and get up to a playoff spot? And if they do, which team drops out entirely?
Nicole: I'm pretty sure in my season preview for Hockey East I basically echoed your words about the rest of the conference below BC being basically interchangeable. I can't say I've changed my mind much when I look at the table to decide who would drop out in order to make room for Connecticut. The Huskies are better than their 1-10-5 record, but at this moment the team they'd be most likely to topple is Vermont, and it feels impossible to look at a Catamount team that just stunned Minnesota and pushed Boston College to its limits and think that they don't belong in the postseason. Coaches love to talk about any team can beat any other on any given day, but that cliché just feels particularly true across the board here this season and especially over the past two weeks. We try to avoid such truisms, but at this point, I'm not sure any upset would stun me anymore this year. If Connecticut is to make a move, I think it will be around Merrimack. They are the youngest and most inexperienced squad and most vulnerable to cracking toward the end of the season. That being said, Merrimack has been remarkable in the program's young history already, and I don't think I see that happening.
For Connecticut to make any progress, they've got to find a way to clinch a close game. Five conference ties and eight overall are huge differences in their season. Even just half of those games going their way would put them at .500 on the year. They also need to tighten up in the third period. Of the 59 goals they've allowed this season, 40 percent have been scored in the third. On the flip side, of the 59 goals they've scored, only 28 percent have been in the final frame. That even goals scored/goals allowed speaks further to the fact that this could be a .500 or so team, and that would put them fighting for fourth through sixth place, as opposed for hoping to sneak into the postseason.
There's really no easy first-round playoff series on the horizon for BC, and though I don't think they're anywhere near panic-level, I do think they have to look at the two overtime games and the loss in the last stretch of five games and wonder how to get things a little more back on track. Teams want to build to the postseason and be playing their best hockey come mid-February, and that isn't the path the Eagles are currently on.
A thing we haven't talked about much is how the lack of a North Dakota squad means just seven teams in the WCHA conference tournament. Wisconsin likely gets a bye on that first playoff weekend. My bet is that Mark Johnson would rather be playing that week. Does that week of rest help the Badgers toward the end of the long season, or does it give a younger squad too much time to think and be in their own head? Or is it just a non-factor? At this point, it's a bit of a novelty that we're not used to, and I'm wondering if it will have any impact on how that tournament plays out.
Arlan: I really don't like the way that the WCHA's postseason sets up for the league's champion, but I'm afraid that there isn't much that can be done about it. While you're correct that it is a novelty right now, we did see it in the league's early years when North Dakota was not yet a member.
The difference is that in those years, the WCHA tournament was a single-week affair and was strictly single elimination. In such an event, it seems as though there would be more of an advantage in having a first-round bye than there is with this format. If six teams are playing in the quarterfinals, but the champ is watching, that No. 1 seed figures to be better rested come the semifinals, and especially the final, when it would be facing an opponent playing its third game in three days. Plus, the top seed is in its normal rhythm of playing a pair of games on the weekend, while the challenger would have the oddity of playing an extra game one a Thursday.
With either format, the bye creates a problem for the champion. You made the point of the Badgers being a young team. Anyone who has followed the sport has observed that the games speed up come the postseason. The stakes are higher and so is the energy level of everyone on the ice. Wisconsin's first-year players won't get to experience that until the semifinals, when all of the players on the opposing team will already have at least two, maybe three, games of postseason experience. They know what it is like to go over the boards with the weight of an NCAA season riding on every shift. If Wisconsin doesn't adjust to that immediately and falls behind, it won't have the buffer that a best-of-three series offers. In addition, UW will be playing at a neutral site as it makes it playoff debut, not in front of the home fans. The teams fight to earn those hosting spots, but Wisconsin will just be hosting bye. Luckily for the Badgers, they will be assured of an NCAA tournament bid by that time, so a stumble in the WCHA Final Face-Off won't end their season.
What I really don't like about the seven-team WCHA tournament is that the players for the top seed lose a bit of their careers. We talk about how NCAA hockey is almost like the NHL for these women. Pro leagues are developing, but they've yet to reach the NCAA level in terms of exposure and interest. Suppose I'm Baylee Wellhausen. I've had my Senior Day game versus Minnesota, and if it hasn't hit me before, it certainly does now that I've only got a few games of college hockey left. If the Badgers win out, I'll get to pull on the jersey with the "W" seven more times, only this year, it is down to five before my postseason even gets started. I'm also down to a single home game, the NCAA quarterfinal, rather than at least three. Players are in the sport because they love to play, and the absence of North Dakota will take a couple of games of playing away from the Badgers. It doesn't seem like much of a reward.
I realize that the alternative, playing a single-elimination, one-week tournament like the WCHA once did or the CHA did last year results in fewer games overall, not more, and does nothing to lengthen the careers of Wellhausen and her classmates. On the flip side, it feels more like a true tournament and it is less unfair to the champion relative to the other teams. Do you have any ideas as to how you'd like to see the WCHA, or other leagues, adjust the format of the league tournament?
Nicole: Your point about the top seed losing those home matches and getting comfortable for the postseason on home ice seems particularly poignant for the Badgers, who are so good at home — they have a 20-plus game home unbeaten streak at LaBahn, which is a big, big advantage for them.
When it's down to six or seven teams, I'm not sure there's much of an option beyond the two you lay out above. With bigger leagues, there could be an option of a play-in game, but the small numbers really cramp the ability to do anything creative. There's an option to make the tournament longer and set up a winners and losers bracket, but that gets pretty long and convoluted and would likely just tire teams out before they think about the NCAA's.
There haven't been a lot of weeks gone by this season where I haven't lamented the loss of North Dakota, but laying out so starkly the effects of a smaller WCHA brings it sharply in focus again this week. The conference was much better for having them in it, as was women's hockey as a whole. I'm not sure I'll ever not be mad about the program getting cut. I hadn't though much about the long-term effects or effects on other teams, but it's clear that the former Fighting Hawks aren't the only ones feeling that loss.