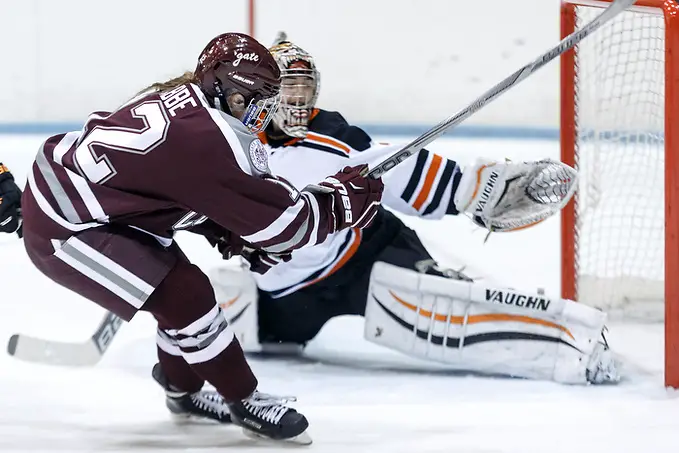 Nicole picked many of the WCHA games correctly, and as such gained two games back on me in our season picks race. I went 18-6-5 (.706), and she went 20-4-5 (.775). On the year, I am 252-91-48 (.705), while Nicole is 246-97-48 (.690).
Friday, Jan. 26
Dartmouth at Brown
Candace: I think the Big Green are a little stronger, but not by much. Dartmouth 2-1
Nicole: I'll take Dartmouth to get the points in this one. Dartmouth 2-1
No. 8 St. Lawrence at No. 2 Colgate
Candace: A big clash is likely to be decided by home ice advantage. Colgate 2-1
Nicole: St. Lawrence took the win in their meetings earlier in the season, but I'll take Colgate at home. Colgate 3-1
No. 3 Clarkson at No. 6 Cornell
Candace: Another big ECAC battle, but this one will go to the visitors. Clarkson 3-2
Nicole: I think I have to pick Clarkson's offense to take this one. Clarkson 4-2
Harvard at Yale
Candace: Harvard is so inconsistent, but I'm picking the Crimson. Harvard 3-2
Nicole: This could be a very interesting and tight game. I'll pick Yale at home. Yale 3-2
Friday/Saturday, Jan. 26-27
RIT at Lindenwood
Candace: These two teams are fairy evenly matched. A split wouldn't surprise me, but picking the right night is a bear. Lindenwood 2-1, 2-1
Nicole: Lindenwood should be able to sweep this series at home at this point in the season. Lindenwood 3-1, 2-0
Mercyhurst at Syracuse
Candace: At this point, I think the Lakers are the team to beat in the CHA. Mercyhurst 3-1, 3-2
Nicole: The Lakers swept a weekend against the Orange earlier in the season and they know every point matters right now. I think they'll sweep again. Syracuse 4-3, 3-1
Penn State at Robert Morris
Candace: The Colonials broke through against RIT last week, and this is another series they really need for their confidence. Robert Morris 3-1, 3-2
Nicole: RMU is at home and is also fighting for that first spot. If they can't sweep in this position, the postseason will likely be a struggle for them. Robert Morris 3-1, 3-2.
Union vs. Rensselaer (home-and-home)
Candace: I like home ice for each, though I'm tempted to pick Rensselaer to sweep. Rensselaer 3-2, Union 2-1
Nicole: These two play a home and home this weekend. I'll pick each team in their own rink. Rensselaer 2-1, Union 4-2
No. 10 Providence vs. No. 3 Boston College
Candace: These two played quite the exciting game back in November. I think this will be a great series, but BC triumphs. Boston College 4-2, 5-3
Nicole: The past few games haven't gone the way either of these teams would like, but I think it'll be BC that rebounds here with a sweep. Boston College 4-1, 5-3
No. 9 Maine at Connecticut
Candace: Maine took a step back last weekend in splitting with Merrimack. However, Connecticut hasn't gotten any traction. Maine 3-2, 3-2
Nicole: This should be a weekend sweep for the Black Bears. Maine 3-1, 3-2
Northeastern at Vermont
Candace: Both of these teams have shown some strides in recent weeks against top teams. I like Northeastern though in two close games. Northeastern 3-2, 4-3
Nicole: Vermont has nothing but confidence combined with nothing to lose and they're at home. I think they take at least one of these from the Huskies. Vermont 3-2, Northeastern 4-2
No. 5 Ohio State at Minnesota Duluth
Candace: Even with these games being in Duluth, I like what OSU showed last weekend against the Gophers, and the Bulldogs are struggling. Ohio State 3-2, 4-2
Nicole: The Buckeyes took a pair from the Bulldogs earlier this season and Ohio State has to be nothing but confident right now. Ohio State 4-2, 3-1
Minnesota State at No. 7 Minnesota
Candace: The Gophers should get two very needed wins. Minnesota 4-2, 4-2
Nicole: This should be a sweep for the Gophers at home. Minnesota 5-2, 4-2
New Hampshire at Quinnipiac
Candace: I'm tempted to pick the Bobcats to sweep, but Quinnipiac has been too inconsistent. Quinnipiac 3-2, New Hampshire 2-1
Nicole: UNH is one of those teams you can't overlook, and they've gotten some good wins. I think they split this series. Quinnipiac 3-2, New Hampshire 3-1
Saturday, Jan. 27
Harvard at Brown
Candace: I like the Crimson to solidify their playoff hopes this weekend. Harvard 4-2
Nicole: Harvard wins. Harvard 4-1
No. 3 Clarkson at No. 2 Colgate
Candace: Possibly the game of the weekend. I like Clarkson to establish itself as the favorite in the ECAC. Clarkson 3-2
Nicole: This is a toss-up, so I'll take the Raiders at home. Colgate 5-3
No. 8 St. Lawrence at No. 6 Cornell
Candace: This is one that could take extra hockey to decide. A tie wouldn't surprise me at all. Cornell 3-2
Nicole: I'll also take the home team here since I have no idea. Cornell 4-3
Dartmouth at Yale
Candace: I like the Elis at home in this one. Yale 3-2
Nicole: Yale wins. Yale 3-1
Merrimack at Boston University
Candace: Given what the Terriers did to Merrimack Thursday, I see a repeat. Boston University 5-2
Nicole: I'll take the firepower of BU here. Boston University 4-2
Saturday/Sunday, Jan. 27-28
St. Cloud State at No. 1 Wisconsin
Candace: I don't think Wisconsin will suffer any more hiccups until possibly the NCAA tournament. Wisconsin 4-1, 4-1
Nicole: The Badgers rebound after a shaky outing last week. Wisconsin 4-1, 5-1
Tuesday, Jan. 30
Princeton at Penn State
Candace: Princeton has been looking very solid the last month. Princeton 4-1
Nicole: The Tigers should take this one. Princeton 3-1
Syracuse at No. 3 Clarkson
Candace: I don't see any CHA team beating the high-flying Golden Knights. Clarkson 4-1
Nicole: This should be all Golden Knights. Clarkson 4-1