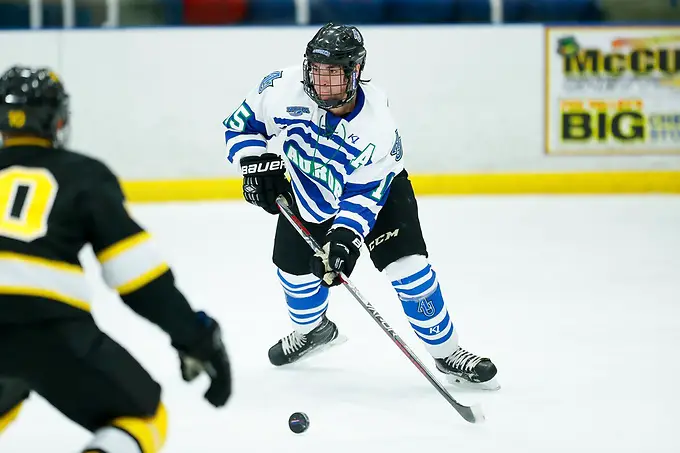 Tony Pnewski has an interesting way of looking at how things played out for him and his Aurora teammates over the last four seasons.
Each season, the Spartans won more games than they did the previous year, and while the win totals weren't flashy –- Aurora won five games this season after winning six games combined the previous three years –- it was progress, and that is important for a relatively young program.
"I always say we broke a record (for wins) each year," Pnewski said.
Aurora just completed its fourth season of NCAA hockey, and Pnewski was one of three seniors on the roster. The other two are Ron Lindgren and Rihards Marenis. All three have been with the program from the get-go and have helped lay a foundation for success down the road.
They were instrumental in helping the Spartans finish 4-12-2 in the NCHA and nearly making it to the postseason. They finished just five points out of the fourth and final South Division playoff berth. The Spartans were 5-15-5 overall.
"I wish we could have made the playoffs. I felt like we had the team to do it but didn't quite get it together to get in. But that chance is coming. It's going to be fun to see what this team does in the future."
Taking a chance with a startup program isn't something every player is eager to do, but Pnewski jumped at the chance to be a part of it and has no regrets.
"I could have kept playing junior hockey, but the coach talked to me about coming here and getting a chance to play right away," Pnewski said. "I wanted to play as much as I could, and the school also has a good science program, and I'm majoring in biology. It all made sense."
Pnewski never missed a game, be it for a suspension or an injury, and he ended this season with three goals and seven assists.
Marenis led the team with five goals and 12 assists, and Lindgren dished out an assist.
"It was great watching everyone grow and improve," Pnewski said. "It was definitely an interesting experience that a lot of people don't get to be a part of."
That's not to say the four years didn't come with its share of challenges, especially with nationally ranked powerhouses like Adrian and St. Norbert dominating the conference.
"There was a learning curve we had to deal with," Pnewski said. "You don't realize the level of hockey you are at until you get here, especially in our conference where you are playing top-end teams."
It would have been easy to walk away. Losing can wear on teams. Pnewski never thought about leaving.
"College hockey is a different grind, and to make it here all four years, it was a challenge," Pnewski said. "But it was fun and something to be proud of. It's been a great time in my life."
The memories of the four years with the Spartans are ones he will cherish, and he comes away from the experience feeling good about the person he has become.
"It's definitely helped me grow and understand the game more," Pnewski said. "I also feel like I've matured overall, with juggling classes and playing hockey. I'm better because of the experience, and I'm proud of what I've accomplished."
Auggies still have shot at top spot
Augsburg won its first eight games of the season, then dealt with a little adversity during a five-game losing streak, but has recovered nicely, winning eight of its last 11 heading into the final weekend.
The Auggies sit in third place in the MIAC standings and close the regular season on the road against Concordia, which is also vying for a playoff berth. The Cobbers currently occupy the fifth and final spot.
Augsburg has proven it can win on the road, going 7-5 away from home this season, and its offense is the best in the league, with the Auggies punching in 83 goals this year. Nate Flynn leads the charge with 12 goals and 13 assists, and when he's on top of his game, Augsburg is tough to beat.
As for the rest of the playoff picture, Saint John's leads the conference at the moment, while St. Thomas is second. Fourth-place Gustavus Adolphus is fourth and can secure a playoff berth with at least one win over Saint John's in its final series of the regular season.
Saint Mary's still has an outside shot at the title, as does St. Olaf. The two teams, sitting in sixth and seventh, respectively, are separated by a point in the standings. They square off this weekend in a must-win situation for both teams if they want any shot at stealing a playoff spot.
Aiming for a three-peat
Wisconsin-Stevens Point is taking aim at its third consecutive WIAC tournament championship. The Pointers' quest for the Commissioner's Cup begins next Friday, Feb. 23, when they host the winner of the Wisconsin-Superior-Wisconsin-River Falls Series.
The Pointers are unbeaten in their last seven games, winning six times during the stretch, and are a combined 3-0-1 against the Yellow Jackets and Falcons this season.
Wis.-Stevens Point will be tough to beat on its own ice, fashioning a 9-3-3 record at home this season, and the Pointers have scored nearly 100 goals this season while giving up just 48.
Wisconsin-Eau Claire and Wisconsin-Stout will play in the other semifinal series next weekend.
Once the championship game is set, it should be as entertaining as the last two, which were both decided by a goal. The Pointers edged Wisconsin-Eau Claire, 3-2, a year ago to claim the crown and defeated Wis.-River Falls 4-3 in double overtime in 2016.
In the poll
Adrian and St. Norbert remain the top two teams in the nation in this week's poll, with the Bulldogs receiving 17 first-place votes. The Green Knights picked up two votes.
Fourth-ranked Wisconsin-Stevens Point also received a first-place vote. Marian and Saint John's are the other two West region teams ranked nationally. The Sabres are 13th and the Johnnies are 14th.