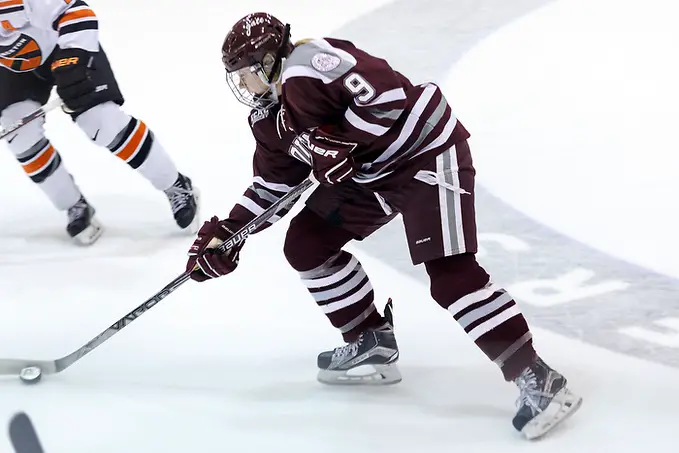 Most of the teams are heading into the final regular season weekend. While some conference standings are set, many still are not. Wisconsin and Boston College have their respective regular season title wrapped up, but the CHA and ECAC titles will come down to the final whistle. Every conference has quite a few positions up for grabs, with home ice or even a berth in the tournament on the line. Here's how the playoff picture looks for each conference.
CHA
Because they only have six teams, the CHA completes their conference tournament in a single weekend, so they are the only one who has two more weekends of regular season games to play.
Robert Morris currently sits two points clear of Mercyhurst. The Colonials hit the road for their final four games. They'll go head-to-head with the Lakers before traveling to Syracuse. The Orange are just two four points back of RMU and two points back of Mercyhurst, so there's a lot that can happen in these final two weeks. Mercyhurst will go to RIT over the final weekend. Syracuse has Lindenwood this weekend before those games with Robert Morris.
The top two seeds will get a bye into the second round of their tournament. The whole thing will take place over three days in Buffalo. So while Mercyhurst is focused on topping Robert Morris, Syracuse will be hoping to pass them for that second spot. Penn State and Lindenwood are within a point of each other, but there's no scenario in which they won't be the no. 4 and no. 5 seeds, so where they ultimately shake out isn't of much importance to the tournament.
The highest remaining seed after the first round plays the no. 2 team, and the lowest remaining seed gets the no. 1 seed.
ECAC
The ECAC will not crown a champion until the final game is finished. Clarkson and Colgate are currently tied on top of the standings with 34 points. Clarkson has Dartmouth and Harvard at home this upcoming weekend. Colgate will travel to Rensselaer and Union.
The tiebreakers the ECAC uses are head-to-head and then record against the top four teams in the conference. These two each took a win in their regular season series, so we look at the next criteria, and Clarkson takes it easily. Their loss to Colgate is their only loss to a top-four conference team.
Cornell and St. Lawrence are currently tied at 28 points. The Big Red will play Union and Rensselaer this weekend, while the Saints have Harvard and Dartmouth at home. St. Lawrence lost both of their games against Cornell this season, so the Big Red would take the tiebreak should it come to that. Those will be your top four teams, who will host best-of-three series in the first round of the tournament.
Quinnipiac is currently fifth and has 23 points. Harvard is just behind them with 20 points, followed by Princeton with 19 and Yale with 16. At the moment, Rensselaer is on the outside looking in with 15 points. All of those positions are vulnerable and likely to shake up over the course of this upcoming weekend. The Bobcats and Princeton are at Yale and Brown.
Union has one slim chance to make the tournament. The Dutchwomen need to beat Colgate and Cornell this weekend, while Yale would need to lose both its final games. In that event, Union would own the tiebreaker over Yale.
Dartmouth and Brown will miss the postseason tournament.
Hockey East
Boston College claimed their fifth-straight regular season title back in January, so they're set atop the conference. Not that it's a particularly happy perch with how talented the league has shown itself to be from top to bottom. The HE tournament looks like it has the opportunity to be quite volatile, though the best-of-three setup in the first round should favor the higher seeds. They may be susceptible to one and done upset, but it's likely the stronger teams will prevail in those quarterfinal series.
Trying to figure out where the other eight HE teams will finish the season is a lot more volatile. Merrimack currently sits at the bottom with 14 points and would be the team left out of the postseason tournament, but they're just two points back from Connecticut, and the two teams finish their season playing each other. The Huskies themselves have 16 points and are one point back from Boston University and two points back from Vermont. Boston University finishes the season with a home-and-home against New Hampshire, while Vermont has just a single game left at Northeastern.
Northeastern is currently in fifth place with 22 points and would not host an opening round series, but they are a point back from New Hampshire for that final spot. In addition to that game with Vermont, they will play at Providence.
While trying to hold off BU, New Hampshire will also have their sights set on trying to usurp Maine for the third spot. With 23 points, they're just three back from Maine, and the Black Bears finish the season against Boston College, so they have the toughest path to adding any points to their total. Providence sits in second place with 27 points, so their position is also vulnerable if they struggle over the weekend. They, too, have just one game left — against Northeastern.
WCHA
Wisconsin has the regular season title wrapped up — their third in three years, something that program has never done before. They will get a first-round bye in the conference tournament thanks to the uneven team numbers this year after the shuttering of North Dakota's women's program. It'll be interesting to see whether that weekend off is a help or a hindrance to the Badgers at a crucial time in the season. They've stumbled here a bit after the break, and conventional wisdom says you want to be on the ice, building momentum, not sitting idle. That being said, it's a long season, and the extra week of recovery could definitely work in their favor.
Ohio State has a four-point lead on Minnesota. The Gophers will be in Madison this weekend, while the Buckeyes host Bemidji State. The Beavers are two points behind Minnesota Duluth for third place in the conference. Whoever ends up there will get to host a best-of-three series next weekend, so those points will be hotly contested. UMD will play Minnesota State. St. Cloud State is idle.