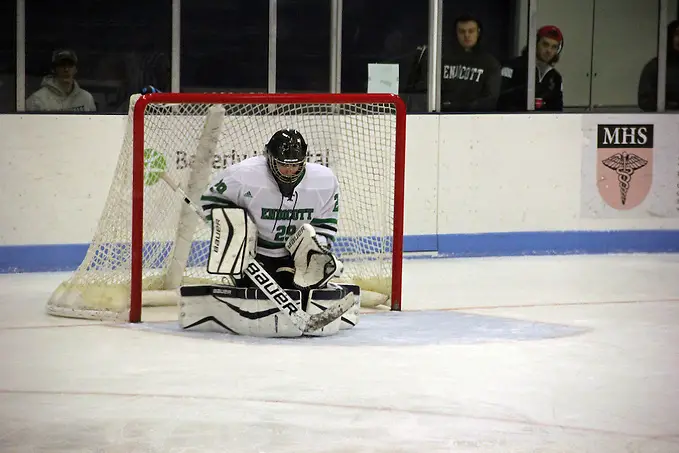 The NEHC has completed their regular-season schedule, but every other conference will be closing out their season this weekend. Some of the conferences have their postseason set, but many teams still have a chance to change their position. Here's how the conferences stand as we head into the last weekend.
CHC
The top six teams here will be moving on. Heading into the final regular season weekend, Endicott and Morrisville are tied at 18 points. The top two teams get a first-round bye, but how these two end the regular season will determine their opponent. Endicott has completed conference play, so Morrisville's destiny is in its own hands. They host Nichols –- which currently sit third with 10 points — for two games this week. They haven't played yet this season, but Morrisville won the two meetings last season 9-0, 9-0.
The final four teams to make the playoffs are much more uncertain. Nichols has the edge, but they're closely followed by Canton and Johnson & Wales, which each have nine points, and Becker, which has seven points. Johnson & Wales heads to Canton for a pair of games, while Becker hosts Salem State. Last season, Canton had two close wins and a tie with Johnson & Wales.
The first round of their tournament features the third seed hosting the sixth seed and the fourth seed playing host to the fifth seed. Winners advance to the championship the following weekend. The lowest remaining seed will play the top seed in the first semifinal on March 3. The higher remaining seed will play the second seed in the other semifinal, and those winners will play for the title on March 4.
MIAC
Just five teams move on to the postseason in the MIAC. The quarterfinal game will feature the fourth seed hosting the fifth seed on Thursday, February 22. The winner of that game moves on to play at the top seed, and the third seed plays and the two seed, both on February 24. The winners of those games play for the conference championship on March 3, with the highest remaining seed hosting.
St. Thomas has self-imposed a postseason ban for the 2017-18 season, so they are not taken into factor for the postseason. Games played against the Tommies during the regular season will still count toward tiebreakers.
Hamline currently sits atop the MIAC with 27 points. They play a home-and-home against St. Thomas this weekend. Gustavus Adolphus is looking at the two seed at the moment, as they are two points behind Hamline. The Gusties play a home-and-home this weekend against Saint Benedict.
Augsburg is looking to improve its position. Currently third with 21 points, they have a weekend series with Concordia (Minn.), which sits fourth with 15 points. They'll be looking to stave off Bethel and Saint Mary's, who are currently tied for that fifth and final spot with 12 points. Bethel has a series with St. Catherine, while Saint Mary's has St. Olaf.
NCHA
Heading into the final regular season weekend, no team is secure in their location. Adrian currently sits atop the conference with 29 points. They've clinched a postseason berth and home ice in the quarterfinals and control their own destiny. They play two games at Marian to close out their season.
St. Scholastica is just a single point behind Adrian. They, too, will be in the postseason and hosting games at home. They finish out the season against Lake Forest, which sits just two points back. The outcome of this series will have a major impact on how the final standings play out. A win and a tie could push Lake Forest into second. They are locked into the three seed, even if they lose both their games.
St. Norbert is currently in fourth place with 18 points. They're followed closely by Concordia (Wis.) at 17 points. St. Norbert clinches the fourth seed with two wins against Northland or a win and a Concordia (Wis.) loss. Concordia (Wis.) plays Trine. The tiebreaker would be conference wins or wins against teams higher in the standings — CUW holds that latter tiebreaker.
Marian is currently sixth with 12 points and holds its own destiny for that playoff spot. They own the tiebreaker with Northland via head-to-head, but would lose a tiebreaker at 12 points with Aurora.
Northland and Aurora are currently fighting to make the playoffs via that sixth seed. Aurora plays at Finlandia this weekend, which was already been eliminated from the playoffs. Northland has 11 points, while Aurora has eight.
The NCHA Slaats Cup tournament starts February 23, and teams will play a two-game series. If a tiebreak is needed, a mini-game will be played to determine each matchup's winner. Seeds one, two, and three will host those games. The championship weekend will be hosted by the highest remaining seed. The other two remaining teams play each other in a semifinal, and the winner faces the host to determine a conference tournament winner.
NEHC
All eight NEHC teams will advance to the postseason tournament. They have completed their regular season and begin with their quarterfinals this weekend. Norwich hosts New England College at 3:00 p.m. EST on Saturday. Masschusetts-Boston hosts Salve Regina, and Castleton hosts Southern Maine, both also at 3:00 p.m. EST. Plymouth State hosts University of New England at 7:00 p.m. EST. The winners of those games advance to the semifinals, with pairings and hosts determined by highest remaining seeds. Those games will be played February 24, with the finals taking place on March 3.
NESCAC
The top eight teams in the NESCAC advance to the conference quarterfinals that take place next week. Every position in this conference is currently up for grabs.
Middlebury leads the group with 25 points. They'll play a home-and-home series with Williams this weekend. Connecticut College is four points back and plays at Hamilton this weekend. Amherst sits third with 19 points, and Hamilton is a point back from them. Amherst plays a home-and-home with Wesleyan, which is currently in last place and would not qualify for the tournament, but is only a point back from Trinity and two points back from Colby, so their hopes aren't totally dashed yet.
Williams has 13 points and is currently in fifth, while Bowdoin has 11 points and sits sixth. Trinity and Bowdoin have a weekend series to help determine how the order shakes out.
The top eight teams will play quarterfinal matches on February 24, with the top four seeds hosting. The championship weekend will be hosted by the highest remaining seed after the quarterfinals. Semifinal games take place March 3, and the championship will be contested on March 4.
NEWHL
The NEWHL has regular season games this weekend, but their conference tournament seeds have already been decided. The top four teams advance to the semifinal. Buffalo State will host Oswego, and Plattsburgh State will host Potsdam. The highest remaining seed will host the championships game on March 3.
UCHC
Six teams qualify for the UCHC tournament, with the top two seeds getting a bye into the semifinals. The third seed will host the sixth seed, and the fifth seed will play at the fourth seed next weekend. The top seed gets to host the championship weekend. They will play the lowest remaining seed, with the other two teams facing off. The top six teams are set, but where they will finish is up for grabs this weekend.
Elmira currently sits atop the UCHC with 27 points. They host Neumann for a two-game set this weekend. William Smith sits just behind Elmira with 25 points, but has completed league play. They have each clinched a playoff spot and the bye into the semifinal. Elmira will host the championship weekend on March 3-4.
Stevenson is currently third with 20 points and is followed closely by Neumann with 19 points. Stevenson plays a pair at Manhattanville. Utica has 16 points and will play a pair against King's. Manhattanville sits in the final playoff spot with 13 points.
WIAC
There is just one game left in the regular season schedule in the WIAC, and it pits Wisconsin-River Falls against Wisconsin-Eau Claire. Wis.-River Falls clinched the regular season title last weekend by beating the BluGolds. Wis.-Eau Claire is currently tied with Wis.-Superior with eight points and will be looking to pick one up. Those two teams will play each other next weekend in a two-game series, with a mini-game if necessary to determine a winner. Wis.-Eau Claire would host Wis.-Superior if they are able to nab a point on Saturday. Meanwhile, Wis.River Falls will host Wisconsin-Stevens Point. The highest remaining seed hosts the championship game on March 3.