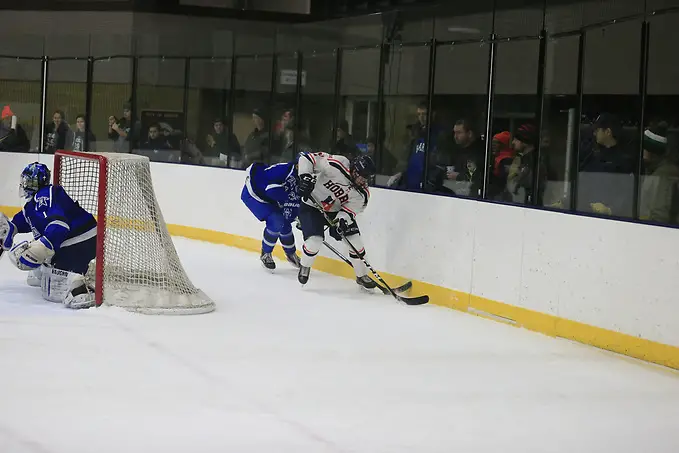 For Hobart, their first season in the NEHC has definitely lived up to expectations for coach Mark Taylor, who navigated the move from the ECAC West (now UCHC) to the conference that includes the defending national champions from Norwich, Babson, Massachusetts Boston, and New England College among the top teams. While missing out on the regular season title by just a single point, the Statesmen know there is a lot more to play for starting this weekend with quarterfinal playoff action against Southern Maine.
"The move to the NEHC has been very good for us," said Taylor. "We have played a lot of these teams over the years, and I have great respect for Mike [McShane] and what he has done at Norwich along with Jamie [Rice] at Babson and several other coaches we have played over the years. There is a lot of respect for how they manage their players and the programs, and we saw a good fit there. I also didn't want to ever have to walk into a locker room filled with a team on a hot streak and have to tell them that they weren't good enough to qualify for the national tournament with all that they achieved as a team. These conversations are too hard, and the auto-bid certainly was a big consideration in moving over to the NEHC this year."
Last weekend, Hobart defeated Norwich, 5-4, in Northfield, Vermont, to close the gap in the standings, but needed some help to claim the top spot. Skidmore, which downed Hobart in the Oswego Tournament consolation game, could only muster a tie with Norwich, which gave the Cadets the regular season crown and helped set Hobart's sights on a quarterfinal matchup with Southern Maine looking to build on their current 7-0-1 unbeaten streak since January 13, when they followed a loss to Babson at home with a 4-3 overtime loss to Massachusetts-Boston for a zero-point weekend.
"I think we were struggling with some parts of our game a few weeks back," noted Taylor. "We lost to Manhattanville in a shootout in the Oswego tournament and then lost 2-1 to a very good Skidmore team that was just starting to find itself in the consolation game. We were making some repeated mistakes, and the weekend at home against Babson and UMB might have been our wake-up call in understanding what we were doing was not good enough to win and compete in the league against good competition.
"We certainly have got our game going well right now, and that is a focus for us in terms of wanting to play our best hockey. I told the players that going into Norwich I was less worried about the outcome and more concerned with how well we played our game. If we lost, I would have been OK if our level of play was good, so I was really pleased that we played our game well and also got the winning result we wanted."
Offensively, Jonas Toupal embodies that effort and attention to detail for the Statesmen. The junior from the Czech Republic has been a key factor in Hobart's game regardless of the situation on the ice and has produced key points all season as well as five game-winning goals this season. He currently leads the team in scoring with 14-14-28 and has five power-play goals to go with his game-winners. Toupal actually didn't garner much attention as a forward during the recruiting process, but has proven the coaching staff right in their consistently putting him on the ice in key game situations.
"When I first saw Jonas, he was playing defense," said Taylor. "I knew then he had skill and a great feel for the game, but definitely saw him more as an offensive player or forward. We made every effort to get him here, and he has fit in beautifully and really shown off the offensive skills we suspected he had when we were recruiting him here."
Conversely, junior Tanner Shaw has shown off his offensive talents as a defenseman. Shaw also has five power-play goals and 11 assists tied, for the lead among Hobart defensemen. While the offense has come easy, coach Taylor doesn't need to remind Tanner that his primary role is a defensive one, one that he fully appreciates in his style of play.
"We want our defensemen to jump into the offensive play where they can," stated Taylor. "We promote that style of play and expect our guys to join the play where they see opportunities without forgetting their primary role on the ice. Tanner knows he is a defenseman first, but more importantly would rather have wins than points any day. He competes and wants to win at such a high level it carries over to other players, and that is an attribute we want to see from all of our players in that unselfish desire to do what it takes for the team to be successful and not focus on the individual statistics."
While just missing out on the top seed in the NEHC is a minor disappointment, Hobart has its sights set on playing its very best hockey at the right time of the season and putting their best effort against challenging competition to win the title and auto-bid in their first season.
"I have seen a lot of 18-3 teams fall apart at the wrong time of the season," noted Taylor. "It really is about being at your best when it matters most. I say we respect all and fear none, and that starts in earnest on Saturday against Southern Maine in the quarterfinals. Nothing else matters if we don't win the game and play good hockey on Saturday, so I am confident we are focused on the right things now, and the results over the final weeks of the season show that."
Hobart isn't taking anything for granted, nor any opponent lightly. They have beaten USM 8-1 and 4-0 this season and will look to add a third victory over the Huskies to ensure their spot in the semifinals next weekend.