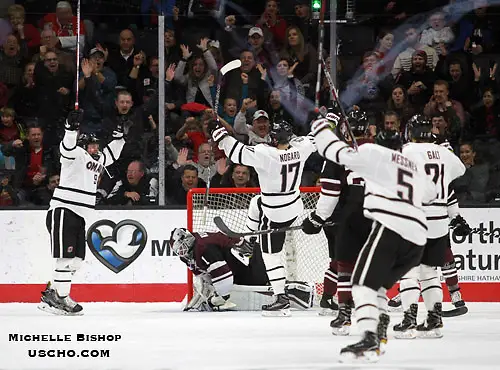 Half of the NCHC's eight teams were idle last weekend.
Omaha was among those that didn't play, and with the Mavericks' tricky lead-up to the postseason, it's just as well.
UNO is an even 5-5 this calendar year without any breaks prior to last week, when the Mavericks recuperated from being swept on the road against No. 6 St. Cloud State.
Another tough test comes this weekend when seventh-ranked North Dakota visits Baxter Arena, with the Fighting Hawks hoping to take three of the teams' four games this regular season. In their last meeting Jan. 6 in Grand Forks, UND scored three goals apiece in the second and third periods in a 7-0 rout.
Getting better results against the Hawks at home could go a long way toward putting seventh-place Omaha in a better position for the NCHC playoffs, perhaps even helping the 13th-ranked Mavericks threaten for a home-ice spot. Getting wins over Colorado College next week, too, and at Minnesota Duluth on Mar. 2-3 could further erase what's currently a six-point gap between UNO and Western Michigan in fourth place.
With one key game after another from here on out, Omaha has done well to use its off week wisely. That includes what happens away from the ice.
"I really like talking to the players and getting their side of things, too, and feeling how they're feeling and trying to get into their heads a little bit on how their bodies are feeling and what they're doing," Mavericks coach Mike Gabinet said. "We have a couple of guys (in leadership positions) that I really trust their opinion.
"You're not getting guys who just want days off. You're getting guys who are being honest with you with their feedback, and I think that's really important with the staff and these players to really communicate with them and figure out they're feeling and then use that week really to (the best of) our ability because we hadn't had a break since Christmas."
Gabinet said during his weekly press conference that his team met Sunday, making sure to focus in on North Dakota and the rest of the regular season. Senior Night for six UNO players comes Feb. 24 against Colorado College, but the Mavericks are holding out hope that there will be more home dates this season at Baxter beyond next week.
"It's just time to make sure we're buckling down and putting the time and the work here and having the chance for success here coming up in the next three weekends," Gabinet said. "I think the guys all know the level of the situation, and we're preparing accordingly for it."
RedHawks keeping noses to grindstone
Unlike many in the NCHC, Miami was in action last weekend but didn't get the results the RedHawks sought.
Instead, they fell 5-2 at home Friday against No. 4 St. Cloud State before dropping another one to the Huskies on Saturday, 4-0.
A score line like Saturday's could appear demoralizing, but Miami coach Enrico Blasi saw much to like from his team that night. The RedHawks had a promising start and outshot SCSU 8-6 in the opening 20 minutes, but an inability to score in that stretch became more pronounced when Nick Poehling scored in transition past MU goaltender Chase Munroe 3:48 into the second period.
Patrick Newell doubled the Huskies' lead midway through the third period by sneaking a shot from the slot just inside the right-hand post. Newll then killed the game off on a shorthanded empty-netter with 3:52 left before Judd Peterson got one of his own (again down 5-on-4) just under two minutes later.
Miami ended up outshooting the Huskies 30-21 and killed off five St. Cloud power plays. Unfortunately for the RedHawks, SCSU goalie Dávid Hrenák came up big, making 13 third-period saves in what had been a tight game while ensuring that MU went 0-for-4 on the man advantage.
Teams can be unlucky but they also have to make fortune go their way. That's been a problem for Miami, 5-11-2 in conference play this season and four points adrift in last place, but RedHawks coach Enrico Blasi feels his team's performance Saturday showed that they're very much still fighting in advance of a brutal remaining regular-season schedule. MU visits No. 11 Minnesota Duluth this weekend, before hosting North Dakota and then traveling to second-ranked Denver.
"I think our process was really good on Saturday," Blasi said. "I thought our first period was as good a first period as we've played in a while and we weren't rewarded with some of our good play partly because St. Cloud was blocking some shots and their goaltender was making some big saves.
"I thought our second period was solid, obviously with the exception of them scoring one goal – I still think Chase would probably want that one back – but we were down 1-0 and I thought we were still playing hard and were getting pucks to the net. I thought the third period, again with the exception of really two plays, one where they scored and one where you had a miscue on the 6-on-4 at the end, our team played as good as we've played in the last month and a half, but we weren't rewarded and against good teams, sometimes you have to play above your means even to be rewarded.
"We have to just focus on what we do well and feel good about it, and that's kind of been our message the last little while. As I told the team on Saturday night and I told them again (on Monday), I don't know why we don't get rewarded. I just know that we have to play the right way all the time, and that's what we're going to try to do."
Players of the week
Offensive player of the week: Troy Conzo, Colorado College. The freshman forward entered last weekend's series at North Dakota with three collegiate goals to his name but now has five after a split with the Fighting Hawks. Conzo is averaging half a point a game (13 in 26) in his freshman campaign.
Defensive player of the week: Christian Wolanin, North Dakota. Wolanin had three points last weekend against CC and provided two assists Saturday in a 5-1 win over the Tigers. The junior defenseman currently has a team-best 25 points on nine goals and 16 helpers.
Rookie of the week: Dávid Hrenák, St. Cloud State. Hrenák was rock-solid in his only game of the weekend, making 30 saves on Saturday in a 4-0 win over Miami. SCSU led 1-0 heading into the third period before Hrenák made 13 saves while three shots went in at the other end of the ice.
Goaltender of the week: Peter Thome, North Dakota. UND showed its goaltending depth last weekend when Thome entered in relief Friday in a 4-2 loss before making 20 saves in the Hawks' victory on Saturday. The freshman netminder helped kill all five of CC's power play opportunities in the series finale.