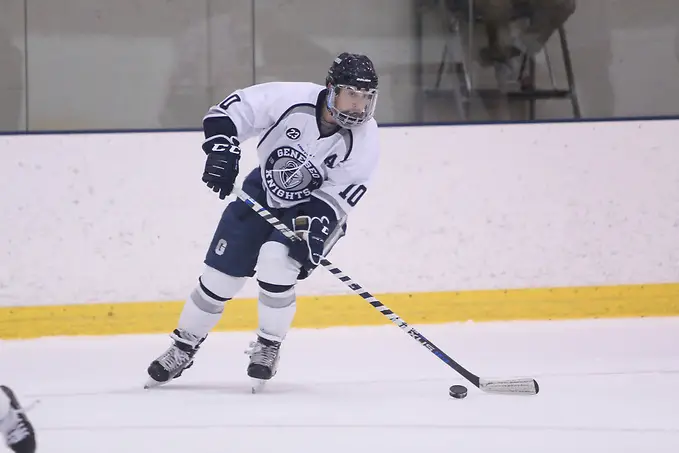 A quick look at the SUNYAC semifinals finds a pair of familiar opponents facing off for the third time in the past five years. Geneseo plays host to Buffalo State on Saturday, and while the opponent is a familiar one, the challenge of advancing to the conference final is not lost on coach Chris Schultz.
"In some ways, it is a good thing that we are playing them," said Schultz. "We are really familiar with them and their style of play. It is very good that we play them at our place in front of our very supportive fan base because the other way would make it a bigger challenge for us. Murph [Steve Murphy] is a very good coach and may be one of the best in the league at making in-game adjustments. We are going to have to execute our style of play well and expect another tight battle with them, as is usually the case."
Geneseo earned the second seed in a tight battle with the Bengals over the final weeks of the season and showed its ability to play good defense over the final 10 games, where they finished 7-1-2 to earn the bye into the semifinal round. The commitment to team defense and taking care of the puck has its roots in the Northfield Savings Bank Holiday Tournament hosted by Norwich just after the New Year and specifically a 9-5 loss to the University of New England in the opening game of the tournament.
"I put that one on me," said coach Schultz. "I thought coming out of the break that the focus should be on conditioning and not about reinforcing the systems play and commitment to good defense turning into offense. That is how we usually play, but we got away from it against a team that likes to run-and-gun and has the skill to bury their opportunities. We outshot them 60-26, but every mistake we made ended up in the back of our net, and that many mistakes are not acceptable to how we want to play. I think that game was where started to tighten things up and play more committed style in the defensive end with solid results for the balance of the season."
It is easy to see why the Knights would gravitate to the offensive side of things with scorers like sophomores Conlon Keenan (17-19-36), Andrew Romano (5-29-34), and Tyson Empey (19-14-33) leading the way. The three have combined for 18 of the team's 30 power-play goals and are dangerous any time they are on the ice. Buffalo State will have to worry about stopping more than just the big three as the Knights have found balance and secondary scoring with a total of 11 players having recorded five goals or more this season. That could be important when goals are particularly hard to come by in a playoff game.
"It is that time of year again where the nerves start to surface," noted Schultz. "You try to keep things routine, so it keeps everybody loose and playing a familiar opponent that has become such a big rival helps in bringing that needed focus. It seems like we have seen them a lot in recent years, and because of that I think the rivalry has grown, but not into a contentious one. I think both teams have a lot of respect for each other and the games always seem to have intensity without the unneeded animosity. It should be a fun game to watch, and I hope we stay focused on what we need to do on the ice to win."
The regular season games saw Geneseo win at home 5-2 before tying 1-1 at Buffalo State in mid-January so on paper the Knights would seem to have the advantage, but they don't play the games on paper.
"We obviously like being at home, but if you look at last night's playoff games in the SUNYAC and UCHC, the visitors took three of the four games," stated Schultz. "You really can't relax now. We will need our best to beat them, and that is what we are focused on for Saturday night."