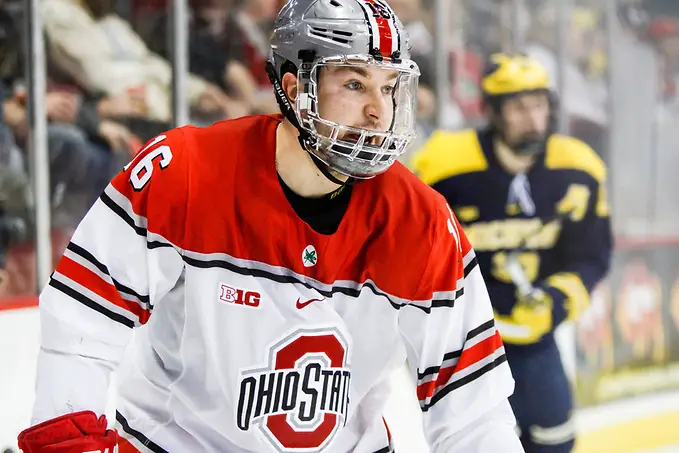 Multiple Big Ten teams have enjoyed winning or unbeaten streaks this season, but since the calendar has turned to February, stringing victories together has become a rare occurrence.
Ohio State, which enjoyed a 10-1 run from December to early February, has been no exception having gone 2-3-1 in its last five games.
"This league is very good," Buckeyes coach Steve Rohlik said. "I don't think there's much separation between anyone in our league and I think every coach can attest to that. It's a credit to each program and a credit to each coaching staff and it pushes you to be better every weekend."
The Buckeyes will close out the season by hosting Wisconsin for a two-game series. They were defeated by Minnesota on the road last Friday and the two teams tied on Saturday with Ohio State picking up the extra conference point in a shootout.
"I thought we were kind of on our heels in the first on Friday — we just didn't react well to the big sheet and we didn't play on our toes," Rohlik said of the series against the Gophers. "They had the better of the play, but after that, I think it was a pretty even weekend, to be honest with you."
Minnesota goaltender Mat Robson held the Buckeyes to one goal in each game last weekend.
"Their goaltender played very well, but you've got to get more attempts, you've got to get more traffic and you've got to create more opportunities," Rohlik said. "We just didn't do that enough. We had some chances to finish and we didn't do that."
That being said, Rohlik added that tighter and lower-scoring games are to be expected at this point in the season.
"This time of year, 2-1 games, that's not a rare game right now," he said. "I just think teams play so well defensively and goaltending is very good and special teams are obviously good. I just don't think that you're going to see the 7-5 games anymore."
The Buckeyes are locked in as the No. 2 seed in the Big Ten tournament and they know they'll host Michigan State for a best-of-three series in the first round. Still, as he has said all season, Rohlik is looking for the team to improve this weekend and heading into the postseason.
"We're not where we need to be right now, we've got to keep pushing ourselves to be the best we can," he said. "I don't think we've played our best hockey yet, I think that's a good thing, but obviously we've got to work to get there. If we don't try and work to get better this week in practice, we're going to find ourselves in trouble Friday night."
The Badgers will bookend the Buckeyes season as the previous time the two teams met was in early October.
"You can probably look back on it a little bit, but that was the first weekend of the year," Rohlik said. "They're a much different team and, hopefully, we're a much different team. The compete is going to be there, I thought it was a very competitive weekend up there (in Madison). There was no question it felt like a playoff series, right away in the first series of the year. I wouldn't expect anything different this weekend."
Wisconsin associate head coach Mark Osiecki said during the Badgers' Monday press conference that he noticed Ohio State's talent level in October, and that was one thing that hasn't changed.
"Their speed, their talent and their transition game probably isn't going to change that much," he said. "The way they're playing as a team, they've certainly gotten better. They're playing well right now, so it's going to be a fun test for us to be able to get out and get after it when the puck drops on Friday."
Osiecki also made note of the Buckeyes' penalty kill, which leads the nation and has killed 107 of 118 opportunities. Their five-on-five defense is stout, too. Ohio State averages 2.12 goals allowed per game which is good enough for sixth in the country.
"We talk a lot about five-man defense," Rohlik said. "We've got to continue to play together, if we don't play as five-man groups that's when we start to fail."
That notion is amplified at this time of the season.
"It has to be, and it is with every team," Rohlik said. "It comes down to the small details of the game. Small little turnovers that you end up looking back on tape and it's a little thing that could cost you. That's why you've got to minimize those things, you've got to stay disciplined to your system and what got you here."
The Badgers had last weekend off, which means that getting swept at home by Minnesota has had plenty of time to stew in their minds. Ohio State will look to avoid a slow start like they had against the Gophers against a Wisconsin team that should be chomping at the bit.
"We recognize and understand what kind of team they have, they've got a really good hockey team there," Rohlik said of the Badgers. "They're going to be hungry, but so are we. We've got to understand that it's that time of year where every time you step on the ice, you've got to empty the tank and I would expect nothing less from their team or our team."
Gophers prep for Penn State
After taking four of six points from Ohio State at home, Minnesota will hit the road for the final weekend with a good chance to lock up home ice for the first round of the Big Ten tournament.
The Gophers will play at Penn State and can lock up home ice with one conference point. Minnesota, who can jump Michigan for third place in the conference but can also fall as low as sixth, is preparing for an offensive barrage from Penn State.
"They're going to shoot from everywhere, our goalies are aware of that," head coach Don Lucia said at Minnesota's press conference on Wednesday. "They've got to be ready for the bad-angle shots. Our (defense has) got to clean out the net front, that's going to be really important that they take care of that blue paint."
Junior forward Brett Gates Jr. echoed his coaches assessment of the Nittany Lions.
"It's getting down to the end of the year and every team is really trying to play the same way," he said. "It's playoff hockey and they like to play up-and-down the ice, they like to play offensive, they don't run any traps or anything like that. We're expecting a fast-paced and physical game."
Three stars of the week
It was good weekend to be a goaltender.
First star — Michigan sophomore goaltender Hayden Lavigne: Lavigne made 69 saves during Michigan's sweep of No. 1 Notre Dame last weekend. He stopped 34 shots in Friday's 4-2 victory and had a 35-save shutout on Sunday. This is his third career Big Ten weekly award.
Second star — Minnesota sophomore goaltender Mat Robson: Robson stopped 59 shots for the Gophers as they picked up a win and tie against Ohio State at home. He improved his record to 7-2-1 on the season and has allowed two goals or less in nine of this appearances. This is his fourth career Big Ten weekly award.
Third star — Oho State junior goaltender Sean Romeo: Romeo stopped 26 shots in Friday's 2-1 loss to Minnesota and had 34 saves during Saturday's 1-1 draw. His play during the shootout helped the Buckeyes pick up the extra conference point and lock up second place. This is his fifth career Big Ten weekly award.
B1G in the poll
No. 5 Notre Dame, No. 6 Ohio State, No. 8 Minnesota, No. 13 Michigan and No. 18 Penn State represent the Big Ten in this week's USCHO.com Division I Men's Poll.
My ballot
1. St. Cloud State
2. Cornell
3. Minnesota State
4. Notre Dame
5. Denver
6. Ohio State
7. Providence
8. Clarkson
9. Minnesota Duluth
10. Minnesota
11. Northeastern
12. North Dakota
13. Omaha
14. Bowling Green
15. Michigan
16. Northern Michigan
17. Penn State
18. Boston College
19. Boston University
20. Union
This week's matchups
Michigan State at Notre Dame (Friday and Saturday, Compton Family Ice Arena)
Wisconsin at Ohio State (Friday and Saturday, Value City Arena)
Minnesota at Penn State (Friday and Saturday, Pegula Ice Arena)
Michigan vs. Arizona State (Friday and Saturday, Yost Ice Arena)