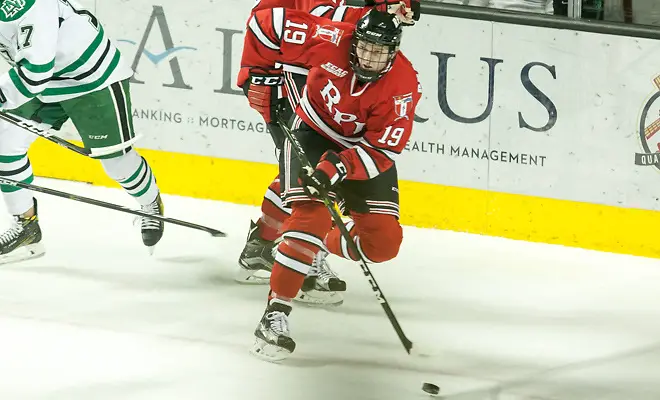 The results might not be there.
Even so, Rensselaer coach Dave Smith has been impressed with the work his team has put in as the regular season draws to a close this weekend.
"We've been talking about trying to play a perfect game," Smith said. "We haven't won as much, but the effort has been there, the attitude has been there. We're working on finding a win, getting that spark."
The Engineers lost a pair of road games last week, falling to Princeton 7-2 Friday and then losing 4-1 against Quinnipiac Saturday. RPI concludes the regular season with home games against Cornell and Colgate this weekend, and then will head on the road for the playoffs.
"Nothing is going to change for us," Smith said. "I don't feel like we're a home or a road team, we're just trying to push to play the right way."
Smith said communication is an important part of playing the right way. That's something that RPI has worked on all year as it heads towards the playoffs.
"I think the one thing that to a man we believe in is that we know how to play, but it takes everybody," Smith said. "As a team, we continue to work on the team aspect and trusting each other and communicating with each other. Those things are never going to end."
Learning to communicate on the ice comes with experience, and that's something a lot of players who played against Quinnipiac Saturday don't have a lot of.
Defensemen Jared Wilson and Mike Prapavessis were the only seniors to play against the Bobcats, and the three juniors in the lineup – Brady Wiffen, Tommy Grant and Evan Tironese – have been on the team for three years, but none have played a full three seasons. Wiffen was ruled a partial qualifier by the NCAA and sat out his freshman year, while Grant and Tironese both have had season-ending injuries in their careers.
"A lot of [learning to communicate] comes from being young and the confidence that it takes for a veteran guy who has been there and done that," Smith said. "Prapavessis and Wilson, they communicate a lot. The other guys are learning that and doing the best they can."
One young player who has made an impact recently is freshman forward Donovan Ott, who recorded two goals and an assist last weekend. They were the first points of his collegiate career, which began last month when he joined RPI after playing the first part of the season for the Johnston Tomahawks of the North American Hockey League.
His arrival helped offset the departures of freshmen Troy York and Gavin Payne, who left the program over the winter break.
"He's still picking up the pace and the tempo, but he's good around the net and he's got a good IQ," Smith said of Ott.
Cornell hits a bump, still emerges with four points
The scoreboard shows a four-point weekend for the Big Red, but a closer look reveals it could have ended differently.
On Friday, Cornell beat Brown 2-1 despite putting forth what coach Mike Schaefer called a "lackadaisical effort."
"I thought it was one of the worst games we've had this year as far as our effort," Schaefer said. "A little bit of selfishness crept into our game [Friday]. We wanted to score and we didn't know how to do it the right way."
On Saturday, Cornell trailed Yale 2-1 early in the third, but rallied with two late goals.
"That was a fun hockey game to play in," Schaefer said. "The effort and compete level that we had for sixty minutes was really outstanding."
The win against the Bulldogs gave the Big Red their first unbeaten season in Ivy League play since 1995-96.
Cornell has continued to play well despite the loss of forward Mitch Vanderlaan to injury. The junior co-captain hasn't played since getting hurt blocking a shot on Feb. 3, but Schaefer hopes to have him back for the postseason.
The Big Red were also without two of its top defensemen Saturday against the Bulldogs, as Brendan Smith and Alec McCrea were out of the lineup. Forward Alex Rauter, who saw time at defense last season, shifted to the backend for Saturday's game.
Still, a four-point weekend is impressive, especially in the stretch run. The two wins look even bigger for Cornell given how well second-place Union has played recently.
The Dutchmen enter the final weekend of the regular season on a five-game winning streak and are four points behind the Big Red. Cornell can clinch first place with a win or a tie or a Union loss or tie this weekend. The two teams conclude the regular season Saturday night at Messa Rink.
Seeding Possibilities
Cornell, Union, Clarkson, and Harvard have all clinched a first-round bye entering the final weekend of the regular season in ECAC Hockey.
However, there is still plenty to be determined in the middle part of the standings, as three points separate fifth place Dartmouth from ninth place Quinnipiac.
Here are the current standings and each team's possible finish, courtesy of the league office:
Cornell 1-2 (clinches No.1 with a win or tie or a Union loss or tie)
Union 1-3
Clarkson 2-4
Harvard 3-4
Dartmouth 5-9 (clinches home ice with one point)
Colgate 5-9 (clinches home ice with three points)
Princeton 5-9 (clinches home ice with four points)
Yale 5-9 (clinches home ice with four points)
Quinnipiac 5-9
Brown 10-11
Rensselaer 10-12
St. Lawrence 11-12
Around the League
• Union's dominance against Princeton continued last weekend. The Dutchmen beat the Tigers 4-1 Saturday and are now 17-0-3 in their last twenty games against Princeton. Union's last loss to the Tigers came on March 15, 2009.
• The US hockey team might not have medaled at the Winter Olympics in South Korea, but it was Harvard forward Ryan Donato had an impressive tournament. The junior lead the team with five goals, one more than his father Ted scored during the 1992 games. Ted Donato was in attendance to watch his son play this week, and also watch Keith Allain, who was a member of the team's coaching staff this year and also in 1992, when Ted played for Team USA.
• Colgate sophomore Colton Point has been one of the top goalies in the country, but he hasn't played since Feb. 3 against Union. The Raiders are 1-2-1 with Point out. A Colgate spokesperson could not disclose a timetable for Point to return, but did say the Raiders hoped to have him back soon.
• Harvard's Adam Fox (player) Cornell's Matthew Galajda (rookie) and Dartmouth's Devin Buffalo (goalie) were named the league's weekly award winners on Tuesday. Fox scored his first three goals of the season Friday against St. Lawrence, while Galajda and Buffalo each went undefeated over the weekend and posted a .944 and .948 save percentage, respectively. This is the third time in the last four weeks that Galajda was named the conference's rookie of the week.