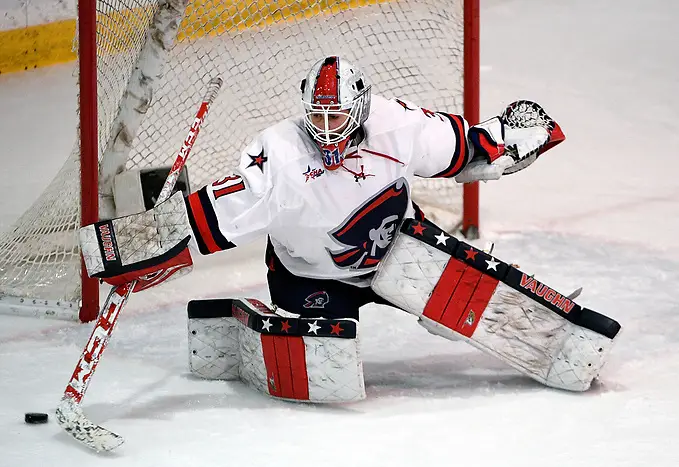 The CHA is the only conference not playing postseason games this weekend. With just six teams, they consolidate their tournament into a single weekend, meaning this is their final regular season outing.
No one has clinched the top spot, as Robert Morris currently sits in first place with 27 points, followed by Mercyhurst with 25 points and Syracuse with 23 points. The Colonials split a series with the Lakers last weekend, which gave them a slight edge, but nothing is guaranteed.
Despite that extra pressure, Robert Morris coach Paul Colontino said it's business as usual in Pittsburgh. There's been a playoff-like atmosphere surrounding the team for the past week and a half, but all season long they've had a philosophy of "one week at a time" and that's how they've approached every weekend.
Still, the Colonials need a single point to secure a one or two seed and bye into the semifinals and three points to win the regular season title. They can't get that third point until Saturday at the soonest, so the tendency will be to want to look forward a bit while also scoreboard watching. Colontino said it would be impossible to keep his team focused if they hadn't been in their one-game philosophy all season.
"You have to acknowledge the fact that if you get a point and you've locked yourself into one or two and then obviously if we could get three points, we take sole possession," he said.
Right now, the biggest game of their season is Friday. And on Saturday morning, their biggest game will be Saturday afternoon, Colontino said.
They say familiarity breeds contempt, and to some extent, that plays out in the CHA. With just six teams, there is literally nowhere to hide. These teams know each other inside and out, and Colontino likened it to being at a house party versus a dinner party. When you spend all your time with just five other people, you learn a lot. It can be easy to get into each other's head, and there's a lot of pride on the line. That's compounded even further by the fact that the regular season standings won't be set until the final buzzer of the regular season.
"We know that in any given night right now, one, two, and three are literally a shot away from beating each other," he said.
In order to make it through this weekend and come out on top, the Colonials will be relying on the experience they gained with their first NCAA berth last season. It's a fine line, said Colontino. There is no substitute for having been there before, but he also thinks that sometimes knowing that's coming can bring as much negative as positive.
"Sometimes being naive is (good). What you don't know don't hurt. We're going to take a rational approach. We understand what's at stake, and we want to use our experience from the last year or two to help our odds."
Ohio State looking to find consistency
The Ohio State Buckeyes have had something of a miracle season. Though the program has experienced a turnaround, and second-year coach Nadine Muzerall's influence is just starting to permeate the locker room, it was unexpected for OSU to find themselves in the polls for most of the season.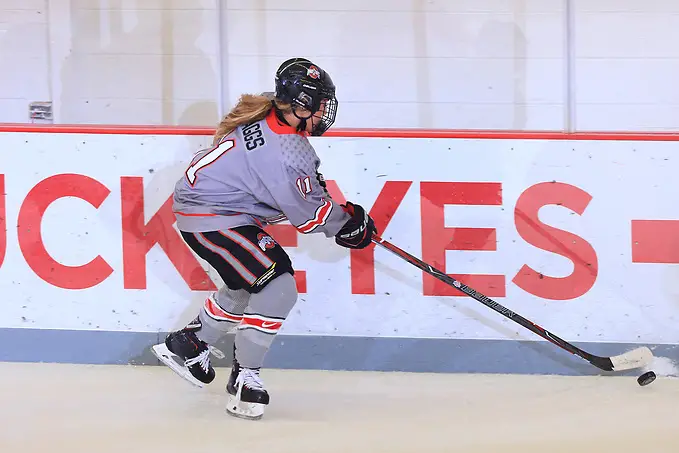 They've had some incredible highs, including series sweeps at home over Minnesota and Wisconsin, but they also followed that up with a loss to Minnesota State. That inconsistent play is something the Buckeyes will try to figure out as the postseason moves on.
The first test will be a best-of-three series at home against the Mankato squad that stole a win from them just two weeks ago.
"It was unfortunate we lost to Mankato because now we gave them some hope coming into our rink," Muzerall told USCHO arena writer Benjamin Worgull. "That's OK though. You win or you lose, you have to learn from it and reflect."
Having control of their destiny and long-term view of what the postseason could look like is a new role for Ohio State. If Robert Morris is digging deep to rely on their recent postseason experience, the Buckeyes are a bit shooting from the hip. Muzerall, along with associate head coach Peter Elander and assistant coach Milica McMillen, all have career experience with playing for the top of the WCHA, but it's a new role for the players.
If the regular season showed some lapses, then the lesson for the postseason is to not lose focus.
"(We need to) not to take a day off," said Muzerall. "The regular season is over, and we're starting our second phase, which is conference playoffs. What's important is we are battling, staying competitive in practice, so it just comes naturally in the game. We can't take a day off in practice."
The team mentality has to shift, and Muzerall thinks her team is prepared to do so. Whereas the letup in Mankato could be ascribed to knowing there were more days and more chances left, now the team has to have a different mentality. Before, more days were promised. Now, none are.
"I hope that the girls have built their confidence, but they have to maintain their confidence as we play our other opponents and value their ability as a team. If we don't, we're going to get ourselves into a little bit of trouble. The girls are fully aware we are in the playoff mode and you're mentally thinking different."