Much of the attention has gone to the race for the Hockey East regular season title, and deservedly so, but there's also the race for one of the top five spots in the standings and its attendant first-round bye.
Connecticut has put itself firmly in that race.
After a Jan. 18 loss to Providence, the Huskies held an 8-16-2 record (5-11-1 inside Hockey East). It was their fifth consecutive loss. Since then, however, they've executed the ultimate of U-turns, winning seven straight, six of them in league play.
"We played really well before the break," UConn coach Mike Cavanaugh says. "We had won five of six, but we got back from break and we were a little flat. We were playing good defense; we just didn't score any goals. In three of those five games we lost, we didn't score a goal."
The Huskies scored only a single goal in one of the other two contests, and two in the other. Three goals total in five contests will dump a losing streak on a team.
"Part of it was being a little flat; part of it was just not getting enough pucks to the net," Cavanaugh says. "So we really focused on just playing the game the right way, fundamentally sound and finishing our checks. We got a couple bounces at Providence and some great goal tending and won a game down there.
"From that point on, it just spring boarded us, letting us know that if we play the game the right way, play with energy, finish our checks, be fundamentally sound, and be committed to getting pucks and bodies to the net, then good things will happen.
"It just snowballed from there."
UConn's winning streak also coincides with then-starting goaltender Adam Huska breaking his wrist and Tanner Creel taking over. Cavanaugh, however, contends that timing is purely coincidental.
"Adam was playing fantastic," Cavanaugh says. "He was keeping us in games, but then he broke his wrist, Tanner came in, and we started scoring a lot more goals."
Huska is back to dressing for games and Cavanaugh professes "the utmost confidence" in him, but the sophomore is still is not 100 percent. As a result, Creel continues to start. And of course, seven consecutive wins don't hurt the senior's case. If it ain't broke, you don't fix it.
Those seven straight wins have UConn positioned nicely for the first-round playoff bye that comes with a top five finish. If the Huskies defeat UMass on Thursday, Boston University avoids getting swept by Vermont, and Maine fails to take at least three points in its two games at Boston College, the bye goes to UConn.
(With a Thursday win, UConn would finish with 25 points and a 12-11-1 league record. If Maine splits with BC, UConn would win a two-way tiebreaker, since the two teams split their season series, but UConn would finish with more conference wins. If BU got swept, however, Maine would take a potential three-way tiebreaker because it won its series with BU while the other series were all split.)
Don't bother telling any of that to Cavanaugh.
"We've put zero emphasis on that," he says. "[Hockey East Associate Commissioner] Brian Smith sends me a playoff scenario update two or three times a week, and I just delete it. I don't even look at it.
"If we spend any time playing the if-only game and if-this-team-beats-them, and if-that-team-beats-this-other-team, and if-we-win-our-game, [then we've lost focus]. We play UMass on Thursday night, and for sure, there's two points on the line. We just need to do our very best to go get those two points, and whatever happens after that happens."
UConn could be a surprisingly formidable opponent in the playoffs. The Huskies have the third best power play and third best penalty kill in Hockey East along with a strong offense and defense. Arguably, there's no discernible Achilles' heel. And this is a team that has paid its dues.
"This is the first senior class we've had at Connecticut that has played all four years in Hockey East," Cavanaugh says. "So they feel very comfortable with the league now.
"They've gone through a lot of hard times. Their freshman year, they got beat 10-1 at Providence, 9-0 at Northeastern. Got outscored on a weekend versus New Hampshire, 9-2.
"So it's a team that has really taken its lumps, but it's gotten better every single year. They've got more points in the league every single year. So the leadership of our team has a quiet confidence that we're comfortable in this league, we belong in this league, and they've taken the program from just hoping to compete and stay in the game, to now going in and expecting to win the hockey game."
PairWise improvement
It wasn't that long ago that only a single Hockey East team could be found in the top dozen of the PairWise.
Now, the league has two: Providence in a tie for eighth and Northeastern at 12.
After that, the picture isn't so pretty: BU (19th), BC (T-20th), Maine (25th), and UConn (28th). (If you're wondering about Boston College leading Hockey East but being on the outside looking in with the NCAA tournament, that's the price of having a 16-6-0 record inside the league but a stunning 0-7-3 outside.)
A lot can change fast with playoff matchups. Neither Providence nor Northeastern are guaranteed anything at this point. But it sure looks like the other teams a quite likely, if not certain, to need to win the Hockey East tournament to get an NCAA bid.
Who finishes first? Who wins the regular season title?
Those two things aren't necessarily the same thing.
If any two, or all three, of Boston College, Providence, and Northeastern finish tied for first, they are both (or all three) declared co-champions, regardless of tiebreakers.
For seeding purposes, however, one team has to be determined the one seed, and other the two, and a third the three.
BC is in the driver's seat with 32 points and two games at home against Maine. After the way the Eagles dominated the Black Bears on the road last weekend, 5-0, all talk of tiebreakers may be moot. But let's go through the exercise since anything can happen.
The Eagles lead Providence by two points, and the Friars have only one game remaining, that one at UMass. BC leads Northeastern, which has a home-and-home remaining with New Hampshire.
Providence wins all tiebreaker scenarios since it won its season series with both BC and Northeastern. The other two tied their season series, but BC wins the next tiebreaker with more league wins.
So just think of the tiebreakers as going to Providence first, then Boston College, with none to Northeastern.
Travis Roy: Quadriplegia and a Life of Purpose
A few weeks ago, I told you about this compilation of pieces I've written about Travis Roy and quadriplegia. It includes new introductions to each piece, and most significantly, a foreword from Travis himself.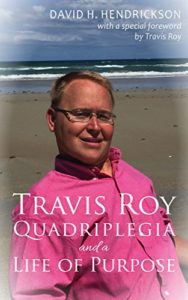 All proceeds go to the Travis Roy foundation, which funds research into a cure for spinal cord injuries and provides individual grants to survivors.
Travis Roy: Quadriplegia and a Life of Purpose is a tiny volume, but it's for a great cause and there's powerful stuff inside that has already touched many readers in significant ways. Here's one of the things Travis says in the foreword:
"I realize how fortunate I was to spend the first half of my life with a passion, thanks to my hockey career. It took me a while to realize it, but now I feel fortunate to have lived the second half of my life with a purpose."
I hope you'll buy a copy either for its content or as a contribution to a great cause. It's available in all major ebook formats for $2.99. Here's a universal link that handles them all.
It's also available in paper from Amazon for $9.99.
You can also email me at [email protected] and I'll send you a copy myself.
Thank you for your support of this important cause.