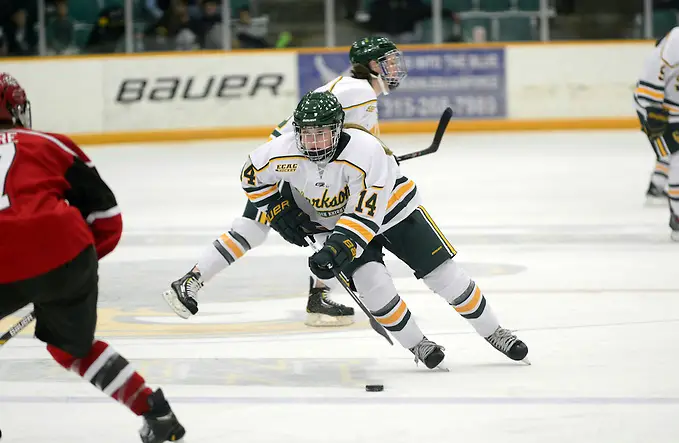 Arlan: Welcome to the postseason! We didn't set any records for drama in the quarterfinals, but there was enough to hold our interest.
We also had Robert Morris going on the road and turning in a convincing sweep of Syracuse. Congratulations to Paul Colontino and his team on their second consecutive regular season title in the CHA.
I'll leave it for others to tell us the significance in the national picture of Saint Anselm losing to Sacred Heart in the championship of the NEWHA. Personally, I don't think there is any.
All four hosts advanced in the ECAC, with only Cornell forced to play a third game. The good news is that should make for some highly contested semifinals.
Bemidji State, which has proven to be a tough out of late, took the odd games from host Minnesota Duluth and lives to play another round. Interestingly, the Bulldogs and Beavers have squared off in the playoffs three times in the last four years, and the road team has advanced each time. So much for the value of home ice.
Not surprisingly, the most competitive league was Hockey East. Half the series needed a game three, with the Boston University at Maine series having all kinds of twists and turns before it was decided. The biggest surprise of the weekend was likely Connecticut advancing.
For a long time, it looked like the Huskies might not even win a league game, let alone make the playoffs. Their postseason started just as slowly, as they fell to Providence, 4-0, in game one. After that, the Huskies' defense took over. They returned the shutout in game two, winning 3-0. When the Friars finally figured out how to score again midway through the final period of the deciding game, it took just 11 seconds for Natalie Snodgrass to answer for UConn. When PC was whistled for two penalties a minute apart as the clock wound down, Snodgrass took advantage to score her 19th goal of the season on a five-on-three power play with 2:35 left. Ultimately, that was a bummer of an ending for a Providence team that had enjoyed a bit of a renaissance this year.
Connecticut had some success against Boston College this season, earning two ties. On paper, the two teams aren't even close, but what do you see in the UConn versus BC semi? Do the Huskies have any hope?
Candace: There's always a chance, especially in a one-and-done. I'd say they definitely have hope. UConn has been one of the hottest teams in the country over the last month, going 8-2-1, a stretch that started when they swept Maine the last weekend of January. They've also beaten Northeastern in that stretch, and beat Providence in three out of four. The Huskies are playing with a ton of confidence, and they won't be an easy out by any means.
Having said that, BC is another order of magnitude in difficulty. UConn went 0-1-2 against BC during the regular season. Two ties were nice, but I feel like since the Beanpot, BC is playing with even more purpose. Further, the Eagles have so many ways to hurt another team. BC is averaging at least three goals a game over the last month; the one time they didn't score that number, they lost to New Hampshire, but I chalk that up more to the in-between game between the two Beanpot games. I still think the Eagles will take it, but I don't think it will be easy. I see a close game, with BC winning by a goal or two.
Before we leave Hockey East, the Maine-Boston University series was a wild one. BU had a three-goal lead in the third period of game three and promptly fell apart, losing in OT. It was a disappointing end to the season for the Terriers, who have to feel like they let one slip away. Now Maine will face one of the most dangerous teams in the country in Northeastern, a team that beat both BC and Wisconsin during the regular season, but also struggled at times with consistency. Northeastern looked very good in rolling past New Hampshire in two games this weekend. It would seem that Northeastern would have the edge, but Maine took two of three from Northeastern during the regular season. It might be a game where experience is the key, and Northeastern has a lot more big-game experience over the last four or five years. What do you think of that game?
Arlan: It's a bit of an understatement to say that Northeastern struggled with consistency. Somehow, for all of their high points during the season, and the case could be made that they had as many high-quality results as anyone, the Huskies still managed a losing regular-season record. I realize that they played all four of the top teams in the country, but they also play in a league that really didn't have a runner-up after BC. Yes, Providence finished second, but that was almost by default. After a 9-1-2 start to their HEA season, the Friars finished at a 3-6-3 pace. That was only good enough because Maine closed with a 1-5-2 finish. So why didn't the Huskies zoom past both of those teams? Northeastern was battling its own demons; its longest winning streak during the season was three games.
Why wasn't a Northeastern team that was able to defeat both Wisconsin and BC capable of stringing together more wins? Simply put, its team defense wouldn't allow it. After the Huskies won the D.C. Tournament, which included the win over the Badgers, they returned to Boston to face the Eagles. That started a stretch of 14 games where they allowed a total of 51 goals. Part of the problem was certainly goaltending; junior Brittany Bugalski had a difficult season and eventually lost the starting job to freshman Aerin Frankel. However, the team did not defend well in front of their goaltenders. I get that BC has a dynamic offense, and Northeastern saw the Eagles four times over that stretch, but you still have to be defensively responsible. Too often when I saw the Huskies in action, they were not. If you want to play an uptempo style, and Northeastern does, things can go wrong in a hurry if you don't take care of your own end first.
The semifinal is definitely Northeastern's game to win. That doesn't mean that it will. Second place in Hockey East was the Huskies spot to claim, and they did not. They redeemed themselves somewhat with the quarterfinal sweep of New Hampshire, but I think that the Wildcats were a favorable matchup for Northeastern. They don't score enough to really exploit Northeastern's flaws. Maine isn't that much more prolific, so if the Huskies just defend reasonably well, I think that they'll get past the Black Bears. After that, I really don't see them beating BC again, or even Connecticut for that matter, should it be an all-Huskies final.
Am I underestimating the momentum that Maine carries into the semifinal after Brooke Stacey and Tereza Vanišová basically willed a comeback over the Terriers? And what do you see in the ECAC; will Clarkson defend its tournament championship from 2017?
Candace: I think you may be slightly underestimating the momentum. Maine has to be feeling like they just skated by the Terriers. That can give a team some looseness and enable them to play well, but at the same time, Maine hasn't been the best team away from Orono. I agree that this game is Northeastern's to win, but as you pointed out, the Huskies may just be able to let Maine win with inconsistent defense. Let's face it too: Maine has a dynamic offense. Vanišová was a one-woman wrecking crew against BU, netting three goals and four assists, and she scored the OT game-winner today after Stacey scored a natural hat trick to rally the Black Bears from a three-goal deficit. Both Hockey East semifinals should be entertaining.
As for Clarkson, it certainly looks like the Golden Knights found another gear this weekend. I expected a sweep, but I would bet even Matt Desrosiers was surprised by the 10-goal outburst Friday night, and then the 4-1 win on Saturday. Usually, playoff games are tighter. As the defending national champion, Clarkson has a lot of playoff experience to draw on. Loren Gabel and Elizabeth Giguère are fierce offensive players, and Clarkson matches that with a top defender in Savannah Harmon and an outstanding goalie in Shea Tiley. Clarkson has to be looked at as the favorite in the ECAC tournament. The Golden Knights play their personal whipping squad, St. Lawrence, first, and that just won't go well for the Saints. St. Lawrence may have been able to beat BC this year, but they lost four games to Clarkson this season, and those games weren't close.
In the finals, Clarkson will draw either Colgate or Cornell, and I have to give them the edge there as well. Colgate can certainly push Clarkson, but if the Golden Knights bring that dynamic offense, Colgate won't be able to keep up.
If you have anything to add, feel free, but my number one question heading into the weekend is in your neck of the woods: can Minnesota finally beat Ohio State this season? I lean toward yes, but who knows.
Arlan: As far as the ECAC goes, I think my biggest surprise from the weekend was the way that the Princeton at Cornell series played out. It was believable that the Tigers would find a way to take a game; they had a winning record, both overall and in the league. However, both Princeton and Cornell are better defensively than they are when it comes to generating offense, so I wasn't expecting the bursts of offense that we saw.
Even in the first game, where only three goals in total were scored, they all came in a span of 87 seconds at the end of the second period, with the Big Red getting the bookend goals for a 2-1 victory. The rest of that game played out like I'd expect, with the quality goaltending able to deny the offenses.
The second game wasn't what I expected at all; it was almost a game of runs. Cornell grabbed the early lead with goals 26 seconds apart. Then the Tigers scored in the final second of the period and carried that momentum out of the locker room, taking a 3-2 lead at the 5:33 mark of the middle stanza. Again, momentum swung just before the intermission, with Cornell scoring twice in the final 3:03, including a goal with 10 seconds before the horn to go back on top. Then Sharon Frankel tied it for the Tigers with under four minutes remaining in regulation, and Annie MacDonald evened the series with a goal 6:14 into overtime. I wasn't looking for these two teams to play a 5-4 game with both failing to hold leads.
With all the momentum that one would think Princeton would have carried into the third game, the Tigers never got anything going and fell, 4-0. Perhaps that was more what I'd have expected from that series before it started, but by the time that game arrived, it seemed like an outlier.
The other oddity I saw in that series was the number of penalties. The two teams combined for 14, 10, and 17 minors in the three games. Just as I wasn't expecting the goal explosions, I wasn't expecting all the whistles. Neither team ranks near the top in penalty minutes for the season, so I don't know if the play was that undisciplined, or if the officials just tightened up on the rule book.
If I contrast that with the St. Cloud State at Minnesota series that I covered, it was a different game in terms of the infractions. Basically, each team got a power-play opportunity each day, with the Gophers getting an extra in game two. That is something to watch going forward in the tournament, because when I compare the hockey played in the East with that in the West, it seems that far more is let go in the West. That could play a big impact in games at the Frozen Four, where there doesn't seem to be much separation between teams.
As for the Buckeyes and Gophers, I agree with your assessment of "Who knows?" Ohio State didn't win even once in this rivalry over the course of 40-some meetings, and now this season it couldn't lose, taking 11 of 12 points. As a reward, the Buckeyes are all but mathematically into the NCAA tournament field, while the Gophers hold a tenuous grasp on the seventh PairWise ranking that can easily be counterfeited. You would think that will provide Minnesota with more incentive, but the Gophers haven't always looked like a motivated bunch over this campaign.
The one thing that the Gophers have going for them that they didn't have earlier in the year when facing OSU is the play of its third line. As St. Cloud State's Eric Rud pointed out, these are all players who competed for the United States and Canada at the Under-18 level, so it isn't the typical third line. When Taylor Williamson returned to action after missing more than half of the season with a serious medical condition, she brought a spark. Skating with Sophie Skarzynski and Lindsay Agnew, the unit seems to click. They do a better job of reading each other, and their games complement each other more than we've seen from other combinations that Brad Frost has tried. That will be important, because in the head-to-head meetings this year, Ohio State has had the advantage up front, on the blue line, and in net. It's hard to win a game when you don't get any of those check marks. I'll say that Minnesota won't beat Ohio State, but that the Gophers will at least produce a better showing than they have to date.
Will it even matter? Will any of the WCHA teams be able to solve Wisconsin, starting with Bemidji State in the first semifinal?
Candace: I think it's unlikely that anybody beats Wisconsin, but OSU and Minnesota aren't playing for that. And no, as much as I credit Bemidji for beating Minnesota Duluth, the Beavers won't beat Wisconsin in the semi. They can't match the Badgers offense, and the goaltending/defense also goes to Wisconsin. Regardless, for Ohio State and Minnesota, it's the NCAA tournament or bust. As you pointed out, the Gophers are a Northeastern/Maine/UConn win away from being out of the NCAA tournament, or St. Lawrence winning the ECAC tournament. The Hockey East scenario is more likely than the ECAC one.
To me the Gophers are the most likely team to beat Wisconsin. The Badgers won four games against Minnesota this year; that's unprecedented in the rivalry between those two teams. The series on the last weekend of the regular season was awfully close. If Minnesota can win against Ohio State, I'd give the Gophers a decent shot to beat Wisconsin in the final, but even that may not lift the Gophers high enough, and they'd find themselves in Madison the following week for the first round of the NCAA tournament. Of course, Minnesota HAS been a better road team this year than home team, so anything is possible at that point.
You could say I'm discounting Ohio State. The Buckeyes did sweep the Badgers a couple of weekends ago, but that was in Columbus. I still give the edge to the Badgers in that one. The goaltending is probably a wash. Kassidy Sauve has carried OSU for much of her career, and now that the Buckeyes have some scoring, it's nice to see her rewarded with an appearance in the WCHA semifinals and a likely NCAA berth. In some ways, OSU has a slight edge at forward, as I think Emma Maltais, Tatum Skaggs, and Maddy Field are slightly better in scoring than Wisconsin's top forwards. Abby Roque is the only Badger above a point a game, and after that Presley Norby has .81 points a game and Sam Cogan .764. However, I think Wisconsin has more secondary scoring than the Buckeyes do, and their overall defense is better. I think that's shown by the fact that Kristen Campbell, a transfer from now defunct North Dakota, has a goals-against that is better than half of what it was at North Dakota, and a save percentage that is a full half a percentage point better. I always felt, for instance, that while Ann-Renée Desbiens was a great goaltender, she got a lot of benefit from playing in front of a locked-down defense.
Speaking of North Dakota, wasn't it embarrassing to see Jocelyne and Monique Lamoureux playing so well in the gold medal game and carrying Team USA to victory over Canada while knowing that the program they tried to build, one that had a lot of Olympians besides the twins, had folded last year? I tweeted something about it after the U.S. victory. I still think the University of North Dakota should be ashamed of itself. Also, what was your take on the gold medal game. I thought to a certain extent, the U.S. was the benefit of puck luck, and perhaps given how Kelli Stack hit a post on an empty-net try at Sochi in 2014 that would have sealed the gold medal for the U.S., it was time for some puck luck to fall Team USA's way. I thought the U.S. was outplayed for most of the first two periods, and for half of the third. The U.S. did look like a much better team after Monique Lamoureux-Morando tied the game in the third period, and the U.S. dominated the OT.
Arlan: In a game that lasts 80 minutes with the last 20 being four-on-four overtime, and even the shootout requires a sudden-death round, it is fairly easy to point to a number of plays that could have swung the result in either direction. Canada could easily have won, either by holding its lead in regulation, or taking advantage of a chance in overtime, and they came within inches of winning via a four-on-three power-play goal for the second straight Olympics. You're correct that Canada had the better of play early in the game, but I thought that both teams had their moments in period one. The second period belonged to the Canadians, but I saw the game starting to shift a little earlier than you did.
After Marie-Philip Poulin ran over Brianna Decker in front of Canada's net and somehow avoided having to skate to the penalty box to contemplate the error of her ways, I thought that the Americans responded well. There was definitely another upsurge after the tying goal from Lamoureux-Morando, but a resolve that we haven't seen in previous Olympics began to manifest after that non-call. It almost seemed that the United States had had enough of Canada's golden girl with her game-winning goals, who seemingly could do no wrong, no matter how out of control she was charging around the ice. Yes, the Americans got some puck luck, but with competent officiating, Poulin gets assessed two minutes for her open-ice hit on Kelly Pannek in the first period, plus at least two more for lowering the boom on Decker. Canada had two or three extra skaters on the ice just before Hilary Knight scored her power-play goal, so while the U.S. benefited from some uncalled infractions, there were missed calls both ways.
Once the game was tied at two apiece, I thought that the Americans clearly carried play and had a number of great chances to end it. Canada in general, and players like Poulin in particular, looked tired. I don't remember seeing that in prior Olympics. Maybe the bottom line is that when two teams have been as competitive as these two rivals have been for the last eight years or so, eventually the outcome is going to go in the favor of the other team.
The unfortunate thing about the gold medal is that it has to come down to a gimmicky ending. As shootouts go, it was a very good one, but I hate four-on-four overtime, and I positively detest deciding anything worth deciding via a shootout. This is the Olympics. We have a working Zamboni. Let's just play hockey until someone scores. That's worked fine in countless other tournaments at many levels for decades. Let's stick with that.
While we're talking about topics other than NCAA tournaments, what was your reaction to the announcement of the Patty Kazmaier Award finalists? Olympic years tend to be a different animal as far as that award is concerned, and after a short list of obvious choices, there were a number of different directions that the voters could choose to go.
Candace: I can't deny that a few of the selections definitely surprised me. As good as Kristen Campbell has been, I don't see her season as being Patty Kazmaier Award worthy, especially since as stated before, I think she's benefiting greatly from playing in front of the best team defense in the league. Maybe the voters felt that since Wisconsin has been the dominant team in the country this year, they had to include at least one player from the Badgers, and since Roque's scoring didn't justify it, they went with goaltending, but I think we've seen other goalies with similar stats to Campbell not get a nod before.
I was also surprised by Savannah Harmon of Clarkson getting a nod. I thought it would go to Giguère, who is fifth in the country in scoring and has almost identical numbers to Gabel. Harmon is a great defenseman, but I think she may have gotten a senior bump.
Shea Tiley honestly makes more sense to me than Campbell does. She's been consistently good, and her numbers are almost equal to Campbell's.
I think what most surprised me was Sydney Baldwin getting nominated, and that Tereza Vanišová didn't. I can almost understand why Rebecca Leslie was passed over, given how generally inconsistent BU was this season. Combined with Bach's season, I figure they decided only one Terrier would make it. I understand the same thing with Makenna Newkirk of Boston College, who is having a stellar year. However, BC's Watts and Lonergan were locks, and then the voters also added Toni Ann Miano, who is having a great season and is the top offensive defenseman in the country. Picking four BC players is probably too much.
However, Vanišová has been key to the Black Bears' success. This is a team that missed the Hockey East playoffs last year, and this year finished third and has been in and out of the top 10 rankings in the USCHO.com poll all year. Without Vanišová, that just doesn't happen. Look at her production against BU in the first round of the Hockey East tournament.
Ultimately, only 10 players get a nomination, so somebody is bound to be left off who is having a great season, but not including Vanišová borders on criminal to me. What did you think of the Kazmaier list? Any surprises? And since we haven't talked about it yet, how do you see the CHA playing out this weekend? Will Robert Morris return to the NCAA tournament, or will it be Mercyhurst, or someone else?
Arlan: Awards are flawed. In sports, definitely. Take any sort of team game based on carefully thought-out rules, and then try to turn it into an individual competition with no real rules, just some ill-conceived guidelines that are open to interpretation. Entertainment awards are even worse, where it seems like half the voters only watched one movie or listened to one album. In corporate America, awards invariably go to the person who already gets the most attention while ignoring those who toil even harder in anonymity.
As a sign of how tough it is to pick recipients of sports awards, one will find that the list is always either too long, too short, or both at the same time. I can't come up with a list of 10, but it would be simple to zoom in on the top 12. Or eight. Just not 10. The whole point of awards is to bring positive recognition to individuals, but invariably, we wind up criticizing many of the honorees. I'm not in the mood to do that right now, so I'll just point out a few things that seem to be fairly consistent about the Patty Kazmaier discussions from year to year.
Everyone agrees that defensemen are consistently under appreciated in the voting. Yet suggest a defenseman who would be a good addition, and someone will point out one of the many forwards who have more points. Try to find a defensive-minded defenseman to put on the list, and you can quickly find eight — or maybe 12 — who all look about the same and blur together.
If a goalie plays for a weak team, her stats aren't very good, and detractors will point out that her team could have finished in roughly the same position without her. If a goalie plays behind a strong defense, then her numbers are just the product of that great defense; any goalie would look great on that team!
It's okay to include young players, even freshmen, but only if they play on a team that you like. If they play for some other team, it's fine to point out that they can be honored some other year, while this is our last chance to vote for a deserving senior.
It's fine to consider team success — or to ignore it — depending on whether the player that you are promoting plays for a team that was or was not successful. The same is true of any statistic, individual or team. Only mention it if supports your position. After all, it is very important to lead the country in power-play goals scored in the second period of road games played on Thursday nights. Obviously!
You're right that Vanišová could easily be on the list, but do we really think that half of the best players in the country, plus a lot of the bubble finalists, play in Hockey East? Meanwhile, Colgate, who I'd say is the most talented team in the country, doesn't even get a mention. Nor does Ohio State, which is a more successful version of Maine with better players. It was tough enough just to try to find someone from Wisconsin for the list, and once a Badger is named, nobody is happy about it. We have to walk a thin line of trying to represent a mix of leagues, teams, and positions, while still recognizing the most-deserving individuals.
So congratulations to all of the finalists, and my condolences to those deserving players who were overlooked.
Speaking of overlooked, what do we expect to see in the CHA this weekend? Will Robert Morris continue its run? Will Mercyhurst return to the NCAAs after a one-year absence? Or should we prepare for the kind of curveball that only the CHA seems capable of serving up?
Candace: Ultimately, you are right, and yes, I want to congratulate the 10 players who were nominated.
I was surprised that no one from Ohio State got nominated. Perhaps Sauve should have been nominated. As for Colgate, they are truly a team that has a lot of parts that contribute to their success. They are balanced across four lines and have two good goaltenders in Liz Auby and Julia Vandyk. They all play well as a team, which is part of their success, but I don't think that their players are quite at the tier that seems to have been set stats-wise for the Patty Kazmaier Award.
On the CHA, I don't see a curveball coming. I don't think that Syracuse, Penn State, Lindenwood, or RIT are capable of running the table the way RIT did a few years ago. I think it comes down to Mercyhurst and Robert Morris. Right now, I think the Colonials have to feel like they are playing with house money. A few weeks ago, they had no control of whether they would win the conference. Then Mercyhurst stumbled a couple of times, and Robert Morris drove right through that opening.
However, both teams are very closely matched. I wouldn't want to have to bet on it in Vegas; I think it could go either way, but if pressed I'd pick Robert Morris to win and return to the NCAA tournament.