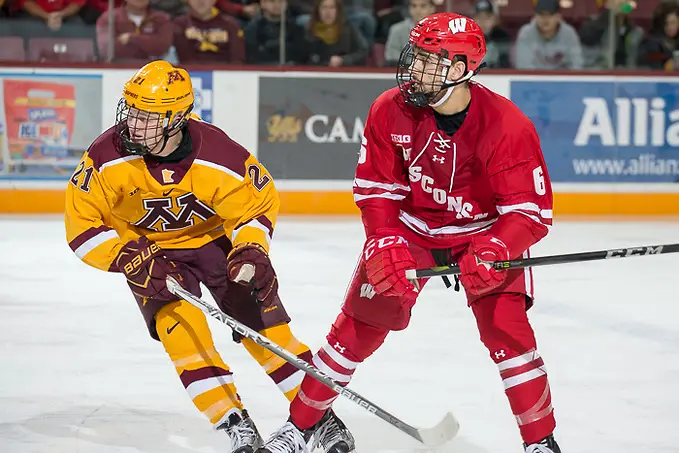 It's Big Ten playoff hockey time, and while top-seed Notre Dame watches to see who advances from the first weekend of play, everyone else will try to survive a best-of-three series to face off in single-elimination semifinal action next weekend.
Coaches are fond of calling playoff hockey the "second season" for the opportunities that these games provide.
Both Notre Dame and Ohio State are solid for the NCAA tournament, sitting in second and sixth places, respectively, in the PairWise Rankings. Minnesota and Michigan are tied at ninth in the PWR, and Penn State is a definite bubble team at 13th, and both Wisconsin (23rd) and Michigan State (35th) would need to capture the playoff championship and its autobid to extend their seasons beyond St. Patrick's Day, which is the night of the Big Ten title game.
The immediate weekend brings intriguing matches.
The last time both Wisconsin and Michigan State played their first-round opponents, they beat them and in the rinks where they'll be playing this weekend. Minnesota and Penn State meet this weekend after the Nittany Lions owned the Golden Gophers just last weekend at Pegula Ice Arena.
Each team brings advantages into the weekend. While Minnesota doesn't have Penn State's firepower, the Gophers have experience that the Nittany Lions lack. What the Spartans lack in depth they make up for in tenacity and a top offensive line as good as nearly any in the country. The Buckeyes have arguably the best-rounded team in the league as well as the home ice advantage. Michigan may be young but the Wolverines have coalesced and finished the season hot. The Badgers, though, would like to bring an intangible of their own to Yost Ice Arena this weekend: swagger.
"It's all about confidence and how you're going to carry yourself," said Wisconsin associate coach Mark Osiecki. "We talk about swagger. Where's our swagger? How do we get that back? It is about confidence and going out and playing with confidence."
That confidence factor is something that can carry a team the short distance necessary to survive a playoff series. Penn State coach Guy Gadowsky said that he can't really identify why the Nittany Lions rose to the occasion last week to sweep Minnesota and secure home ice for the first round, "But I'm really glad they did," he said.
"I thought that was our most consistent weekend for sure and probably our most consistent game Friday night," said Gadowsky.
The Nittany Lions beat the Gophers 5-1 that night, a win that marked their second in a row after following a seven-game winless streak. Penn State won 5-2 Saturday to extend that win streak to three games. Gadowsky said that right now, it's all about the team's attitude.
"Really, the more important thing is the character in the locker room and the mindset they come out with," said Gadowsky. "It's really not how much we practice. It's a mindset and it's a commitment to the program."
After sweeping Wisconsin at home and outscoring the Badgers 10-2 in the process, Ohio State coach Steve Rohlik pointed to experience as a key factor for success.
"I tip my cap for the guys in my room and the six seniors that we have," said Rohlik. "It was nice to be on top this weekend, win two games and get some momentum going into the playoffs."
Even though Ohio State is the top B1G team playing this weekend, Rohlik never takes any game for granted.
"I say this every weekend; it's very tough to win at this level," said Rohlik after the sweep of Wisconsin. "Any weekend, any night. The parity in college hockey is off the charts."
Every Big Ten team has exhibited a degree of inconsistency this season, and each has weaknesses that can be exploited. I don't know about the rest of college hockey, but Rohlik is right when it comes to B1G hockey; there is parity, and not one series this weekend is a sure bet. Maybe it will come down to swagger.
The best-of-three series are scheduled Friday through Sunday. All Friday games begin at 7 p.m., all Saturday games start at 7:30 p.m., and if Sunday games are necessary, they begin at 7 p.m.
Here's a brief look at each series by the overall numbers.
No. 7 Michigan State (12-20-2) at No. 2 Ohio State (21-8-5)
The Buckeyes are 6-3-1 in their last 10 games while the Spartans are 3-6-1 in the last 10 but one of those wins was against Ohio State in Columbus Feb. 3. The Buckeyes won the three previous meetings between the teams this season.
Scoring offense: Michigan State 2.53 (46th), Ohio State 3.12 (t13th).
Scoring defense: Michigan State 3.15 (t44th), Ohio State 2.06 (tie third).
Power play: Michigan State 18.9 (29th); Ohio State 21.9 (13th).
Penalty kill: Michigan State 76.3 (57th); Ohio State 91.1 (first).
Scoring threats: Michigan State 's top line of Taro Hirose (12-28—40), Mitchell Lewandowski (19-14—33) and Patrick Khodorenko (11-18—29) is fun to watch. Any number of Buckeyes can score, but Tanner Laczynski (14-25—39) broke a five-game scoreless streak with two against Wisconsin last weekend, Christian Lampasso scored three of his nine season goals against the Badgers.
Top goaltenders: John Lethemon (2.79 GAA, .904 SV%) for Michigan State, Sean Romeo (2.06 GAA, .928 SV%) for Ohio State.
No. 6 Wisconsin (14-17-4) at No. 3 Michigan (18-13-3)
Michigan rides a six-game undefeated streak (5-0-1) into the playoffs after sweeping Arizona State at home last weekend. The Wolverines are 6-3-1 in their last 10 games. The Badgers are 3-6-1 in their last 10 games, but their last win was against the Wolverines Feb. 3 in Yost Ice Arena, and Wisconsin is 2-1-1 against Michigan this season.
Scoring offense: Wisconsin 3.03 (23rd); Michigan 3.21 (t10th).
Scoring defense: Wisconsin 3.17 (46th); Michigan 2.94 (t31st).
Power play: Wisconsin 18.1 (t31st); Michigan 15.6 (47th).
Penalty kill: Wisconsin 81.5 (29th); Michigan 76.5 (55th).
Scoring threats: Although he was kept off the scoreboard against Ohio State last weekend, Trent Frederic (15-13—28) is Wisconsin 's most consistent forward. Tony Calderone (19-14—33) is having a very good senior year and has been hot lately.
Top goaltenders: Kyle Hayton (2.97 GAA, .894 SV%) and Jack Barry (2.89 GAA, .903 SV%) for Wisconsin, Hayden Lavigne (2.64 GAA, .911 SV%) for Michigan.
No. 5 Minnesota (19-15-2) at No. 4 Penn State (16-13-5)
The Nittany Lions are 3-5-2 in their last 10 games, but two of those three wins came against Minnesota at home last weekend and Penn State is 3-1-0 against the Golden Gophers this season. Minnesota is 6-3-1 in its last 10 games.
Scoring offense: Minnesota 2.61 (45th), Penn State 3.65 (third).
Scoring defense: Minnesota 2.47 (16th), Penn State 3.06 (t38th).
Power play: Minnesota 13.3 (54th), Penn State 20.0 (t21st).
Penalty kill: Minnesota 83.7 (13th), Penn State 84.2 (11th).
Scoring threats: Minnesota's Brent Gates, Jr., has four goals in his last five games. Five
Nittany Lions have scored 11 or more goals, but each has been streaky this season. I'd watch Denis Smirnov (14-11—25).
Top goaltenders: Mat Robson (1.95 GAA, .939 SV%) for Minnesota, Peyton Jones (2.90 GAA, .906 SV%) for Penn State.
Thoughts on the postseason
The Big Ten playoffs have me thinking not only about this conference playoffs but the postseason in general.
The regular-season Big Ten championship is an enormous advantage.
The team that captures the regular-season Big Ten crown has a first-week playoff bye that does more than exempt them from playing in the first week. The first-place team is also spared from a playoff series, as the first-place team goes right to a single-game semifinal the second week of the playoffs.
I may be stating the obvious here, but the advantage of finishing first gives the regular-season champions the advantage of playing the lowest remaining seed that has also played multiple games to get to the conference semifinals. Also, that bye spares the first-place team the possibility of two losses to a much lower team in the PairWise Rankings.
I miss the old CCHA championship weekend.
I am really happy that the Big Ten has decided to move its playoffs to campus sites. The atmosphere in campus rinks should be electric.
When the Big Ten tournament was twice held in the old Joe Louis Arena in Detroit, the attendance and atmosphere were abysmal. That stood in direct contrast to the successful event that the old CCHA championship had become. Whatever criticisms I had of the league in my many years of covering it, I loved the championship weekend in Detroit, which was a festival for the fans. There were sometimes attendance issues with early and semifinal games and the format wasn't always perfect, but the championship itself was always done well, as were the events for fans to attend in the league's last decade or so.
For what it's worth, I miss the WCHA Final Five, too – although the last one I covered was poorly attended in Grand Rapids.
While I'm happy that the Big Ten has moved the playoffs to campus sites, I do miss the event atmosphere that came with the old CCHA playoff tournaments.
We deserve better television announcers at the Frozen Four.
I know that many people will disagree with me, but ESPN can do better than John Buccigross and Barry Melrose. Buccigross, at least, seems to keep up with college hockey to some extent during the regular season, but Melrose doesn't have any college hockey presence during the regular season and the little homework he does before the Frozen Four focuses mostly on pet teams or themes.
Why keep talent like Dave Starman in the ESPN studio during the Frozen Four? Starman is one of the most knowledgeable color commentators in college hockey. In addition to his solid broadcasting talents, Starman is an NHL scout and can bring observations about the game that Melrose at this point cannot.
I don't know who else is available, but I'd like to see people who are far more involved with college hockey call the most important, most visible college hockey games of the year.
An addendum.
After a faculty meeting Tuesday at Mott Community College where I teach English, a colleague asked if I was still writing about college hockey. When I told him that I was, he said, "I lost interest after the CCHA folded."
We bantered back and forth about the old days. I told him that the WCHA and Atlantic Hockey are especially interesting right now and remind me a little of the league I used to cover.
He's a Michigan State fan. I told him to keep the faith. I think Big Ten hockey is about to get very interesting.
Three stars of the week
There's a first-timer this week.
First star – Ohio State freshman goaltender Tommy Nappier
Nappier (St. Louis, Mo.), made 31 saves Saturday in Ohio State's 4-0 win over Wisconsin, his first career shutout win. In his four decisions this season, Nappier is 4-0-0 with a 1.33 goals-against average and .956 save percentage. This is Nappier's first career Big Ten weekly award.
Second star – Penn State sophomore goaltender Peyton Jones
Jones (Langhorne, Pa.) had a 1.51 goals-against average and .945 save percentage in Penn State's sweep of Minnesota, the first in program history. Jones only faced 14 shots Friday but made 38 saves Saturday night. This is his fourth career Big Ten weekly award.
Third star – Notre Dame senior forward Jake Evans
Evans (Toronto, Ontario) led the Big Ten in scoring last weekend with five points (2-3—5) including a shorthanded goal in Friday's win over Michigan State. This is Evans' third career Big Ten weekly award.
My ballot
1. St. Cloud
2. Denver
3. Minnesota State
4. Cornell
5. Ohio State
6. Minnesota Duluth
7. Providence
8. Michigan
9. Notre Dame
10. North Dakota
11. Clarkson
12. Northeastern
13. Union
14. Omaha
15. Penn State
16. Boston College
17. Minnesota
18. Mercyhurst
19. Northern Michigan
20. Bowling Green