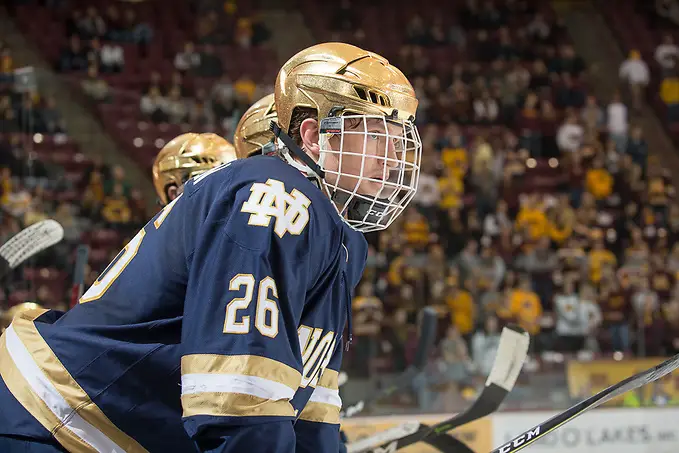 For much of the season, Notre Dame was the toast of the Big Ten, to the point where the Irish had the regular-season crown wrapped up with games to spare despite going 4-5-1 down the stretch.
Now, after getting a bye for the first round of the Big Ten tournament, Notre Dame will try to regain its form for a postseason run.
Head coach Jeff Jackson liked the way the Irish played during parts of the season's final month, but other parts were a bit disconcerting.
"I thought our team dropped off after we clinched the league," Jackson said. "That became more evident to me with how we performed. Up to that point we had been playing fairly well, even though we had lost a couple games over that period of time.
"We didn't talk about it a lot, but when it happened the guys felt like it was a real accomplishment, and it was. It was a feather in their cap as far as what they're capable of, but the thing is hopefully we can get that back going into the playoffs because I don't want to go into (NCAA tournament) on a negative note."
The Irish will get an opportunity to get back on track on Saturday when they host Penn State for a one-game semifinal. If Notre Dame wins, it will host the championship game the next weekend.
Jackson watched the Nittany Lions sweep Minnesota on his iPad and caught parts of the Michigan and Wisconsin series on the Big Ten Network. He said bye weeks "don't necessarily help you, they probably hurt you," when it comes to losing your groove, but the team was able to heal some "bumps and bruises," and will head into the postseason healthy.
"Then we had three good practices and a scrimmage on Saturday. The emphasis was to make sure we kept our competitive-edge, so we did a lot of competitive stuff. We scrimmaged for almost two hours on Saturday.
"Hopefully, it'll minimize the challenge of having a bye week."
With the three home teams sweeping the first round of the Big Ten tournament and the potential of five teams making the NCAA tournament, the winner of the conference tournament will certainly have earned it. Jackson said he saw improvement from multiple teams throughout the season.
"Frankly, there was times where Michigan State and Wisconsin were playing really well, too," he said "The whole conference, certainly, is challenging. We had a really good run in the middle of the season that certainly helped us, but the second half of the year was a little bit more as I expected as far as a challenge to win games every night. Even during our winning streak, we had a lot of one-goal games over that period of time."
The Irish won 16 consecutive games from late October to late January. The run all but assured them a Big Ten title, but Jackson says they will need to do more for a successful postseason.
"Our whole emphasis throughout the year was to try to improve our possession game, to do a better job of coming out of our zone, possessing the puck through the neutral zone and then, certainly, in the offensive zone," he said. "That's still something that we've been emphasizing, even over this two-week span that we've had getting ready for the playoffs. There was positive signs in the second half, we were making progress in some of those areas, but it's still going to be the key for us moving forward."
To advance in the conference playoffs, Notre Dame will need to beat Penn State for the fourth time this season. The two teams tied the last time they played.
"Penn State, they're a fast-starting team," Jackson said. "We were down 2-0 to them the first game at Penn State. We've got to be prepared for them, they pressure the puck as well as anybody in college hockey. The first period, the first 10 minutes of the game, are going to be really important to us getting off to a good start. We're going to have to be really smart and make good puck decisions."
Playing at home should help.
As of Wednesday morning, Notre Dame's ticketing website showed mainly standing room tickets left available. Jackson thought that moving the tournaments back to campus might encourage more fans to travel to an NCAA regional, if the team they support does move on, since traveling to a conference tournament neutral site was no longer an issue. He also said that himself and former Michigan coach Red Bereson advocated for a three-game semifinal, but he has since adopted the format that was chosen.
"With more time to think about it, I'm OK with the single game," he said. "You're pretty much assured of having a good crowd for that single game. It's hard to have a good crowd when your students are off campus, which most of us have break at this time. It's hard to get a full building for three nights if you end up playing three games."
Michigan looks to turn the tables on Ohio State
Michigan head coach Mel Pearson didn't sound too worried about the fact that Ohio State was 4-0 against the Wolverines this season when he was interviewed on 1050 WTKA radio on Tuesday.
"We don't have to go down there and beat them twice in their building," he said. "In fact, the game is not in their building, it's at Nationwide (Arena) because the (Schottenstein Center) is tied up with high school wrestling or something. There's a lot of different things you can do when you only have the one game. You can play a shorter bench, you're not concerned with having to go back-to-back."
Pearson was complimentary of the Buckeyes, saying that they were the best-performing team in the conference right now, but he thinks Michigan has a gear that Ohio State hasn't seen yet this season.
"It's a huge challenge, but it's a great opportunity," he said. "They haven't seen our best, and that's the beauty of it, we can play a lot better. We beat ourselves the last game down there. We outshot them the first night, I think, 32-20 and everything seemed to go in for them. The next night, we just beat ourselves, it's not that they came in and steamrolled us we just, it might have been one of our worst games in the second half."
Sweeps of Notre Dame and Arizona State essentially ensure the Wolverines of a NCAA tournament bid, but Pearson said he wasn't going to rest easy until he saw the team's name on Selection Sunday.
That being said, he was proud of the way the teams has played as of late.
"They were all must-win games and there was a lot of pressure on our players and they did a fantastic job," he said. "I'm really happy for the program and the players and our fans. The fans were fantastic last weekend and they have been all year. It's been a fun year to this point but we, obviously, have a bit of work to do still."
Penn State expects a tough test from Notre Dame
It sounds like scoring 21 goals across four games against Minnesota hasn't gone to Guy Gadowsky's head.
Penn State's head coach knows his team is in for a test at Notre Dame. The Irish are eighth in the nation in team defense with an average of 2.18 goals allowed per game.
"They're an extremely disciplined team," Gadowsky said. "They're incredibly well-coached and they certainly don't give you anything. For you to generate offense you really have to do it on your own, you can't just sit back and wait for them to make mistakes because it looks like they never do."
Gadowsky was also quick to point out that Notre Dame also posed more problems.
"They can play offense too, though, they've scored some great goals," he said. "They obviously have a great team-defense and then they have Cale Morris, who provides a whole set of different problems all on his own.
"They're a very good team, we know that, but at this time of the year in this league, you're going to play a great hockey team however you slice it."
B1G Awards Finalists
The Big Ten announced the finalists for the 2017-18 conference individual awards. The winners and the All-Big Ten teams will be announced March 13th.
Player of the Year
Cooper Marody
Cale Morris
Tanner Laczynski
Defensive Player of the Year
Jake Evans
Jordan Gross
Trevor Hamilton
Goaltender of the Year
Hayden Lavigne
Cale Morris
Sean Romeo
Freshman of the Year
Quinn Hughes
Mitch Lewandowski
Casey Mittelstadt
Coach of the Year
Mel Pearson
Jeff Jackson
Steve Rohlik
B1G in the poll
No. 5 Notre Dame, No. 6 Ohio State, No. 11 Michigan, No. 12 Penn State and No. 15 Minnesota represent the Big Ten in this week's USCHO.com Division I Men's Poll.
My ballot
1. St. Cloud State
2. Cornell
3. Minnesota State
4. Denver
5. Notre Dame
6. Ohio State
7. Minnesota Duluth
8. Northeastern
9. Providence
10. Clarkson
11. Michigan
12. Omaha
13. North Dakota
14. Penn State
15. Minnesota
16. Union
17. Bowling Green
18. Boston College
19. Northern Michigan
20. Boston University
This week's matchups
Penn State at Notre Dame (Saturday, Compton Family Ice Arena)
Michigan at Ohio State (Saturday, Nationwide Arena)