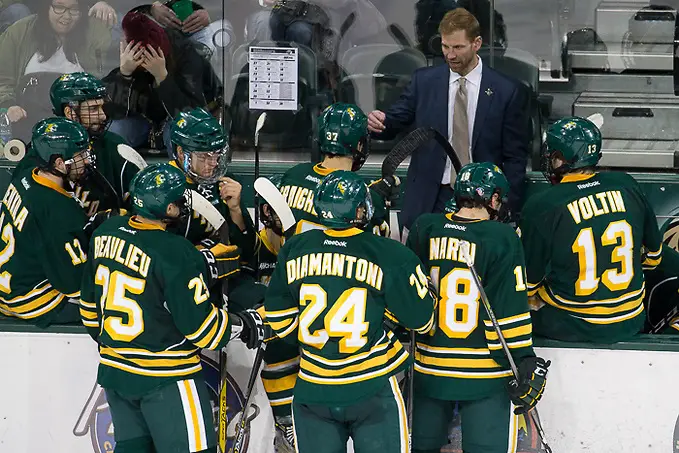 The WCHA has been, for the past two seasons, a one-bid conference.
Last year, conference champion Bemidji State was upset in the semifinals by Bowling Green, which opened the door for Michigan Tech to win the conference tournament title.
Two seasons ago, fourth-seeded Ferris State upset both Michigan Tech and Minnesota State in the final edition of the Final Five to qualify for the NCAAs.
But in both seasons, the team that won the Broadmoor Trophy title was the conference's lone representative in the NCAA tournament.
This season, though, has the potential to be much different.
With Minnesota State a virtual lock for the national tournament, the conference now has a legitimate shot of getting two — and maybe, MAYBE three — teams in.
A few things have to fall the right way for that to happen, however. But the two teams that aren't Minnesota State with the best shot of getting into the national tournament without winning it all just so happen to be playing one another this week.
Second-seeded Northern Michigan (23-13-3) will host third-seeded Bowling Green (22-10-6) in a WCHA semifinal series in Marquette, Mich., starting on Friday. The winner not only advances to the WCHA title game and a chance to play for the brand-new Jeff Sauer WCHA Championship Trophy but also greatly improves their chances of making the NCAA tournament as an at-large.
The loser will likely see their season end early.
"BG is a very good hockey team and they've had a very good season. They don't want it to end. In their minds, they have thoughts of continuing on into the NCAA Tournament and then seeing what happens," NMU head coach Grant Potulny told the Marquette Daily Mining Journal. "They're coming up here with the expectation to win, just like we would be if we were going down there. It gets way harder this weekend than even last weekend.
"As you go and as you advance, somebody is going home and it'll be just as challenging this weekend. As you continue to move on, you get into those situations where whoever you're playing at this point is having a very good year."
Bowling Green is currently No. 16 in the PairWise Rankings, wedged in between North Dakota at No. 15 and Boston College and Northern Michigan — who are both tied for No. 17.
The good news for both NMU and BGSU is that neither North Dakota nor Boston College are locks. North Dakota is the No. 4 seed in the NCHC while Boston College is low in the Pairwise despite winning the Hockey East regular season.
So both NMU and Bowling Green, if things break right, can make it to the NCAA tournament.
But first, they have to go head-to-head with one another.
Both teams are coming off a difficult series against a lower seed. NMU needed three games to dispatch seventh-seeded Alabama Huntsville. BGSU, on the other hand, was able to sweep away sixth-seeded Ferris State but not before an epic overtime win in game one and a 5-2 game two win that was more difficult than the scoreline makes it appear.
The Wildcats and Falcons played just one series in the regular season. NMU swept BGSU Jan. 12-13 in Marquette. That, in Bowling Green head coach Chris Bergeron's mind, was a big series. The Wildcats were the only team to sweep the Falcons this season and, ultimately, it cost them a chance at home ice for this round of the playoffs.
"We learned from ourselves that we don't ever want that to happen again," Bergeron said. "Looking at the matchup this weekend where it is, if there was one weekend over the course of the whole season that we'd like to have back it's probably that one. Now we have an opportunity."
The Wildcats won the first game of that series 5-2 before edging BG 3-2 in overtime in game two.
Both games, in Bergeron's mind, were poor, despite the closer scoreline in game two. BG will need to be disciplined to have a chance this weekend.
"The discipline is something we can control. The penalty kill, we're up against a really, really good power play. Both units are really good and both units scored against us up there," he said. "We have to be disciplined. It starts with discipline. Anyone who follows this team knows it's been inconsistent."
The Wildcats went 4-for-12 on the power play against the Chargers last weekend, and when NMU and BGSU met in January the Wildcats scored five power play goals on nine chances.
Bowling Green's offense was just as solid last weekend against FSU, although they didn't necessarily have the goals to show for it. In Friday's game they put 64 shots on Ferris goalie Darren Smith before Brandon Kruse buried the game-winner 12 minutes into overtime.
Potulny said having home ice for this playoff series was one of the perks of finishing ahead of the Falcons in the standings.
"I think in this series, home ice is probably bigger than for any other team we could play," he said. "In their rink, they play with a little tighter corners. They try to run you out of real estate. Where in our rink, we can move and we can skate and make some plays.
"So I think the home-ice advantage is big and it might've made the difference with who finished above who. It was a one-game difference (in the standings). We had them here and we didn't have to go there, and we swept them. I think home ice is going to be very critical this series."
Tech eyes another upset
In the other semifinal series, top-seeded Minnesota State (28-7-1) hosts fifth-seeded Michigan Tech (19-15-5) in Mankato.
The Huskies will be looking for another upset this weekend after sweeping fourth-seeded Bemidji State on the road. Tech managed to put 10 goals past the Beavers — not an easy feat with Michael Bitzer in net. Jake Lucchini scored three goals in the series and added three assists while Mark Auk had a goal and four assists.
But the Huskies know the Mavericks present a unique challenge. They're coming off a strong series in which they scored 14 goals in two games on eighth-seeded Alaska.
"I'm looking forward to getting on the ice with them," Michigan Tech head coach Joe Shawhan said on his weekly radio show. "They are as good as any team in the country and I think they have the longest winning streak in the nation right now."
Michigan Tech and Minnesota State met just once this season, and it was way back in October. The Mavericks swept the series at home with 3-1 and 5-3 scores.
Shawhan said he was excited to get back out there against MSU to see how his team has grown in the five months since.
"I'm looking to see our growth, as to where we're at as a program," he said. "You've got to play the best to know where you're at…. We'll grow a lot out of this series."
Players of the Week
The WCHA players of the week were Northern Michigan junior Troy Loggins (offensive), Northern Michigan sophomore Philip Beaulieu (defensive), Bowling Green sophomore Ryan Bednard (goaltender) and Minnesota State freshman forward Ryan Spooner (rookie).