Nichols looking for NCAA success
The Nichols Bison will be making their fourth appearance in the NCAA tournament, but are still looking for their first win on the national stage. They host a first-round game with former ECAC Northeast rival Fitchburg State on Saturday night.
How they qualified
Nichols won the Commonwealth Coast Conference championship as the No. 5 seed in the tournament. They defeated Curry, Salve Regina, and the University of New England all on the road to earn the title. The wins over Curry, 4-3, and Salve Regina, 5-4, came right down to the final period and final minutes of regulation play, while the championship game featured an offensive showcase by the Bison in the 8-3 win over the host Nor'easters.
Key performers
Senior Scott Cuthrell (12-31-43), sophomore J.B. Baker (15-20-35), junior Matthew Menta (7-25-32), and sophomore Vincent Crivello (14-10-24) lead the Bison offensively. The four have also combined for 19 of the 32 power-play goals scored by Nichols this season.
Colin Brennan (21 games placed, .904 save percentage, 3.00 goals-against average, two shutouts) has been the man in the crease for Nichols, and while the statistics may not be overwhelming, he is making the big save when needed during their three-game playoff win streak.
Why Nichols will make the Frozen Four: This is the ultimate in fast-start teams, as they are 10-1-0 when they have a lead after the first period and 14-0-0 when they lead after 40 minutes of play. If they get a jump on their opponent, they will be hard to come back on as they don't make mistakes and beat themselves.
Why Nichols won't make the Frozen Four: Generally, playoff and tournament games are low scoring, so surrendering three goals a game could be a deal breaker for the Bison advancing to Lake Placid. They also must overcome the one-and-done history in the tournament, but do have a home game in the first round to change history.
Fitchburg State excited about opportunity
Fitchburg State is making its first appearance in the NCAA tournament. Long-time coach Dean Fuller, who has amassed over 530 wins in his career, will be participating in his first national tournament. The Falcons face Nichols in their first-round game on Saturday night.
How they qualified
Fitchburg State used a great second half surge and strong playoff run to win the MASCAC championship and earn entry into the NCAA tournament. They have an eight-game winning streak, including playoff wins over Salem State and Massachusetts-Dartmouth to earn the conference title. The Falcons earned a quarterfinal round bye in the MASCAC playoffs and surrendered just two goals in their two playoff contests, winning 5-2 and 2-0.
Key performers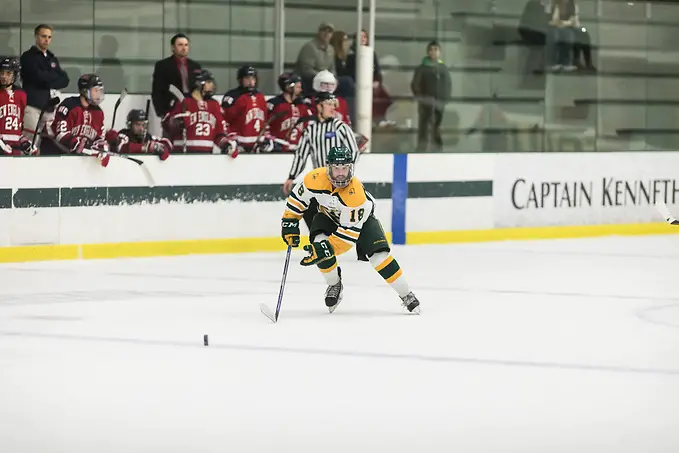 The big line of junior Nick DiNicola (11-35-46), freshman Sascha Figi (21-19-40), and sophomore Tyler Warila (14-15-29) has been the key offensively for the Falcons. Sophomore Christopher Vicario (11-18-29) and senior James Gordon (12-10-22) have also supplied some key goals, with Gordon chipping in with six power-play markers.
Goalies Brian McGrath (15 games placed, .932 save percentage, 2.76 GAA, two shutouts) and Kirby Saari (13 games played, .929 save percentage, 2.78 GAA, one shutout) split games until the playoffs, where McGrath took over the crease and backstopped the MASCAC title run. His 45-save performance was the key in the championship game win, and he will be expected to keep that level of play going into the NCAA tournament.
Coach's Perspective
"We were totally focused on winning the conference championship," said Fuller. "The NCAA tournament was always something we somehow never had the opportunity to compete in despite the past successes here with the program. This is a really big deal for the school, the program, and these kids who have earned everything this season."
Why Fitchburg State will make the Frozen Four: As big lines go, the Falcons have a really good one in DiNicola-Figi-Warila. Fuller has stated, "We go as Nick goes," so they will have to produce despite getting the best defensive attention from their opponents. Both goaltenders have been solid, but if McGrath's hot streak in the crease continues, the Falcons could punch their ticket to Lake Placid.
Why Fitchburg State won't make the Frozen Four: There is always the "been there-done that" factor in a national tournament. The stakes are higher, and experience counts. If the Falcons get overwhelmed by playing on the big stage, it will be a short run in the NCAA tournament.
Colby making program history
The Colby Mules are another first-time entrant to the national tournament following their first ever NESCAC championship win last weekend. During the playoff run, coach Blaise MacDonald also enjoyed celebrating his 300th career win and watching his son Cam score two critical goals in the championship game victory over host Trinity, making the title run even more special from a MacDonald family perspective. The Mules travel to face the University of New England on Saturday night. They have faced the Nor'easters twice this season, losing 5-3 and 5-1.
How they qualified
The Mules are unbeaten in their last seven games. As the no. 6 seed in the NESCAC tournament, Colby downed Amherst, 5-1, in the quarterfinals; Wesleyan, 5-1, in the semifinals; and host Trinity, 4-1, in the championship game. Goaltender Sean Lawrence surrendered just three goals and had a save percentage of .973 in the NESCAC tournament.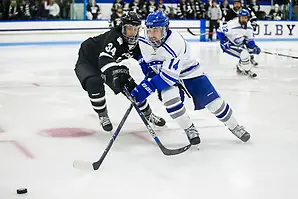 Key performers
Five seniors are among the 11 Mules with double-digit points this season. Phil Klitirinos (8-18-26), Cam MacDonald (15-8-23), Michael Decker (3-16-19), Michael Rudolf (8-10-18), and Mario Benicky (10-4-14) showcase the deep group of forwards Colby can roll off the bench with balanced contributions across all their lines.
Sean Lawrence (23 games played, .940 save percentage, 2.06 GAA, three shutouts) stopped 108 of 111 shots in the NESCAC tournament, surrendering just a single goal in each of the three contests.
Coach's Perspective
"Everything is on the upswing here at Colby," noted MacDonald. "The campus is energized and growing, and there are new facilities and excitement in the athletic department across all of the sports programs here. The hockey team is very much a part of that excitement, and we just want to be part of and draw off that energy and enthusiasm. It's great that we are still playing in March, and these kids have bought in to make it possible."
Why Colby will make the Frozen Four: Nothing beats great team defense, spectacular goaltending, and opportunistic scoring. Those are the characteristics of teams that make great playoff runs. The Mules have all those items and great senior leadership that should help them in their first NCAA tournament.
Why Colby won't make the Frozen Four: The Mules are 0-2 against UNE, surrendering five goals per game during the regular season contests. Yes, throw out the regular season stats, but UNE is an offensive juggernaut that will be the ultimate challenge for the Mules' team defense. Colby may hold the trump card in Sean Lawrence, who did not play in either regular season game against UNE.
Nor'easters embracing second chance
The Nor'easters from the University of New England received an at-large bid to the NCAA tournament and will be making their first appearance on the national stage beginning with a home game against in-state rival Colby on Saturday night.
How they qualified
Despite an 8-3 loss to Nichols in the championship game last weekend on home ice, the total body of work by coach Kevin Swallow's team was good enough to earn an at-large bid into the tournament. Key nonconference wins over Geneseo and Norwich enhanced their record and strength of schedule. The Nor'easters finished at 20-5-3 and are 15-2-1 in their last 18 games.
Key performers
Junior Brady Fleurent (16-34-50) has already become the program's all-time leading scorer, and he surpassed the 100-point plateau this season. Linemates Ryan Bloom (18-28-46) and Tyler Seltenreich (19-15-34) spearhead one of the best offenses and power plays in the entire country.
Goaltenders Ben Churchfield (15 games played, .906 save percentage, 3.26 GAA, one shutout) and Tate Sproxton (13 games played, .906 save percentage, 3.07 GAA, one shutout) have virtually identical numbers in splitting time this year in goal for UNE.
Coach's Perspective
"Last weekend's loss to Nichols was really difficult to take," said Swallow. "We were really excited and have played so well at home that it was deflating to lose our championship opportunity. We thought our season was over, but were thrilled on Monday to find out that we earned a spot in the tournament. We have had good practices this week, and I am confident that the team is looking forward to playing well at home against Colby, one of our Maine rivals."
Why UNE will make the Frozen Four: Averaging five goals per game and having the nation's best power play (numbers better at home) will stress any opponents' defense and goaltending. Fleurent, Bloom, and company are explosive and game-changing players.
Why UNE won't make the Frozen Four: The back-end and goaltending have been stellar on many occasions this season, including Churchfield's 1-0 win at Norwich. More consistency and tighter defense will be needed when goals become more difficult to find in tight playoff hockey with limited special teams chances.
Hobart searching for NCAA success
Hobart will be making their eighth NCAA appearance and fourth straight when they host Geneseo on Saturday night in "The Cooler." This is the first time Mark Taylor's team has earned an autobid to the NCAA tournament.
How they qualified
As first-year members of the NEHC, Hobart unseated the defending conference and national champions from Norwich in the title game in Northfield, Vermont, last weekend, 3-0. They had previously defeated Southern Maine, 8-0, in the quarterfinals, and Babson, 3-2, in the semifinal game. The Statesmen come into the tournament on a hot streak, going 10-0-1 in their last 11 games, including the conference tournament.
Key performers
The Hobart lineup is deep and experienced with this group of seniors having won over 80 games in their careers. Jonas Toupal (15-17-32) and Zach Sternbach (13-8-21) lead a balanced attack where all four lines and several defenders contribute to the score sheet on a regular basis. Defenseman Tanner Shaw (6-12-18) leads the blueliners in points and has chipped in with five power-play goals this season.
Goaltending duties have been split between senior Frank Oplinger (14 games played, .923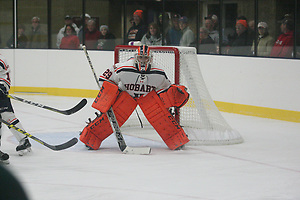 save percentage, 1.92 GAA, three shutouts) and sophomore Alexander Connal (14 games played, .929 save percentage, 1.69 GAA, two shutouts), with Oplinger backstopping the NEHC tournament run.
Coach's Perspective
"These guys care more about winning games than individual stats," noted Taylor. "We have been very focused during the last month or so of the season on playing our very best hockey. We will see how far that can take us."
Why Hobart will make the Frozen Four: The Statesmen have all the critical elements to make a run in the NCAA tournament: solid goaltending, an active defensive group, and balance up front that provides some matchup difficulties for opponents. The leadership and experience are all present for this team to make noise.
Why Hobart won't make the Frozen Four: The first-round games have been challenging for Hobart in recent years, and this year's opponent, Geneseo, is a major challenge right out of the gate. Home ice should be an advantage, but shutting down Geneseo's high-powered offense will be a big challenge.
Geneseo look for return to Lake Placid
Geneseo is making its sixth NCAA appearance and third in the past five years, including a trip to the Frozen Four in 2016 where they fell to the ultimate champions from Wisconsin-Stevens Point. The Knights have won seven of their last eight games and will face Hobart in a first-round game on Saturday night.
How they qualified
Geneseo qualified by way of winning the SUNYAC championship last Saturday over Fredonia, 7-1. Seeded No. 2, the Knights had a quarterfinal bye before beating Buffalo State, 5-2, in the semifinal game.
Key performers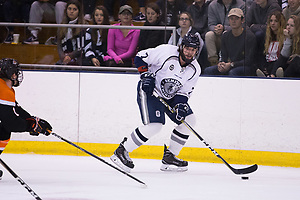 Four players, including Conlan Keenan (18-21-39), Tyson Empey (21-15-36), Andrew Romano (6-30-36), and David Szmyd (12-18-30) have recorded 30 points or more this season, and a balanced group of players provides important secondary scoring. Empey in his sophomore season has seen meteoric improvement from his freshman year numbers of 2-3-5.
Devin MacDonald (25 games played, .926 save percentage, 1.78 GAA, three shutouts) is the man between the pipes for the Knights. The junior has played in all but two games this season for coach Chris Schultz.
Coach's Perspective
"We scrimmaged Hobart in the preseason," noted Schultz. "They are a very good team, and while we certainly would have liked to be playing this one at home, "The Cooler" will be a great atmosphere, and I expect a very fast game between two of the best teams in the East."
Why Geneseo will make the Frozen Four: Experience, depth, solid goaltending, and some explosive offensive players make Geneseo very dangerous in this tournament. They have a huge hurdle in facing Hobart, but that could help jump-start a return to Lake Placid.
Why Geneseo won't make the Frozen Four: Back in January, the Knights played a little too fast and loose for their coach's liking and got hammered by UNE in a holiday tournament, 9-5. If bad habits creep into their game against good teams, the Knights' run will be short.
Salve Regina looks to rebound
Salve Regina received an at-large bid into the NCAA tournament and awaits the winner of the Nichols vs. Fitchburg State game in a quarterfinal matchup on Saturday, March 17.
How they qualified
Salve Regina has won 14 of 15 games until they were upset by the eventual CCC champion Nichols, 5-4, in a semifinal game on February 24. The Seahawks received an at-large bid based on their overall record of 20-5-2 that included quality wins over Norwich, Adrian, Massachusetts-Boston, Endicott, and UNE.
Key performers
Sophomore Jack Billings (19-26-45), along with freshmen Danny Eruzione (10-22-32) and Paul Boutoussov (14-4-18), have emerged as the Seahawks' top line. Billings has proved to be particularly adept on the power play with five goals and six game-winning tallies.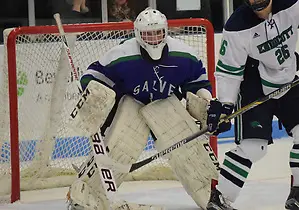 Junior Blake Wojtala (25 games played, .934 save percentage, 2.03 GAA, two shutouts) has started all but two games this season for Salve Regina and is viewed by his coach as the most competitive guy on the roster. He has big-game experience and has backstopped wins against several nationally ranked teams already this season.
Coach's Perspective
"If there is some magical solution for dealing with a three-week layoff, I certanly would like to know," said coach Zech Klann. "It has been like going back to training camp for us with a lot of conditioning and game situation work. We certainly have had a chance to get some guys more healthy and rested, but we are anxious to play. We have hit the reset button knowing we achieved one of our goals in qualifying for the NCAA tournament. We received the bye and now need to focus on preparations for one game that could send us to the Frozen Four. The team is very excited for March 17 to happen."
Why Salve Regina will make the Frozen Four: No doubt the Seahawks will be rested and have no excuses for not taking advantage of the first-round bye. Their roster is experienced, and they have a "big-game" netminder in Wojtala who can more than steal a game or two in a short tournament.
Why Salve Regina won't make the Frozen Four: Three weeks is a very long time to go without playing in a competitive game. While rest can be a good thing, too much of it may not be. Spirited practices can only do so much to gear you up for the national tournament with teams that have not stopped playing. How they come out on St. Patrick's Day to start their quarterfinal will dictate a lot in a Seahawks' run.