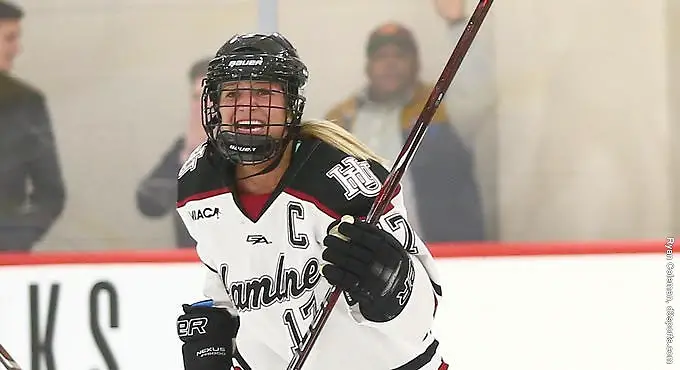 Norwich versus Hamline
Hamline is the newcomer to this year's Frozen Four. They'd never before made the NCAA tournament, but are riding an incredibly potent offense as they continue to set new program records. In just four years, the Pipers have gone from 6-17-2 to playing in the Frozen Four.
Their semifinal game against Norwich will feature two of the top five offenses in the country and four of the top five national scorers, three of whom play for Hamline.
If there is a question mark for Hamline, it's in net. Sophomore Annie Juergens has 13 starts, and freshman McKenna Hulslander has 15, but coach Natalie Darwitz has been riding Hulslander's hot hand, so to speak, and it seems likely the rookie will get the call again. She's started the past eight games for the Pipers, but she is just a freshman, and she's never seen anything like what Norwich will bring at her.
Hamline is used to being the offensive powerhouse, but Norwich averaged more than a goal per game more than the Pipers. Hamline has the most potent top line in Division III. Bre Simon has set the new career points record at Hamline. She's a sophomore. She's joined by Sarah Bobrowski and Darby Dodds, and the three are responsible for 149 of the team's 333 points. The Pipers do have depth in their second and third lines, and they'll be relying on them to match the Cadets, who have nine players with 20 or more points this season.
Norwich senior goalie Laurie King is sixth in the country with a 1.21 goals-against average. She's pitched nine shutouts already this season. She's a big reason the Cadets were undefeated in conference play and had just one loss all season.
The Pipers have had something of a fairy tale season, and if they want it to continue, they're going to have to find a way to do something only Plattsburgh has done this year. If Norwich has a weakness, it's not immediately obvious, and they have the advantage of playing at home. Hamline has to travel a long way, through a Nor'easter, to get the privilege to play the Cadets, and that's not going to work in their favor.
The two teams have never played each other before. That Hamline sort of came out of nowhere this season means they weren't on a lot of people's radars, and there's not a lot of scouting or tape on them. Much like Ohio State over in the D-I tournament, Hamline is an upstart with nothing to lose, and that can be dangerous.
Norwich has been looking to best Plattsburgh and find an advantage for years at this point. They've got the edge this season with the top seed and home ice. They won the national championship in 2011 and were runners up in 2012 and 2014. They've put together one of the most dominant seasons in D-III women's hockey history, and they have to feel like this is their time, but Hamline isn't going to give up their historic run without a fight.
Plattsburgh versus Elmira
There might not be more familiar foes than Plattsburgh and Elmira. The teams are bitter rivals who have played 54 times. The Cardinals had a 31-20-3 record against the Soaring Eagles. The two teams are some of the most accomplished in the history of D-III women's hockey. They met in 12 ECAC West title games and four NCAA tournament bouts. Together, they have won nine of the 17 national championships, and at least one of the two have appeared in 16 of the 17 NCAA tournaments since the Division III Championship was formed.
Plattsburgh is making its seventh consecutive and 12th overall appearance in the Frozen Four, while Elmira are making its 10th Frozen Four appearance and seeking its fourth national championship, which would be their first since 2013. Plattsburgh has won the last four consecutive national titles.
The two teams could not be closer. They have identical 24-2-2 records and split their two regular season meetings this season. Elmira is scoring nearly a goal more per game, but that's about as far apart as these two teams get. Their team defense, power play, and penalty kill numbers are just thousandths apart, and their goalies are in the top five in the country.
It's unusual for the Cardinals to enter the Frozen Four weekend as anything but the no. 1 seed, but it's not as though the no. 2 seed takes away from their season. They haven't lost since the Sunday after Thanksgiving to Elmira. Their only losses this season came to teams also playing in the semifinals — Elmira and Norwich.
Plattsburgh has successfully rotated between two goalies this season. The two take turns on a consistent basis and are ranked as the top two goalies in the country. Kassi Abbott played in the quarterfinal, meaning Brooke Wolejko would be the likely starter for this semifinal game.
They rely on their world-class line of Melissa Sheeran, Courtney Moriarty, and Kayla Meneghin. Meneghin missed the quarterfinal game, and it will be a boost for the Cardinals to get her back. Sheeran is a two-time first-team All-American and their top scorer with 47 points on 18 goals and 29 assists. Moriarty leads the team with 30 goals and has 15 assists, while Meneghin has 19 goals and 19 assists.
Elmira is second in D-III with 5.07 goals per game. They're led by Sarah Hughson, who was UCHC Player of the Year with 47 points on 27 goals and 20 assists. She's joined by Katie Granato, who has 41 points on 22 goals and 19 assists.
The Soaring Eagles also have the strong presence of UCHC Goaltender of the Year Kelcey Crawford to anchor them.
Though their special teams numbers are similar, if one of the these two can find a way to take significant advantage of their special teams opportunities, it could be the difference in the game. It will be a strong, physical game, and it would be one important spot to gain an advantage in a game that's not going to have many opportunities to find those.
This one is going to be decided by the slimmest of margins. It could down to one play, one shot, one odd bounce. The smallest things will have an impact, so Plattsburgh getting to be the home team may give them an edge with the last change.