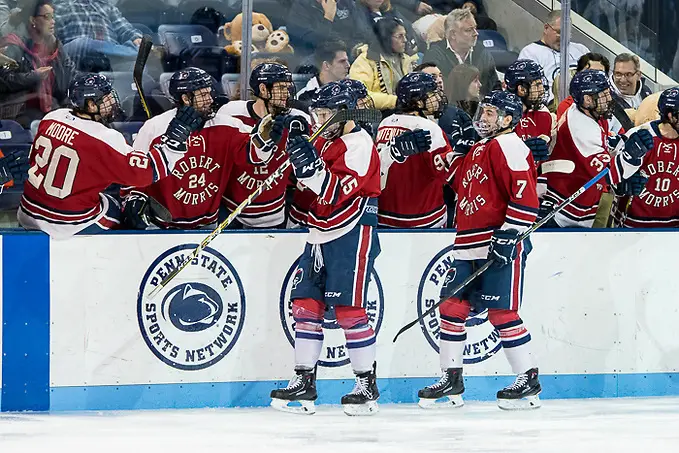 The Atlantic Hockey regular season defines itself by months-long chaos.
Every week seems to have unintended consequences, and no college hockey league can claim impacts from October in quite the same way. This is a tried-and-true rule that's become something of a college hockey law.
But if the regular season is defined by chaos, the playoffs are defined by an almost ritualistic victory for some programs. For Robert Morris in particular, it's becoming a near-annual rite of passage — the Colonials joined Atlantic Hockey in 2010-11, made their first trip to Rochester in their third season and haven't missed an opportunity since.
This year, they roar into their fifth straight Atlantic Hockey semifinal a little more battle weary, but with eyes on becoming the first team to hoist the Jack Riley Trophy.
"I think experiencing some success gives you confidence," head coach Derek Schooley said. "This year hasn't been easy for us. We've had trials and tribulations. The death of Mark Workman affected our program, and we've had a lot of adversity thrown at us."
The adversity especially stemmed from the last month of the season. The Colonials swept Sacred Heart to start February but wouldn't win again in the regular season. They lost five straight games before tying Air Force on the season's last day. A team over .500 in league play, they finished one game under even hockey and finished in seventh place. It was one of those things where puck luck was simply not wearing RMU's sweater; the team didn't play poorly but just couldn't find a way to score more than an opponent.
"Every game was a one goal game," Schooley said. "We had four one-goal losses in a row and tied Air Force, so we felt like everything was going well, but we just weren't getting results. We weren't scoring a lot of goals, but we felt if we kept playing as well as we had, we had too much offensive talent to just be not scoring."
The middle of the month added a whole other layer of complexion with the passing of Workman. As an RMU associate head coach, he helped build the program from 2009-2016. As one of the men responsible for putting together the Colonial roster, his death cast a long shadow as the entire hockey community from college to the NHL mourned.
"You never know how kids are going to react," Schooley said. "Some kids haven't dealt with a scenario like that before, and there are some that have. Our kids have been able to respond very well to put things in the rearview mirror. They're able to push forward and honor the legacy of Mark Workman. A lot of them wouldn't be at Robert Morris without him. He watched them play, recognized them and brought them here. So there's a lot of appreciation for him for that."
With all of that adversity hanging over them, the Colonials responded once the postseason began. They won an emotional series against Bentley that went into the final minutes in the third game, then ran through Holy Cross by scoring nine goals in two games.
But the Colonials are arguably led by their backstop. Francis Marotte's 1.81 goals against average is fourth best in the league, but he's played in more than 100 minutes more than the remaining competition. His 174 saves are 70 more than Canisius' Daniel Urbani and well over 100 more than Mercyhurst's Brandon Wildung.
"I challenged Francis down the stretch," Schooley said. "There was one play and a goal that I didn't really like against Mercyhurst, so I challenged him to be better – and he's responded tremendously. He's made everything look easy. I thought he was excellent against Holy Cross when they had pushes against him. He made a huge save (against Bentley) on Kyle Schmidt with a 3-2 score on a short-handed opportunity with two minutes to go, and it was a massive save. He's confident and seeing the puck well, and he's a very capable, all-league goaltender that did not get an all-league award."
It's a performance that's indicative of Robert Morris this season. The team's faced down more adversity than they knew would be possible, but they've come out on the other side with their fifth straight semifinal appearance. They head to Rochester more battle tested than arguably any other team, but there's still unfinished business.
"Our guys want to win because they're competitive," Schooley said. "They want to make sure that they honor the tradition of Robert Morris hockey that was established for them – that Mark (Workman) helped bring them. They want to honor the legacy of Robert Morris hockey and the legacy of Mark Workman. I think you see all that coming together."
History Lessons
There's a ton of history among the four teams playing this weekend, but it needs a little bit of explanation. A varying playoff format through the years makes it difficult to contextualize the numbers for each of these programs. Varying membership numbers resulted in different playoff formats, and the quarterfinals, which for a time was also the first round of the postseason, didn't employ best-of-three series until 2008. With a "Final Five" format also sprinkled in, it can be difficult to blanket state records from one particular era through another. So with certain records, I'll try to cherry pick the right ones to date back to a certain timeframe.
With that, onto the notes:
— These four teams rank head-and-shoulders above every other program for trips to Rochester. This is the Mercyhurst's 14th trip to the semifinals since the MAAC era kicked things off in 1999. The Lakers appeared in seven straight semifinals from 2000-2006 and have seven berths in the years since, failing to advance only six times: 1999, 2007, 2010, 2011, 2016, and 2017. Their eight championship game appearances rank are also tops in the league, with half of those coming in the best-of-three era. But they haven't won a championship since 2005 as part of a rivalry with Quinnipiac.
— Mercyhurst is by far the league's most historic franchise, but Air Force has a claim to its most dominant. The Falcons have nine trips to Rochester in 12 seasons, with eight (more than anyone) coming out of best-of-three series. They've reached this point every year except for a three-year stretch from 2013-2015 with six championship game appearances. That's where they've been most unbeatable, having never lost, including last year when they defeated Robert Morris, 2-1.
— Canisius advanced to the semifinals for the ninth time overall and sixth time in the best-of-three era. 2018 marks the fifth time in six years the Golden Griffins have made it this far, but they've only made the championship game twice – in back-to-back years in 2013, when they won, and 2014, when they lost. They've only actually made the championship game one other time – a loss in 1999 in the first MAAC Championship to Holy Cross.
— RMU matched a record for most consecutive trips to the semifinals this year in the best-of-three era. Their fifth straight trip, it matches Air Force and RIT, who both advanced annually from 2008-2012. RMU is vying to become the fifth MAAC/Atlantic Hockey team to qualify for three straight championship games, a feat accomplished by Mercyhurst (2001-2003), Quinnipiac (2001-2003), Air Force (2007-2009) and RIT (2010-2012).
– – Should Air Force and RMU both win on Friday, it would mark the fourth championship game rematch in league history. To nobody's surprise, Mercyhurst and Air Force comprise the list. The Lakers played Quinnipiac in 2002 in a rematch of the '01 final, then again the following year in a rubber match. They then played Air Force in 2008 and 2009. The Falcons in turn played RIT in 2011 and 2012.
— And finally, this year's final four ensures the western-based teams will win their 12th straight Atlantic Hockey championship. The last eastern team to win the league was Holy Cross back in 2006, when they defeated Bentley in an all-east final. Sacred Heart is the last eastern team to make the finals; the Pioneers lost to RIT in 2010.
The Lerchies
When Chris Lerch gave his all-league selections last week, he didn't refer to them by their proper name. Maybe he's just being modest or maybe he's subtly throwing schadenfreude at me somehow. I don't know. But since I have the final weekly column of the year, I get the last laugh.
Without further ado….THE LERCHIES ARE HERE!
First Team:
F Erik Brown, JR, RIT
F Brady Ferguson, SR, Robert Morris
F Dylan McLaughlin, JR, Canisius
D Alex Wilkinson, SO, Army West Point
D Joe Duszak, SO, Mercyhurst
G Paul Berrafato, SR, Holy Cross
Second Team:
F Alex Tonge, Sr, Robert Morris
F Jack Riley, Sr, Mercyhurst
F Derian Plouffe, Sr, Niagara
D Cameron Heath, Jr, Canisius
D Les Lancaster, Jr, Mercyhurst
G Brandon Wildung, Sr, Mercyhurst
Third Team:
F Derek Barach, Jr, Mercyhurst
F Michael Wilson, So, Army West Point
F Myles Powell, Sr, RIT
D Janis Jaks, So, AIC
D Dalton MacAfee, So, Army West Point
G Stefano Durante, Fr, AIC
Rookies:
F Marc Johnstone, Sacred Heart
F Luke Santerno, Bentley
F Matt Tugnutt, Sacred Heart
D Brennan Kapcheck, AIC
D Dan Willett, RIT
G Stefano Durante, AIC
Most Valuable Player: Erik Brown, RIT
Best Defensive Forward: Brady Tomlak, Air Force
Rookie of the Year: Stefano Durante, AIC
Coach of the Year: Eric Lang, AIC
A broken tibia is a long way from the heart
By now, you've probably seen the video or at least seen the reaction. In Sunday's third game between AIC and Canisius, Yellow Jacket forward and senior captain Bryant Christian broke his tibia early in the first period. With the game all but sealed, late in the third, he stepped on the ice for one last shift with his teammates, gutting his way on one leg.
I'm not going to try and avoid getting preachy, but I'm just going to offer two words to that young man – thank you. Thank you for reaffirming my love in this game and my respect for the unwritten code all of these athletes live by. What you did, which was completely unscripted, is what makes me show up every week to do this. You elevated the back of the jersey because you cared so much about the name on the front of the jersey.
And last, but not least
Like Chris last week, this is my final column of the 2017-18 season. Five seasons are now in the books for me with USCHO.com, and it remains one of the best decisions I've ever made.
I owe a big debt of gratitude to the coaches, players and SIDs of Atlantic Hockey for putting up with me all season long. My conversations – on the record about hockey and off the record about golf, coffee and whatever else crosses the conversation – are legitimately the best parts of my week. It's why I look forward to this each and every year.
Thanks to Chris Lerch for putting up with me for another year. I'm sure there are times where he reads my emails or texts and shakes his head, but I can't imagine working with a better partner. I just haven't decided yet if I'm keeping him young or aging him. I guess it depends on the week.
A big thank you is in order to Matt Mackinder, Todd Milewski and the rest of the editorial staff who have had to stay up late to deal with all of that thankless work. The weekend recap staff who anxiously await columns until the late hours are some of the best and kindest people on the planet. A special shout out to my Bentley broadcast partner, Matt Taggart, who graduates this year and will be attending Notre Dame for his graduate degree.
Second-to-last-but-not-least, thank you to everyone who reads these columns. There is no greater compliment to these athletes than to read your feedback and feel your emotion online. You're the fire and fabric of this game, and as this league continues to grow, your passion will bring more people into the fold. I love talking, tweeting and seeing everyone at games, and I can't wait to cross paths ever more.
And finally – I end my season like I always try to, with a thank you to my wife, Michelle. It takes a special kind of understanding to live the life someone else chose, but she handles the interruptions with infinite smiles. The offseason will always allow me to close my eyes as Mrs. Rubin's Mr. Rubin until next year starts anew.