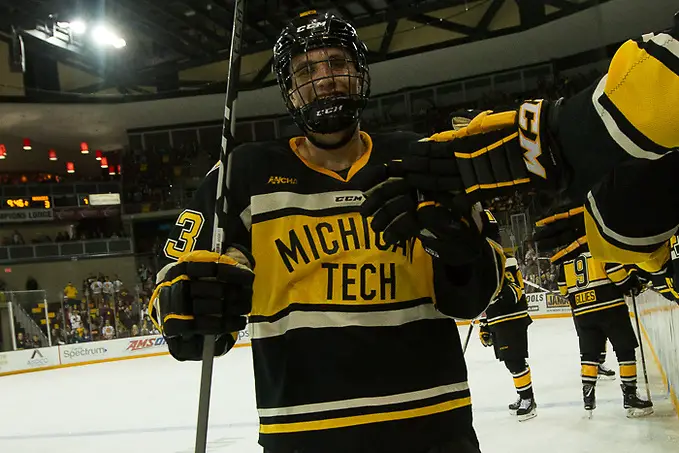 Don't count on seeing many people out and about in the Upper Peninsula starting at about 7 p.m. EDT on Saturday.
If you don't like college hockey, it's probably an ideal time for you to go grocery shopping or see a movie.
That's because, for the first time ever, Northern Michigan and Michigan Tech are meeting in the WCHA title game. The winner gets the inaugural Jeff Sauer WCHA Championship Trophy, the conference's automatic bid to the NCAA tournament and, of course, U.P. bragging rights for at least a year.
And, thanks to the fact that the WCHA now plays its championship games on home ice of the higher seeds, U.P. fans will get to see it in person — if they were lucky enough to get tickets.
According to NMU coach Grant Potulny, the Berry Events center started selling tickets early Monday. They sold out in about an hour.
"It's a great hockey town. They've been supportive of us all year and it's nice to support them with a championship at home," he said. "There's a little more buzz and more excitement, and you can't ignore the fact that you're playing a rival, but this is a championship game and at the end of the day it's more about advancing than it is about anything else.
"For sure, it's a great thing for the whole Upper Peninsula and the communities to have a championship game with two UP teams in it."
Ironically, that the second-seeded Wildcats (25-14-3) were even able to host the game required a little help from their rivals to the West. The fifth-seeded Huskies (21-16-5) upset fourth-seeded Bemidji State in the first round, then shocked league champion and top-seed Minnesota State in the semifinals to earn a place in the finals.
It sets up an epic showdown between a pair of teams — and fan bases — that know one another all too well.
"It's a big deal for people up here. It's great that people are able to take the pride in it," Huskies coach Joe Shawhan said. "I don't know what the odds would have been in Vegas for this to happen at the beginning of the year, but I think it's absolutely special."
Both teams, under first-year head coaches, have defied expectations somewhat to reach this point, although their paths haven't been identical.
The Wildcats finished eighth in the league last year and nobody picked them to finish higher than seventh this season, but they just kept winning thanks to solid goaltending from junior Atte Tolvanen and a potent group of scorers that include Adam Rockwood, Troy Loggins and Robbie Payne. NMU didn't lose a conference series this season and were swept just once — a road nonconference series at Omaha. They were on top of the conference until the beginning of February and were still playing for a conference title in the last weekend of the regular season.
Tech, on the other hand, was picked as a contender for the league title in the preseason but injuries and inconsistent play hurt the Huskies in the first half of the season. It wasn't until the start of February that they finally started to pick it up and play like they were projected to play.
Shahawn said it was a series at Bowling Green on Feb. 2-3 that helped them get back on track. Tech had lost 7-2 in the series opener but they rallied to win 4-0 in the finale. Ever since, he said, they've been playing well.
They've slowly returned to full strength since then too. At one point their top scoring line of Jake Jackson, Alex Smith and Brent Baltus, as well as their top defensemen Mark Auk and Mitch Reinke, were all out at the same time. However, they all returned and they're now at full strength. Jackson scored the overtime winner in Game 3 against MSU last Sunday.
"I'm extremely proud of our players," he said. "A big part of what's happened to us is our goaltending has been very good for that time. Since our first game at BG a while back, our goaltending has been extremely consistent allowing us to have success."
The Huskies have played all three of their goalies at various times this season, with senior Devin Kero, junior transfer Patrick Munson and freshman Robbie Beydoun all seeing time. Kero had been in the net for most of their February run, but he was injured during last Friday's 2-1 game against Minnesota State. Munson came in and made 72 saves in the next two games to help Tech advance.
"Devin was very good in the Bemidji series, and he had kind of earned the job down the stretch, but I give the credit to all our goalies, including Robbie. They've been the focal point of a lot this year, and that's not easy," Shawhan said. "The goaltenders knew Devin was going to ride us down the stretch, but they all continued to work extremely hard to be ready to play and help their teammates out if they were needed, and that's what happened."
Both the Huskies and the Wildcats needed three games in their semifinal series. NMU beat third-seeded Bowling Green in their series. They won 6-1 in the opener in a game that was more competitive than the scoreline indicated — BG won 1-0 Saturday before the Wildcats won 3-2 in overtime Sunday.
"I thought all three games were pretty competitive," Potulny said.. "On Saturday they locked us down," Potulny said. "It had been a long time since we'd been shut out. Sunday was another back and forth game. It's two very good hockey teams going at it. We just happened to get one more by their goaltender than they did on ours."
With both teams already having had to sweat out some playoff adversity, they now get to meet in Marquette for a single-elimination challenge. The winner keeps playing and the loser goes home.
"It's a big game, but the goal is to stay in the moment and play our game, not to add any hype to it," Shawhan said. "It's no different or no bigger than last weekend's games in Mankato. The focus is playing our best hockey."
During the regular season, the Wildcats and Huskies split a pair of home-and-home series, with each team winning two games at home. When they met on Feb. 23-24, NMU beat Tech 2-1 in Marquette but the Huskies beat the Wildcats 3-2 the next night in Houghton.
"It's been a very even series. We had two tough matchups with them about a month ago and they're better today when they were then because they got a couple of their players back," Potulny said. "Their goaltender has been outstanding. They're playing great hockey. You don't' go on the road and beat Bemidji and beat Mankato by accident.
"They're playing excellent and we have to make sure we play a great game, play with great energy and great passion. We have to be as competitive as heck to give ourselves a chance and advance."
WCHA Award Winners Announced
The league announced its major award winners on Tuesday, and both Potulny and Tolvanen got nods as coach and goaltender of the year, respectively.
"I think No. 1, coach of the year is not only a staff award, but it could be team of the year," Potulny said of his coach of the year honor. "That's what you're judged on, your team. But it's an honor to be recognized by your peers. I respect the coaches in our league, for them to recognize our team and our staff, that's something we're proud of."
Tolvanen also earned some hardware. The junior from Vihti, Finland, tied for the league lead with 17 WCHA wins and ranked second with a .773 winning percentage in his 22 starts (17-5-0). He also was second in the league with a .917 save percentage and two shutouts (tied), while finished third with a 2.05 GAA. Tolvanen was also named first-team All-WCHA, as was Loggins.
"Atte has made the most critical important save at the most important time. He does an outstanding job of standing tall at the most important moments of games," Potulny said. "We talked about it at the beginning of the year — when you have team success, individuals get recognized. I'm very happy for all of our guys."
As for the other individual awards: Minnesota State senior CJ Suess was named the league's offensive player of the year, while the Mavericks' Jake Jaremko, a freshman forward, was the rookie of the year. Bowling Green sophomore Alec Rauhauser was the defenseman of the year.
Suess' award wasn't surprising — he was the top scorer on the league's top offensive team ans was the first Maverick to win the WCHA scoring title. He tallied 36 points in 28 conference games. In addition to being named the conference's offensive player of the year, the Forest Lake, Minn., native was named Wednesday as one of the top ten finalists for the Hobey Baker Award.
Suess, a Winnipeg Jets draft pick, is the only WCHA player who was named as a top ten finalist, and he's just the second Maverick to be nominated for the award. Goaltender Steve Carroll was a finalist in the inaugural year of the award in 1981.