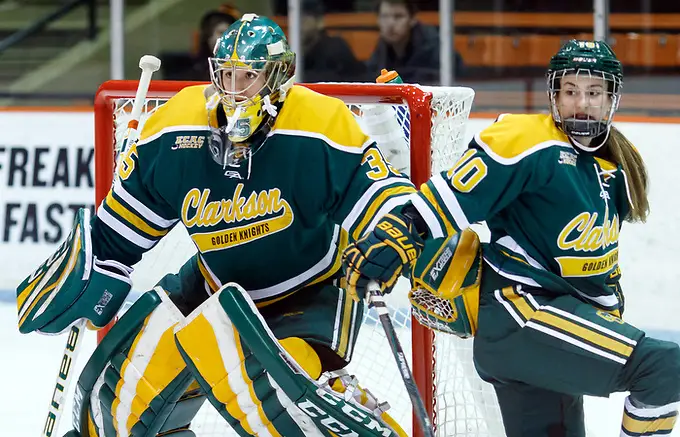 MINNEAPOLIS — Minnesota Duluth was the sport's first dynasty in the NCAA era, taking home the first three national titles sanctioned by the NCAA. Wisconsin and Minnesota had runs where they won four titles in six and five years, respectively, clearly establishing themselves as the team to beat during each window.
With its 2-1 overtime win over Colgate in the first all-ECAC NCAA final, Clarkson has now taken home the big trophy in three of the last five years, including the last two consecutively. Yet all season, as it seems to be in every season, the buzz surrounds some other program.
Perhaps that is just my perspective as I sit in the Midwest, hundreds and hundreds of miles from Potsdam, New York, but even someone who shares a league with the Golden Knights and just battled them for a championship can quickly look beyond them.
"They're a great team, and they have been for a long time," Colgate coach Greg Fargo said. "But I think what's great about the ECAC is it's really deep; there are a lot of good teams in the ECAC, as proven this weekend."
The spin around teams like the Bulldogs, Badgers, or Gophers usually went in the other direction. It was more along the lines of, "Yes, they represent a dominant league, but the WCHA looks so dominant because it has a dynasty sitting on top of it."
"I don't mind us just flying under the radar, to be honest with you; that's fine by me," Clarkson coach Matt Desrosiers said. "We just go about our business. We don't need all the recognition and that to be successful. That's not what we're about. We just focus on ourselves, we focus on our process, and getting better each and every day. If teams and people want to overlook us, that's fine by us."
Not that his team can escape scrutiny completely. After all, people do tend to remember which team won the title the previous year.
"To win it back-to-back is not an easy thing to do," Desrosiers said. "We had a bullseye on our backs the entire year. Teams that have done it in the past, you really start to realize now how difficult it is to do that."
It's also tough to retain the spotlight. The focus quickly shifted away from Clarkson, a team that had graduated high-profile stars Cayley Mercer and Geneviève Bannon after winning in 2017.
Boston College featured a dynamic offense that could light up the scoreboard. Wisconsin had an aggressive defense that made it difficult just to generate shots, let alone score. For the 2018-19 campaign, those teams will return key players who were centralized with their Olympic teams. Will followers of the game remember Clarkson?
"I would hope so," said Shea Tiley, the goaltender who backstopped the two most recent titles. "We just won back-to-back national championships, so I'd hope so. But I think that's a quality of ours. Even though we don't get the recognition sometimes, we just go to work every day and use that to fuel our fire."
Tiley showed she had plenty of fire burning within her. Through three games, 97 shots, and 220:59 in net, she only surrendered two goals against. She gives some of the credit to the first title team that set the foundation.
"The 2014 team that won it, even though we weren't a part of that team, we saw how they worked," Tiley said. "A lot of us watched that game, and then, the girls that returned really showed us how we needed to play. I think that we've translated that over the four years."
Tiley and her class were able to use those lessons to advance to the NCAA tournament in all four of their seasons, reaching the Frozen Four in the final three. The latest foray in some ways proved the most difficult.
"It's hard to explain how happy for these guys I am, and how proud of them I am," Desrosiers said. "To win three games in overtime, to win it like they did, just shows the resiliency and the character that we have in that locker room."
It's a room where even the younger players are quickly learning the lessons. Freshman Elizabeth Giguère scored game-winning goals in sudden death to take down Mercyhurst in the quarterfinal and Colgate in the final. In between, she set up Loren Gabel's game-winner in the semifinal victory over Ohio State.
"I learned that we don't get nervous when [the game went to overtime]; we know we can do it," Giguère said.
Giguere will be back next year, as will Gabel and Michaela Pejzlová, who combined to form one of the most dangerous lines in the country. We will have to see if that firepower forces us to give them the attention that they deserve throughout the season to come.
As for Desrosiers and his squad, they'll just celebrate their latest championship and then go back to work.
"We're just focused on ourselves and what we do, and obviously, we're having some success with that," he said.