Midwest Regional
At PPL Center, Allentown, Pa., March 24-25
• Saturday: Ohio State vs. Princeton, 3:30 p.m., ESPNU
• Saturday: Denver vs. Penn State, 7 p.m., ESPN3
• Sunday: Saturday winners, 6:30 p.m., ESPNU
No. 1 Ohio State
Overall record: 24-9-5
Big Ten record: 14-8-2
Playoff results: Swept Michigan State in Big Ten quarterfinals, defeated Michigan in the semifinals and lost to Notre Dame in the Big Ten championship game
How they got in: At-large bid
Why they will advance to the Frozen Four: The Buckeyes have played very stout defense all season, allowing an average of 2.11 goals per contest. Ohio State also has experienced scorers in Tanner Laczynski and Mason Jobst that can help swing any game in its favor.
Why they will not advance to the Frozen Four: The pressure of being a one-seed could get to the Buckeyes and if they get past Princeton, a tough matchup against last year's champion or a conference team that knows them very well, awaits.
Notable quotable: "This hasn't just happened in one year. This has been a long time coming. There is a rich hockey tradition here and we are happy to keep that going. We know the journey is going to be a tough one ahead of us." – Ohio State coach Steve Rohlik
— Drew Claussen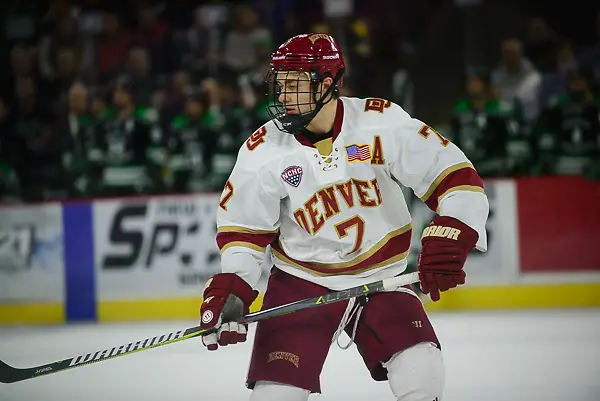 No. 2 Denver
Overall record: 22-9-8
NCHC record: 16-7-6
Playoff results: Defeated Colorado College in three games in NCHC quarterfinals, defeated Minnesota Duluth in semifinals, defeated St. Cloud State in championship game
How they got in: Won NCHC tournament
Why they will advance to the Frozen Four: Denver started the season as the pick to repeat as national champions, returning some of the best talent in the game in a trio of dynamic forwards in Troy Terry, Dylan Gambrell,and Henrik Borgström, as well as the reigning Mike Richter Award winner in net in Tanner Jaillet. The Pioneers have a lot of ways to beat a team, with both potent offense and a strong defense.
Why they will not advance to the Frozen Four: As talented as Denver is, the team has struggled at times this season, losing to teams that they should beat and losing five games in which they had a three-goal lead. Sometimes Denver is too talented for its own good, racing out to an early lead and then seeming to get bored, and allowing the other team back in the game.
Notable quotable: "We kind of thought we were going to Allentown, maybe Worcester. We knew Ohio State would be in our region for sure. We just didn't know who we'd be playing. Penn State we know a little bit from last year. They had a really good year. We're going to have to face the adversity of playing a team in their home area, and it's going to be all Nittany Lion fans, so it's going to be a good challenge for us." – DU coach Jim Montgomery
— Candace Horgan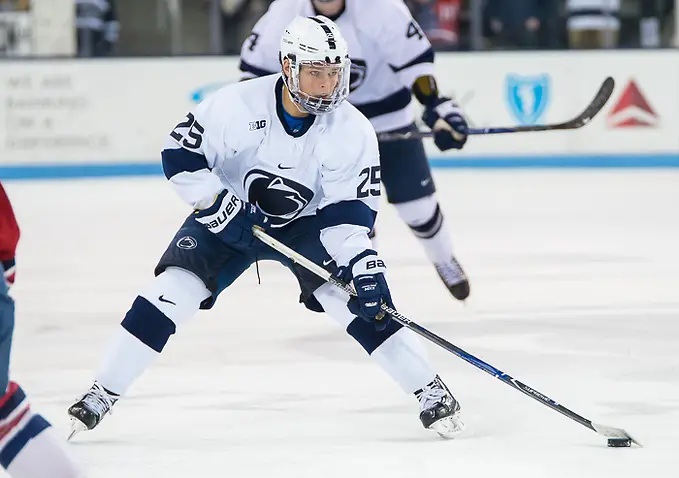 No. 3 Penn State
Overall record: 18-14-5
Big Ten record: 9-11-5-2
Playoff results: Swept Minnesota in Big Ten quarterfinals, lost to Notre Dame in semifinals
How they got in: At-large bid
Why they will advance to the Frozen Four: The Nittany Lions are capable of dictating the terms of any given game. They play fast, fearless, up-and-down hockey and shoot the puck from absolutely anywhere, averaging over 40 shots on goal per game. And they score, averaging 3.70 goals per game, second in the nation. If they can get out ahead of an opponent and keep the opposition off-kilter, they can beat anybody.
Why they will not advance to the Frozen Four: The Nittany Lions can score goals, but they can also give them up. Penn State relies far too much on its potentially overpowering offense while its defense is inconsistent. And if an opponent can shut down that offense, the Nittany Lions have difficulty coming back. In the second half, Penn State lost six games in which the Nittany Lions were held to two or fewer goals, including their Big Ten semifinal loss to Notre Dame.
Notable quotable: Senior defenseman and Big Ten Defensive Player of the Year Trevor Hamilton said that the key to Penn State's success in the tournament will be "playing shift by shift, winning each five-minute segment."
Hamilton knows how important offense is for Penn State.
"Just making sure we get as many shots on net; it's imperative," he said. "With that, we have a lot of success as well."
— Paula C. Weston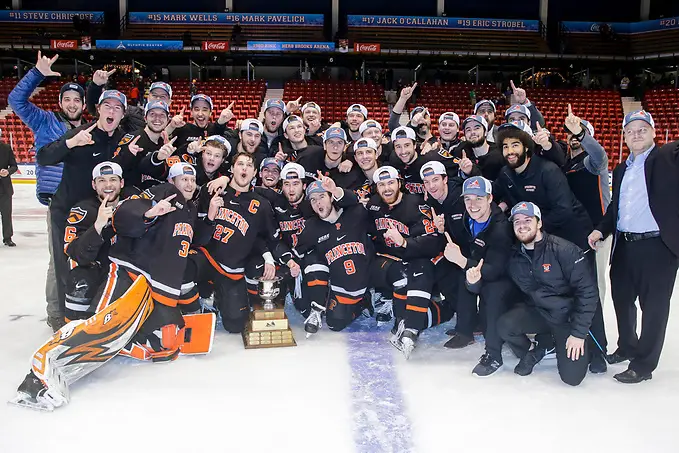 No. 4 Princeton
Overall record: 19-12-4
ECAC Hockey record: 10-10-2
Playoff results: Swept Brown in the opening round of the ECAC Hockey tournament, swept Union in the quarterfinals, beat Cornell in the semifinals, defeated Clarkson in overtime in the championship game
How they got in: Won ECAC Hockey tournament
Why they will advance to the Frozen Four: Princeton might have some of the most skilled players in the country no one is talking about. Junior Ryan Kuffner has 29 goals, including a league-high 19 in conference play, but somehow hasn't been nominated for any of the major end-of-the year awards, Linemate Max Véronneau set a single-season school record with 55 points for a team that is averaging 3.6 goals per game this season.
Why they will not advance to the Frozen Four: The Tigers' defense has been much better in the second half of the season, and freshman goalie Ryan Ferland was named the most outstanding player of the league tournament. But Princeton could be in trouble if any of its defensive issues from the first half of the year return.
Notable quotable: "We've just had a belief it's come from [coach] Ron [Fogarty] all the through our entire program, that we're going to get here and we're going to win the championship. From Day 1, obviously some of the tough times we had into [winning the conference championship], I think that belief has never wavered." – Junior defenseman Josh Teves.
— Nate Owen