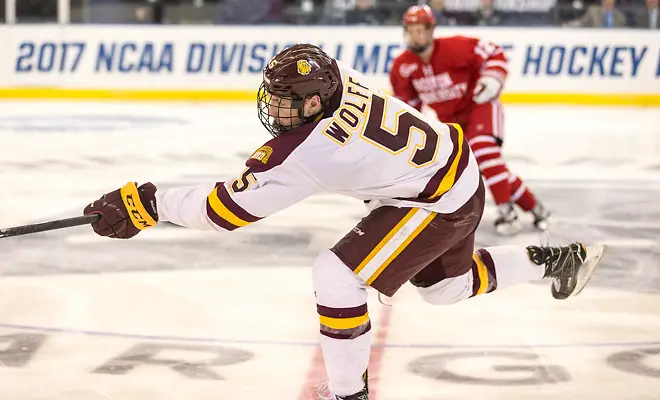 ST. PAUL, Minn. — It might be a stretch to consider a sophomore a grizzled veteran, but Minnesota Duluth defenseman Nick Wolff fits the bill.
Wolff is the only veteran blueliner for the Bulldogs, helping to bring along five freshman defensemen.
"It's been fun," said Wolff, whose Bulldogs face Ohio State in the Frozen Four semifinals on Thursday. "But I'm not considered an old man. I'm just as goofy as they are.
"I learn a lot from them, they learn a lot from me. We just work together."
The group of five rookie defensemen are among 10 freshmen on the UMD roster, including Scott Perunovich (a team-leading 36 points), Mikey Anderson (27 points) and Dylan Samberg (13 points). All three represented the United States in the World Junior Championship this season.
Perunovich credits Wolff, his defensive partner, with helping him gain confidence at the collegiate level.
"[Wolff] gets on me sometimes," Perunovich said. "But it's in good nature and he always tries to help me as best he can."
The Bulldogs got off to a slow start, but as the rookies gained confidence, the team was able to move from near the bottom of the NCHC standings to a third-place finish and ultimately a spot in the Frozen Four.
"Obviously, we were really young coming into the year," said Perunovich. "I think that motivated us quite a bit. We heard a lot of talk that we weren't going to be ready, that we were young. That just wanted to make us keep getting better and better, and I think we came together a lot this year. 'Wolffy' [has been] our headmaster there, and I think he's done a great job, getting us all to come together and jell together as the year has come along."
"It was a learning year for our younger guys, especially our freshmen," said senior captain Karson Kuhlman. "And I couldn't be prouder about that freshman class, just watching them grow throughout the year and obviously stepping up into big roles."
The five rookies, plus Wolff and sophomore goaltender Hunter Shepard, helped UMD post the eighth-best defense in Division I (2.14 GAA).
"It's great to know that we have depth back there," said Wolff. "Knowing that for the next couple of years, we'll be set."
Wolff and his fellow blueliners take pride in shutting teams down. Minnesota Duluth is 20-0-1 when leading after two periods this season.
"It's been great how we can win games different ways," said Wolff. "Especially with the lead, we have the confidence and maturity to know we can shut teams down. If we do get scored on, we don't hang our heads. We just go back to work. That's great to see especially for a young team."
Wolff is the only UMD defenseman who played in last year's title game, a 3-2 loss to Denver.
His advice for the rookies playing in their first Frozen Four? Enjoy the moment.
"Look up in the stands and see where you're at," he said. "But know that it's just another game. We have two more games to win the national championship.
"Take a deep breath and enjoy."