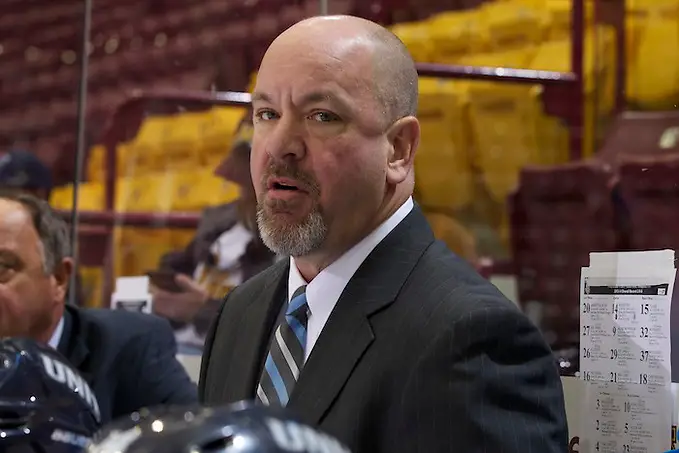 Merrimack officially named Scott Borek as the eighth head coach of the men's program on Monday evening.
He succeeds Mark Dennehy, who was not retained after the 2017-18 season.
Borek arrives in North Andover, Mass., with 33 years of collegiate coaching experience, including eight as a head coach.
"We are very excited to welcome Scott, Jill and their family to Merrimack and for him to serve as the leader of our men's ice hockey program," Merrimack director of athletics Jeremy Gibson said in a statement. "Scott quickly emerged as the top candidate in a very talented and deep applicant pool. I have full faith in his ability to recruit outstanding student-athletes, develop leaders and guide our hockey program to a higher level of sustained success."
"I am honored to lead the Merrimack College men's ice hockey program," added Borek. "I am also very appreciative of the trust placed in me by President [Christopher] Hopey and director of athletics Jeremy Gibson. The search committee members have accurately, although modestly, presented the tremendous possibilities that surround the program and the college community. I am excited to get started."
Borek has spent the last 16 years as a Hockey East assistant coach, qualifying for the NCAA tournament 13 times, while capturing five Hockey East regular-season championships and one tournament championship. Over that time span, he has recruited 12 All-Americans, 16 student-athletes who played in the NHL and 18 Hockey East All-Conference honorees.
Serving as the associate head coach at Providence since 2015, Borek's responsibilities included oversight of recruiting, team defense and the penalty kill. This season, the Friars' defense was second in Hockey East and seventh nationally, while the penalty kill also was second in the league and sixth nationally.
Providence advanced to the NCAA Tournament in all three seasons with Borek on the coaching staff.
"Scott is a tireless worker who has an excellent mind for the game," said Providence head coach Nate Leaman in a news release. "He is an effective communicator with the student-athletes and develops long lasting relationships with his players. His 16 years of experience provide a great base of knowledge for what it takes to be successful in Hockey East."
Before Providence, Borek spent 13 seasons as the associate head coach at New Hampshire. Serving as the recruiting coordinator while overseeing the team's forwards and power play units, Borek helped guide the Wildcats to nine NCAA tournament appearances, a trip to the 2003 national championship game, one Hockey East tournament title, and four Hockey East tournament championship game appearances.
"We go back a long time to when we first worked together at Providence College," said former UNH coach Dick Umile in a statement. "Scott gave us a lot of good years working at UNH. I am very happy for him and wish him the very best."
Prior to joining the staff at UNH, Borek was the head coach at New England College in 2001-02. He also spent five seasons as the head coach of Lake Superior State from 1996 to 2001, following a one-year stint there as associate head coach under current Notre Dame head coach Jeff Jackson.
"Scott is a smart hockey guy, a great recruiter and a tremendous person," said Jackson in a statement. "I've never been around a more personable, positive and passionate guy. He will do a great job for Merrimack College."
As the Lakers' head coach, he was named the CCHA Coach of the Year in 2000 and was a Spencer Penrose Award finalist. Before Lake Superior State, Borek was also the head coach at Colby from 1993 to 1996 and was a finalist for the Division III Coach of the Year award in 1994. Borek's coaching career began as a student assistant at Dartmouth College, after he sustained a career-ending neck injury during his sophomore campaign.
He graduated from Dartmouth in 1985 with a B.A. in English and was immediately named an assistant coach for the Big Green.