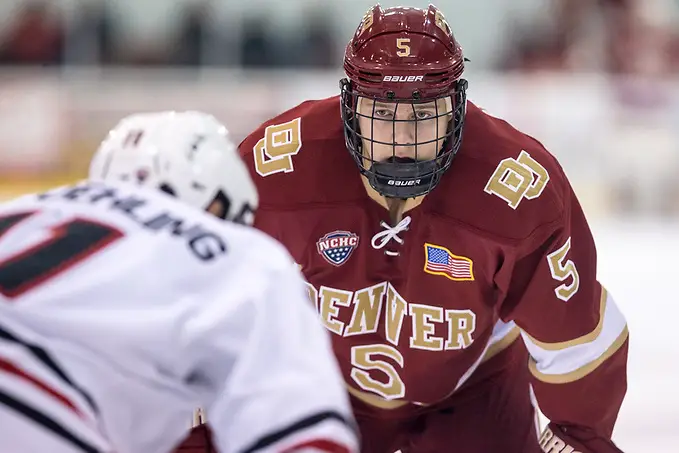 Players of the year from four Division I men's conferences were named first-team All-USCHO selections for the 2017-18 season.
Forwards Adam Gaudette of Northeastern (Hockey East), Ryan Donato of Harvard (ECAC Hockey) and Henrik Borgström of Denver (NCHC) and goalie Cale Morris of Notre Dame (Big Ten) took four of the spots on the first team.
They were joined by a pair of NCHC defensemen, Scott Perunovich of national champion Minnesota Duluth and Jimmy Schuldt of St. Cloud State.
Borgström was a second-team pick in 2016-17. His Pioneers teammate Troy Terry also moved up one team, from third team in 2016-17 to second team this season.
Harvard defenseman Adam Fox, a first-team selection last year, made the second team in 2017-18.
Six teams each had two players chosen: Denver, Harvard, Minnesota Duluth, Northeastern, Notre Dame and Princeton.
Here are the 2017-18 All-USCHO teams:
All-USCHO first team
Forward Adam Gaudette, junior, Northeastern (30 goals, 30 assists, 60 points in 38 games)
Forward Ryan Donato, junior, Harvard (26 goals, 17 assists, 43 points in 29 games)
Forward Henrik Borgström, sophomore, Denver (23 goals, 29 assists, 52 points in 40 games)
Defenseman Scott Perunovich, freshman, Minnesota Duluth (11 goals, 25 assists, 36 points in 42 games)
Defenseman Jimmy Schuldt, junior, St. Cloud State (10 goals, 28 assists, 38 points in 40 games)
Goalie Cale Morris, sophomore, Notre Dame (27-8-1, 1.94 GAA, .944 save percentage, 4 shutouts in 37 games)
All-USCHO second team
Forward Dylan Sikura, senior, Northeastern
Forward Troy Terry, junior, Denver
Forward Cooper Marody, junior, Michigan
Defenseman Philip Beaulieu, sophomore, Northern Michigan
Defenseman Adam Fox, sophomore, Harvard
Goalie Matthew Galajda, freshman, Cornell
All-USCHO third team
Forward Max Véronneau, junior, Princeton
Forward C.J. Suess, senior, Minnesota State
Forward Ryan Kuffner, junior, Princeton
Defenseman Jordan Gross, senior, Notre Dame
Defenseman Christian Wolanin, junior, North Dakota
Goalie Hunter Shepard, sophomore, Minnesota Duluth
Honorable mention
Forwards: Sheldon Rempal, sophomore, Clarkson; Jake Evans, senior, Notre Dame; Nick Halloran, sophomore, Colorado College; Dylan McLaughlin, junior, Canisius; Troy Loggins, junior, Northern Michigan; Mason Jobst, junior, Ohio State; Jordan Greenway, junior, Boston University
Defensemen: Jeremy Davies, sophomore, Northeastern; Josh Teves, junior, Princeton; Daniel Brickley, junior, Minnesota State; Alec Rauhauser, sophomore, Bowling Green; Ian Mitchell, freshman, Denver; Grant Hutton, junior, Miami; Jacob Bryson, sophomore, Providence
Goalies: Colton Point, sophomore, Colgate; Tanner Jaillet, senior, Denver; Connor LaCouvee, senior, Minnesota State
USCHO awards are voted on by the site's conference columnists after the Frozen Four. Individual awards for the rookie of the year, coach of the year and player of the year will be announced later this week.