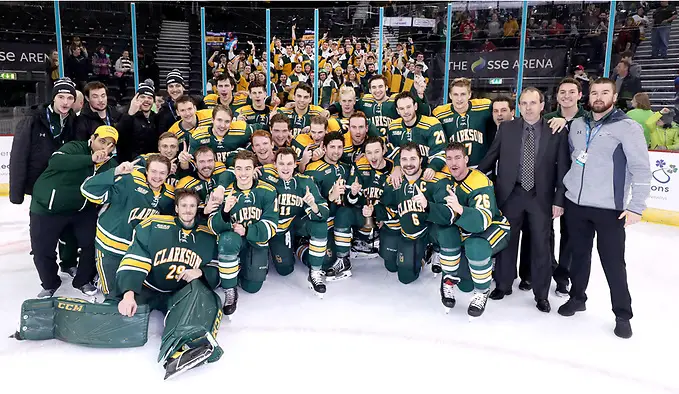 Colgate, New Hampshire, Northeastern and Princeton are slated to compete in fifth edition of the annual Northern Irish Connections Friendship Four Tournament to be held in Belfast over Thanksgiving weekend in 2019.
Additionally, it was announced that NCAA women's hockey will also be featured in Belfast, as Clarkson and Northeastern will do battle on foreign soil. The Golden Knights and Huskies will twice clash at SSE Arena during the first week of January 2019, prior to Belfast Giants games.
"We are pleased that both Northeastern and Clarkson will bring women's ice hockey to Belfast," said Hockey East commissioner Joe Bertagna in a statement. "They are two traditionally strong programs who will entertain Belfast crowds with their skill and passion. We hope to expand into tournament format at some point.
In 2019, the four teams will once again compete in conference games on the Friday after Thanksgiving, with the winners advancing to the fifth annual Belpot title game.
The 2018 version of the tournament will be held over this coming Thanksgiving weekend, as Union, Yale, Boston University and UConn will travel to Northern Ireland to first play against their conference rival in a league contest on November 23 for the right to compete for the 2018 Belpot Trophy the next night.
The SSE Arena has hosted the Friendship Four Tournament since 2015, when the inaugural tournament provided a four-game set that featured Brown, Colgate, UMass Lowell and Northeastern.