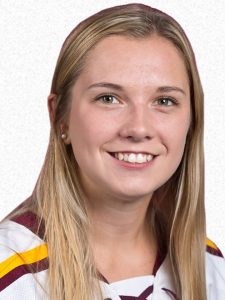 Minnesota Duluth has hired former UMD women's standout Ashleigh Brykaliuk as its new assistant coach.
Brykaliuk spent the 2017-18 hockey season playing professionally in China for the Vanke Rays of the Canadian Women's Hockey League, and compiled 25 points in 28 games on eight goals and 17 assists.
"I am extremely humbled and excited to be joining the team as an assistant coach, said Brykaliuk in a statement. "I am grateful for the opportunity to give back to UMD and to the program that has offered me so much as an athlete and individual. I am looking forward to working with the team and the coaching staff to help bring our program back to the national championship."
Brykaliuk graduated from UMD in May 2017 with a degree in Biology and a minor in Chemistry.
As a player, Brykaliuk was a two-time All-WCHA Second Team honoree, earning the award in both 2016-17 and 2015-16. Brykaliuk had back-to-back 40-plus point seasons as a junior and a senior, and finished her career as the 12th highest scorer in UMD history.
Over 146 career games, Brykaliuk scored 62 goals and added 83 assists for 145 points.
A two-time team captain, Brykaliuk recorded the second-longest scoring streak in UMD history — a 19-game, 26-point run that lasted from Oct. 29, 2016 through Feb. 11, 2017.
"We are thrilled to welcome Ashleigh back to Duluth," added UMD head coach Maura Crowell. "She was a phenomenal player and leader as a Bulldog, and will continue to make a positive impact on the program behind the bench. Her offensive ability as a player was exceptional and her experience in the NCAA, Hockey Canada, and at the professional level will be invaluable to us as we move forward. She is in impressive company with the three former assistant coaches who were also alumnae. We look forward to having her back at UMD."