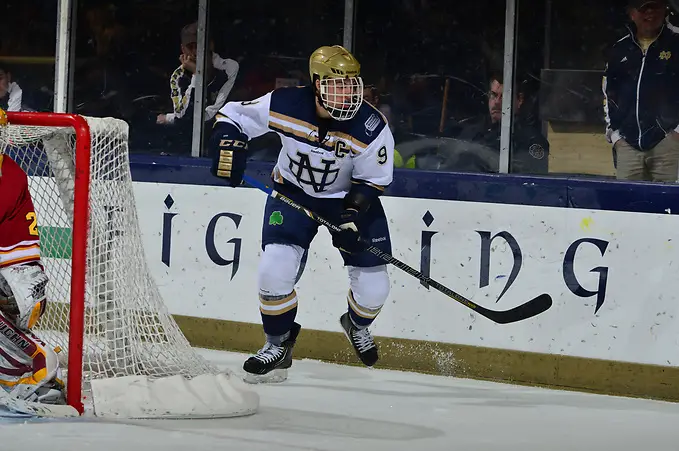 Anders Lee tallied his first 40-goal NHL season for the New York Islanders in 2017-18.
The Minnesota native and Notre Dame alum might have given a few of those scores back to have had the Islanders make the Stanley Cup playoffs instead.
"It's one of those things that once you're eliminated, you continue to play hard and finish the season the right way," said Lee in early April, after the Islanders' latest campaign had closed. "There's something to be said about scoring."
New York's 2018 postseason hopes ended on March 26 after a home loss to Florida. Lee then hit the 40-goal mark in the season finale, a 4-3 overtime win at Detroit on April 7. His goal that night, a backhander from in tight along the goal line, helped the Islanders claw back from a two-goal deficit. It also made him the first Islander since former Ferris State/North Dakota forward Jason Blake, in 2007, to attain 40 goals.
"It's a bit of both," added Lee, 27, a left wing who also led New York with 34 goals in 2016-17, about playing hard and finishing properly. "You build on last year, and come in and repeat, and prove you can do it again."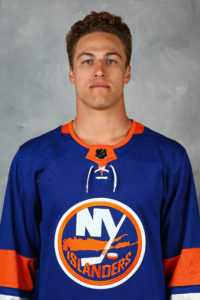 "It's a good thing, he's a good kid and a big piece of our room," added Islanders head coach and former Lake Superior State star Doug Weight to NHL.com. "Certainly a positive to go out on, I was happy for him — 40 goals is something not a lot of people in this league can say they achieved."
Lee's season-ending success this year came on the same night that his alma mater was edged 2-1 by Minnesota Duluth in the NCAA championship game in St. Paul, Minn., about 20 miles from his hometown of Edina. He got to be part of this year's Frozen Four run, similar to his freshman season in 2010-11 when the Fighting Irish reached the national semifinals for just the second time in school history.
"I went to the (NCAA East Regional) game in Bridgeport," said the 6-foot-3, 230-pound Lee, where Notre Dame bested Michigan Tech 3-2 in overtime, before he went back to work at his regular job the next night while the Irish defeated Providence. "It was a great game and a fun ending, and I was extremely proud."
He said the ultimate end of the college season was not what anyone connected to Notre Dame wanted, but added the Irish were a close squad who showed a lot of heart en route to the NCAA title game. He also told them he was a proud alum when he visited with the team at the regional at Webster Bank Arena, the same rink where he refined his pro career in the American Hockey League with the Bridgeport (Conn.) Sound Tigers.
"They were right there," he said of a potential Irish national hockey championship. "It's going to happen one year, but it's a tough pill to swallow."
Lee himself played three seasons in South Bend, collecting 61 goals and 55 assists for 116 points in 125 career outings from 2010 to 2013. He led the Irish with 20 goals and 38 points as a junior, with his last collegiate season coinciding with the swansong campaign of the now-defunct Central Collegiate Hockey Association. He scored his final collegiate goal in a 3-1 win over Michigan at since-closed Joe Louis Arena in Detroit, as Notre Dame claimed the final Mason Cup as CCHA tournament champion.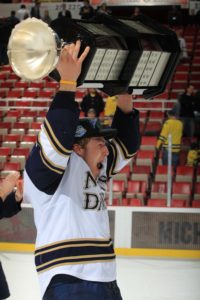 "My three years were some of the best times of my life," recalled Lee. "Getting to the Frozen Four with 11 freshmen, and junior year winning the CCHAs and closing the league out was pretty special.
"College is a special time and unfortunately, it's a short time of our lives."
"Anders was a tremendous athlete," said Lee's former college coach, Jeff Jackson, to admkids.com earlier this year. "He made himself a much better skater. And you can't underestimate the character development that comes from playing other sports."
A three-sport standout on the ice, gridiron and diamond in Minnesota, Lee starred in hockey in his home state with St. Thomas Academy, Edina High School, and Team Southwest before getting drafted by the Islanders (sixth round, 2009). He then scored 35 goals in his one year of junior hockey, with the USHL's Green Bay Gamblers, before enrolling at Notre Dame. He rode the buses in all those developmental seasons, and admitted that the recent Humboldt Broncos bus tragedy in Saskatchewan hit home for him, as much it did for anyone and everyone connected to the game.
"It was devastating," he said. "I haven't stopped thinking about it. As players, our sport teaches us so much on and off the ice, and that includes the bus rides. You get in, in the middle of the night after playing a game, and you talk about everything and nothing there at the same time.
"It's really tough. We see ourselves in them. My heart goes out to the (Humboldt) families, victims and community. We've all been on that bus, and it's really hard for sure."
Though Lee's NHL season has come to an end, he's not done skating just yet. He'll next suit up for the United States later this month at the 2018 IIHF World Championship in Denmark.
"I'm going," he said. "You definitely have to take some time off, but every year is different.
"I'll take a week off to do nothing, and I'll get back on the ice the week before. It's an exciting time and a fun tournament. I've played in it twice before, and I'm looking forward to it a lot."
Lee recorded a goal and five points in 10 World Championship contests in 2015 as the U.S. earned a bronze medal in the Czech Republic, and then followed up with five goals and eight points in eight appearances last year as the Americans finished fifth overall in Germany/France.
After the Worlds, he'll likely start skating again in July to get ready for the next NHL season, which will be his fifth full league campaign.
"Once you get on the ice, it comes back pretty quickly," said Lee. "It turns into a year-round type of focus. You take time to remove yourself, heal, rejuvenate your mind, and get ready to go."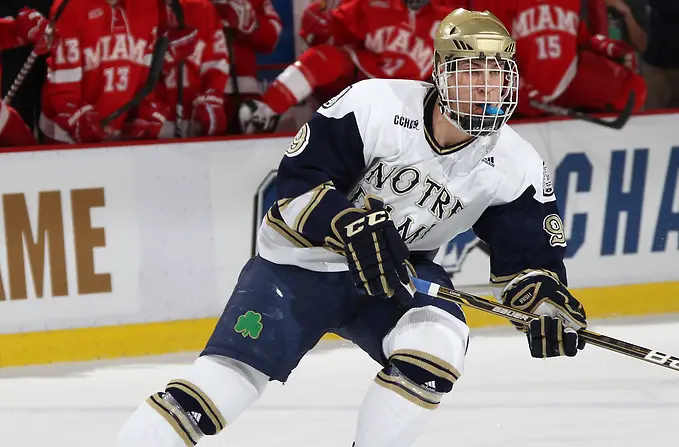 He hopes longtime Islanders linemate John Tavares will be at his side again come September, although Tavares is due to become an unrestricted free agent on July 1.
"John is one of the top players in the league, and has been for a long time," said Lee. "The way he sees the ice, makes plays, and scores amazes me, and he's been a great teammate for the last 4-5 years. I look up to his focus, work ethic and leadership, and I've benefited playing with him and 'Bales' (Josh Bailey). We bring different aspects of our games, and it's something that's worked pretty well.
"Obviously, we want Johnny back, but he's earned the right to take his time and explore his options."
As an added bonus, with or without Tavares, the Islanders are scheduled to play some of their home games in the next few years at the rejuvenated Nassau Coliseum, home of the franchise's glory years and also the rink where Lee began his NHL career.
"It's as much the identity of the Islanders as anything," said Lee. "It's a barn we play well in, and the crowd is lively and into it. We're excited to come back, enjoy that emotion, and play some home games in our old barn."
And maybe pick up a few goals there en route to 40 — or more.