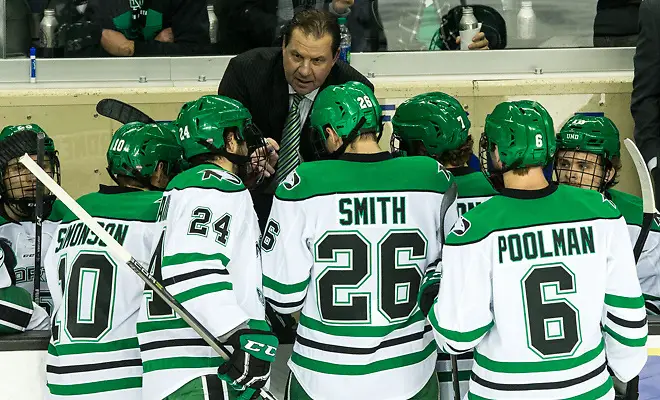 North Dakota announced Friday that head coach Brad Berry has been signed to a new five-year contract that will keep him behind the Fighting Hawks bench through the 2022-23 season.
Berry will make $400,000 per year, according to a school press release.
He began his head coaching career in 2015-16 by leading UND to its eighth NCAA championship, becoming the first person in the history of NCAA Division I men's hockey to win a national title in his first year behind the bench.
In his sophomore season as head coach, Berry guided the defending national champions to the program's 15th straight NCAA tournament berth, the second-longest streak in the history of the sport.
Over his first three years as head coach, Berry has amassed a 72-35-17 (.649) record.
"I knew one of the first things that needed to be done was to work on extending Coach Berry," UND athletics director Bill Chaves said in a statement. "Today, he is one of only seven active coaches to have won a national championship and that is a big deal. Brad epitomizes UND hockey and we could not be more excited that he will continue leading our historic program. Coaching stability is a key ingredient for success and today's extension provides us just that for our program."
"I would like to extend a sincere 'thank you' to UND president Mark Kennedy and athletics director Bill Chaves, as well as Kris Engelstad McGarry and the entire Englestad family for their continued and loyal support of the program," added Berry. "The University of North Dakota is a very special place and my family couldn't be happier to call it home. My staff and I look forward to continuing to add to the championship tradition built by those who came before us."