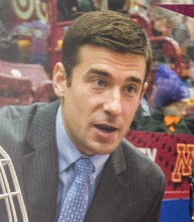 Garrett Raboin has joined the Minnesota staff as an assistant coach.
Raboin, who spent the last six seasons with new head coach Bob Motzko at St. Cloud State, will begin his role at Minnesota immediately.
Mike Guentzel was not retained by Motzko as an assistant.
"Garrett is one of the true up-and-coming star coaches in today's game, and I couldn't be happier to have him join our program," Motzko said in a statement. "We're fortunate to have him on our staff as an assistant coach, and our players and our program will benefit greatly from his enthusiasm and passion for the sport of hockey."
"I'm excited to join the University of Minnesota and the Gopher hockey program," added Raboin. "I have a lot of respect for this program, its history and its traditions, and I can't wait to get to work right away. I want to thank Coach Motzko for this opportunity. Bob has been a great mentor to me over the years as a player, a coach and a person, and I'm excited to join him here at the 'U.'"
As a player, Raboin was a three-year captain for St. Cloud State and led the team to three NCAA tournament appearances.