Though many people had assumed it was only a matter of time before former Denver coach Jim Montgomery left the Pioneers for the NHL, according to Montgomery, he wasn't actively working to make that happen.
Regardless, Montgomery was announced as the next coach of the Dallas Stars last week.
"I don't think it was because we loved every part of being here at Denver," said Montgomery of whether he planned to go to the NHL. "It had to be a right situation with the right people, and it got to that point, and obviously financially there's a tipping point, right? And (Dallas) hit that tipping point. So, then you look at the people as well and then if I can go to the next level where I want the challenge and then also go ahead and take care of my family better, I mean it becomes a no-brainer at some point."
Even then, it doesn't seem to have been an easy decision for Montgomery to make, as he greatly enjoyed his time at Denver, where he compiled a 127-57-26 record and led the Pioneers to one NCHC regular-season championship, two NCHC Frozen Faceoff championships, and the NCAA championship, the program's eighth, in 2017. He twice led Denver to the Frozen Four and twice also took the team to the final eight.
In the NCHC, Montgomery posted a 70-35-15-9 record, making Denver the winningest program in the league's five-year history. He also became the fastest coach to achieve 100 career wins. Denver was the third winningest program in college hockey during Montgomery's tenure. For those accomplishments, he was a finalist for the Herb Brooks Award as NCHC Coach of the Year in both 2016 and 2017, and in 2017 won the Spencer Penrose Award as national coach of the year.
"I guess the statement I would make is how much I'm going to miss it here," said Montgomery. "You know, so many great relationships, not only with the student-athletes and obviously my staff but (current athletic director) Peg Bradley-Doppes, (incoming athletic director) Ron Grahame, and people that have meant a lot to me in my development as a professional."
Some observers might say that Montgomery is getting out of Denver at the right time.
Two-time Mike Richter Award finalist and 2017 winner Tanner Jaillet graduated this season, and the team's gifted offensive stars, Troy Terry, Dylan Gambrell, and Henrik Borgström all left early and signed NHL contracts after Denver was eliminated by Ohio State in the NCAA tournament quarterfinals. Rugged defenseman Blake Hillman also signed early, and two regular defenseman, Tariq Hammond and Adam Plant, both graduated.
According to Montgomery, however, Denver should be fine next year. He even compared them to the Minnesota Duluth team that won the national championship this year after losing half its starters and six of its top eight scorers after losing to Denver in the 2017 national championship.
"Oh, I think it's going to be a retool year," Montgomery said. "We have a lot of talented recruits coming in, and we have a lot of players that were here that are going to emerge that were freshmen that didn't get the opportunity that they were used to getting in junior hockey. You know, there's going to be youthful mistakes. I think it's going to be a little bit of peaks and valleys for the first two months, but I have a lot of confidence in the ability of the student-athletes and (current assistant coaches) David Carle and Tavis MacMillan of being able to keep the torch going in the right direction. And I think by the end of the year, they're a team very similar to Duluth in the sense this year that they're going to be way better in the second half than the first half and have an ability to make a run."
With the departure of any coach, there is always speculation too about whether incoming recruits might decommit and look to play elsewhere, but because of Carle and MacMillan, Montgomery doesn't think that will happen.
"You know, I've communicated with quite a few (recruits) already, and the amazing part was they were outstanding," said Montgomery. "A lot of them contacted me through text messages first congratulating me. A couple of them asked if the Dallas Stars could draft them this year (laughs). But with that, I don't see it because of how good Tavis and David Carle have been at creating relationships. They know University of Denver hockey is going to be in good hands."
Montgomery is the second NCHC coach to make the jump directly from the college ranks to the pros, after former North Dakota coach Dave Hakstol left for the Philadelphia Flyers in 2015. Montgomery and Hakstol join former Western Michigan coach Jeff Blashill in the league, who coaches Detroit. That means that all three NHL coaches who coached NCAA hockey were with NCHC programs, though Blashill coached Western when the program was in the CCHA.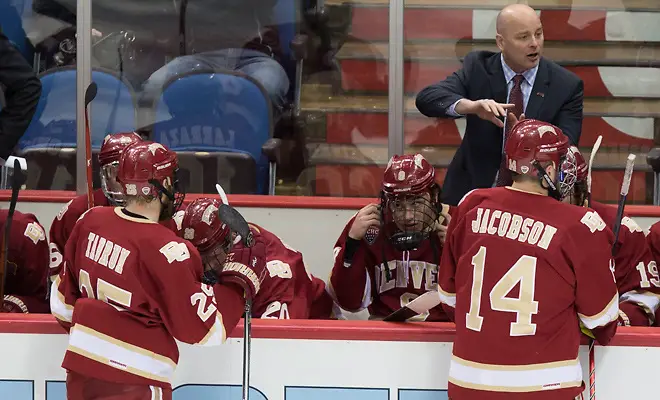 "I think it's obviously an awesome thing about the NCHC," said Montgomery. "I mean, the players that are scoring at an elite level, the players that are making the NHL at an elite level from the NCHC, and now it's the coaches that's happening. We often talk amongst ourselves, the coaches, that this is a 3-2 league just like the NHL is. You know every game is going to be a one-goal game, and it's kind of prepared us for the NHL."
In addition to the four who signed at the end of this past season, several other former Pioneers that Montgomery coached are in the NHL, including Will Butcher and Danton Heinen.
Montgomery joked about the edge that might give him when he faces his former players next season.
"Last week, I was able talk to Troy (Terry) and Blake (Hillman) because they're here, and then I've texted with Dylan (Gambrell) and 'Nikki' (Borgström) and also Heinen and (Trevor) Moore and Butcher. I mean, when you're part of something special like we have here at Denver, I think you're all happy for each other's successes. And that's a family, right?
"But I know their strengths, I know their weaknesses, so I know how to shut them down (laughs). But that's the part that's going to be fun. Same thing when I play the Bruins or I play the Devils, seeing the Pioneers have success. I'm going to wish for them to have success, but there's no doubt who I'm going to want to end up on the right side of the scoreboard at the end of the night."

The obvious question now is who will replace Montgomery at the helm.
The Pioneers have announced a national search, and have already been in touch with several candidates. Nothing is set right now, but Montgomery is pushing strongly for his former assistant Carle to take over.
"I don't think I've made it a secret who I want to replace me, but you know, I want what's best for the program, and I want this program to remain great like it has been for the past 22 years and for that to continue," Montgomery said. "I understand they have to go through their process to make sure that they get the right person. I have a lot of confidence. I know what David Carle did in front of me when I hired him, so I have a lot of confidence in how bright he is and how well he interviews.
"I think David Carle is going to carry the torch extremely well. And the reason I say that is, one, the most influential book I've read is 'Good to Great.' You read that book and you read why high-level CEOs that are five-star CEOs, they leave and they hire from within because they know the culture. They understand the quality and the effort and the time put in to doing things the right way.
"And we have a talented young man, and he is extremely talented, like people don't realize that. In the national championship game against Duluth after the first period, I always do this: what do we need to do different? He said we need to go up to strong side in the neutral zone. Well, we get two goals because of it. We switched our game plan, and he's ready."