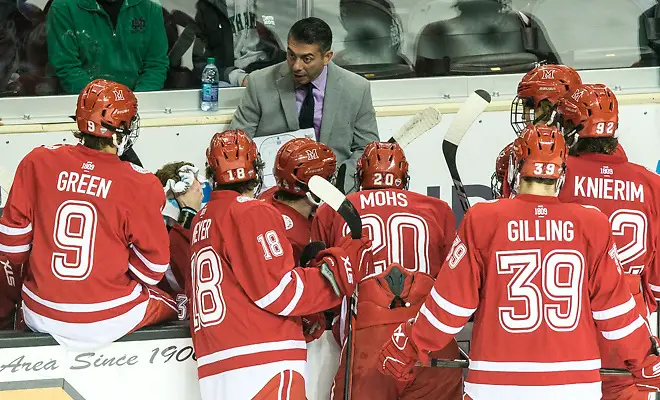 In D-I men's hockey, once a team's season ends, speculation almost immediately begins about whether players will leave early.
That "will they or won't they bolt for the pros" adds a layer of uncertainty to programs trying to plan for the next season. Sometimes, players even bolt later than anticipated, as was the case last year with Adam Johnson of Minnesota Duluth, who signed in July 2017 with the Pittsburgh Penguins.
For Miami, this offseason has seen more than the usual share of changes.
Right after the season ended, the school announced it was severing ties with assistant coaches Brent Brekke and Nick Petraglia, who were leaving the program to "pursue other opportunities." Brekke had been with Miami since 2008, and Petraglia since 2010.
At approximately the same time, junior Kiefer Sherwood, one of the team's top scorers last season, signed a contract with the Anaheim Ducks and gave up his senior year of eligibility.
Further, sophomore Carson Meyer, coming off a disappointing season that saw his point production drop from 26 points his freshman year to 10 last season, announced last week that he was leaving Miami and transferring to Ohio State. Meyer also revealed that part of his production issues were due to an undiagnosed tapeworm.
"I mean, any time you lose a player from your team, especially with what Carson had to go through, we feel really terrible about it," said Miami coach Enrico Blasi. "We care about him a lot. We want him to be healthy and happy, and we wish him the best. His decision to leave was solely his decision, and I respect that and I think his teammates respect the fact that he needs a change."
However, Miami has received some good news and stability recently. Juniors Josh Melnick and Grant Hutton, the team's fourth- and fifth-best scorers last season, respectively, announced that they would return for their senior seasons, hoping to help lead Miami back to the top in the ever-competitive NCHC. The two were also named co-captains for next season's team.
"Especially when you talk about two young men that you could have had an opportunity to sign pro contracts, or least explore them very deeply, it just means that we have a couple of guys who are very committed to coming back and helping our program get back to where we need to be, and I think both Josh and Grant have very high compete levels in terms of what they do on the ice, but they're also very caring and very thoughtful people off the ice," said Blasi.
For their part, both Melnick and Hutton are excited about the challenge and optimistic about where Miami is headed on the ice.
"From an academic standpoint, being so close to graduating and getting that degree was extremely important for me and my family," said Hutton. "On the hockey side of things, we haven't been where we want to be the last three years, and we really feel like we have the potential and the upside to compete for the national championship and NCHC championship. It was important to me to come back. We take a lot of pride in leaving the program better than we found it, and I feel like we have that potential to do so."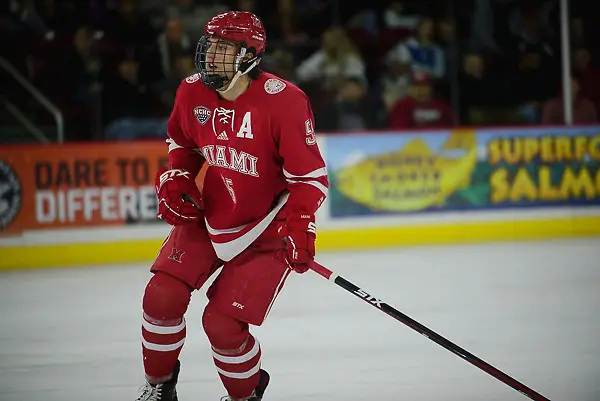 "I'm excited for next year, and that's one of the main reasons I decided to stay," added Melnick. "I think we are headed in a really good direction, especially in this off season. We just have sort of a different energy in the locker room, and guys are very positive."
Losing their classmate, Sherwood, early to the NHL certainly won't make Miami's path easier next year, and it could have provided additional temptation for Melnick and Hutton in the offseason.
"I played in Youngstown with Kiefer, so we had been together for five years now, and we were roommates our freshman year, so it was kind of tough," said Melnick. "Both of them (Sherwood and Meyer), totally respect their decisions. They need to do what's best for them, and no hard feelings at all. Happy for them. We could've used them, but I think we're in a great place right now."
One other change is that Miami announced former Denver standout goaltender Peter Mannino will be joining the team as an associate head coach. Last season, Mannino worked as an assistant with NCHC rival Omaha.
"I've known Peter a long time," said Blasi. "He's a young, energetic, good hockey mind. He's hardworking, somebody that brings a lot of energy to the coaching staff, and I think we're excited to have him here. He's done a great job so far in his short coaching career."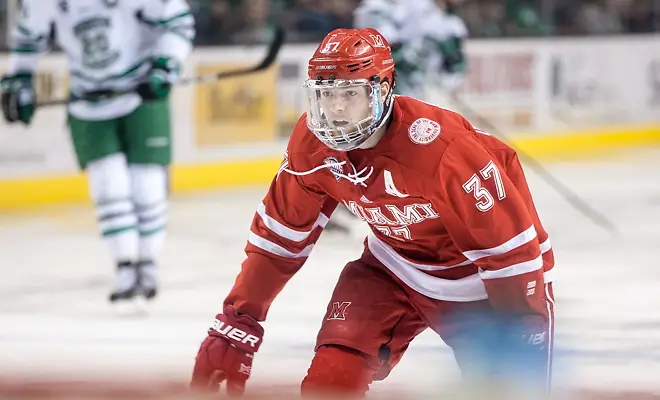 For those wondering how a team that only won six games in the NCHC last year can look to return to the top of the heap, there is plenty that Miami can look to from last season.
Though the RedHawks finished last in the NCHC, they only finished nine points behind fourth-place North Dakota for the last home-ice spot. Further, the team had been playing good hockey going into the break, with wins over No. 5 Cornell and No. 11 Western Michigan, and came out of the break and beat No. 4 Denver. However, in its second weekend of the second half, the RedHawks got swept by Omaha, including an 11-7 loss on Jan. 12, and that precipitated a slide that saw Miami go 1-10-1 over its next 12 games. Despite that, they regrouped and took No. 1 St. Cloud to a deciding third game in the first round of the NCHC playoffs, falling in overtime.
"I mean, we preach this all the time, and you're probably sick of hearing it, but it really comes down to the little details," said Hutton. "We feel that we are playing in the best league in college hockey. You look at the margins of the games, usually they are one- or two-goal games. It comes down to who's going to make the most mistakes, because teams are so good. When you are playing against the North Dakotas and the Denvers and the Duluths, you make one mistake, and it's in the back of your net. So I think it's really just about playing a consistent game."
While it is the offseason, the RedHawks have been able to enjoy the success of one of their own, as former standout Reilly Smith has been a key cog in the Vegas Golden Knights' run to the Stanley Cup Final, with 18 points in 16 playoff games heading into Game 2 on May 30 against Washington. He finished the regular season with a career-high 60 points.
"Obviously as coaches, people associated with the program, it doesn't surprise us for one second to see him doing what he's doing at that level," said Blasi. "He was a talented hockey player for us, one of our go-to guys when he was here. He did those things in games and practices. He's always had a real good stick, good knack for the front of the net, very good at making plays, and he's really grown into that type of player at the National Hockey League level, which is obviously a huge step."