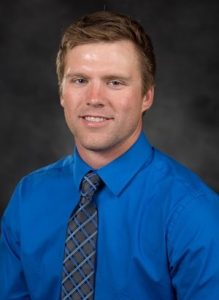 After an extensive national search, Wisconsin-Stevens Point announced Thursday that Tyler Krueger has been elevated to permanent men's hockey coach.
Krueger served as interim head coach for the 2017-18 season after former head coach Chris Brooks left for Michigan Tech in the summer of 2017.
"I am excited to announce that Tyler will continue as our head men's hockey coach," said UWSP director of athletics Brad Duckworth in a statement. "His familiarity with the program and his success as our interim last year made this a logical choice. The culture and recent success of our men's hockey program were built with Tyler as a member of the team and I am confident he will continue to succeed behind the bench."
Krueger led the Pointers to the Frozen Four in March in his first season at the helm. UWSP won the regular-season WIAC title with an undefeated 6-0-2 record. He led the Pointers to an NCAA tournament road win at Adrian in the second round to advance to Lake Placid.
"I am thrilled to become the permanent head coach of one of the premier men's hockey programs in the country," added Krueger. "I would like to thank Brad Duckworth and the entire search and screen committee for this opportunity. We are excited for the upcoming challenge to continue to sustain a championship culture here at UW-Stevens Point for years to come."
Prior to becoming interim head coach, Krueger spent three seasons as an assistant coach for the Pointers. While behind the bench, he helped UWSP win its fifth national championship in 2016.
Before moving behind the bench, Krueger was a four-year member of the UWSP men's hockey team. He skated in 79 career games with a pair of goals, 15 assists and a plus/minus of plus-34. Krueger was the Pointers captain on the 2014 team that reached the NCAA title game.
A Stevens Point native, Krueger graduated from UWSP in 2014 with a bachelor of science degree in health promotion and wellness.