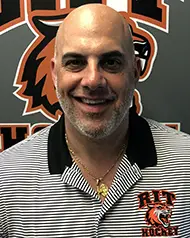 RIT announced Monday that Len Perno will join the men's hockey staff as a volunteer goaltending coach for the 2018-19 season.
Perno comes to RIT after serving as an assistant coach at nearby Geneseo for the last five seasons.
"Len has great qualifications and will be a great addition to our stuff," said RIT coach Wayne Wilson in a news release. "He will help in all facets of our game, in particular with our goaltenders. I look forward to working with him on our staff."
A Rochester, N.Y., native, Perno played three seasons for the Rochester Jr. Americans before heading to Oswego, receiving his bachelor's degree in public justice and a minor in athletic coaching in 1995.
From there, Perno played three seasons at the professional level with Reno of the defunct WCHL, Knoxville of the ECHL and Binghamton and Rochester of the AHL.