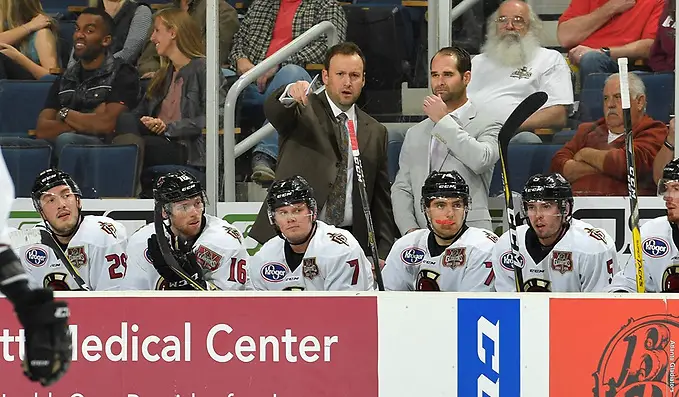 Rensselaer announced Wednesday the hiring of Chuck Weber as assistant men's coach.
Weber, who has 19 years of professional hockey coaching experience, spent last season as head coach with the ECHL's Atlanta Gladiators.
"We are excited to have Chuck join our staff — his love for the game of hockey as well as his values and expectations are directly aligned with those of our hockey program," said RPI coach Dave Smith in a statement. "He comes to RPI hockey with a tremendous understanding of how to develop players and people. He has been a head coach for a long time, developing players for the highest levels of professional hockey and those experiences will resonate with recruits and our current players as each of them pursues a career playing pro hockey."
An assistant coach with the AHL's Rochester Americans in 2016-17, Weber spent the previous two seasons as the head coach of the Coventry Blaze in Great Britain.
"I am thrilled to be joining Coach Smith's staff," added Weber. "It is a privilege to be part of such a storied hockey program and I look forward to working with and developing RPI's student-athletes, both on and off the ice."
Leading the Blaze to a playoff championship in 2015 before finishing runners-up in 2016, Weber also led the Great Britain men's national team to a silver medal at the 2016 World Championships.
A stint with Medvescak Zagreb Hockey Club in the Kontinental Hockey League (KHL) in 2014 was preceded by two years with the AHL's San Antonio Rampage.
Weber was the head coach and VP of hockey operations for the ECHL's Cincinnati Cyclones from 2006 to 2010, winning the Kelly Cup in 2007-08 and 2009-10, as well as the Brabbam Cup in 2007-08. The runner-up for ECHL Coach of the Year in 2006-07, he led the Cyclones to a 37-29-6 mark that season.
He was an assistant with the ECHL's Utah Grizzlies during the 2005-06 season and was the assistant director of hockey operations for the ECHL's Augusta Lynx from 2003 to 2005. Weber also spent time as an assistant coach with the AHL's Milwaukee Admirals and ECHL's Trenton Titans (ECHL) in 2002-03 and 2003-04, respectively. His professional career began as the assistant coach and video scouting coordinator for the Orlando Solar Bears in 1999.