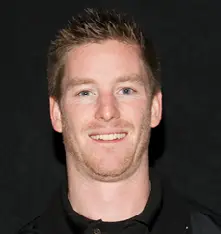 St. Benedict has named Nick Thibault as the new head coach for the school's women's program.
Thibault will start in his new role in July.
"After a competitive and robust search, we are pleased to announce the selection of Nick Thibault as the next coach for CSB hockey," said St. Benedict VP for student development Mary Geller in a statement. "Nick's knowledge and passion for the sport, his understanding of the Division III values and his commitment to developing women athletes was evident throughout the hiring process. He expressed a clear vision for the program and a successful track record, which leads us to have great confidence in his ability to coach the program. He joins an outstanding athletic department, and we look forward to welcoming him to Bennie Nation. We share in his excitement to take our program to a new level of performance."
Thibault comes to St. Benedict with a successful coaching background. For the past three seasons, he has served as the head coach for both the St. Cloud Cathedral girls soccer program and the St. Cloud Icebreakers girls hockey team. The Icebreakers went from 8-15-2 overall in 2014-15 to 18-6-1 and a second-place conference finish in Thibault's first year at the helm in 2015-16, and the team won 17 games in each of his next two seasons. He is 54-22-4 in three seasons as head coach.
Prior to his time as head coach at Cathedral and with the Icebreakers, Thibault served as an assistant coach for the Cathedral boys soccer team and the school's boys hockey team, as well as the girls soccer team. He is a 2014 graduate of St. Cloud State, and received an MBA from Grand Canyon University in May.
He played hockey for the Granite City Lumberjacks (now of the Tier III NA3HL) in the 2007-08 season.
"I'm extremely excited to be joining the College of St. Benedict community," Thibault added. "This is a terrific opportunity for me and a dream come true. I look forward to the challenge of building this program and instilling a culture of excellence and tradition. I would like to thank Mary Geller and Glen Werner for displaying confidence in my abilities and giving me the opportunity to lead CSB hockey."
Thibault takes over a team that finished 2-21-1 in 2017-18, but returns three of its top four leading scorers.
"Nick comes to us with a solid background in athletics and brings a wealth of knowledge and passion for coaching," noted CSB athletic director Glen Werner. "Nick has shown an ability to transform programs to get results, and I'm looking forward to welcoming him to campus to begin preparing for next season."