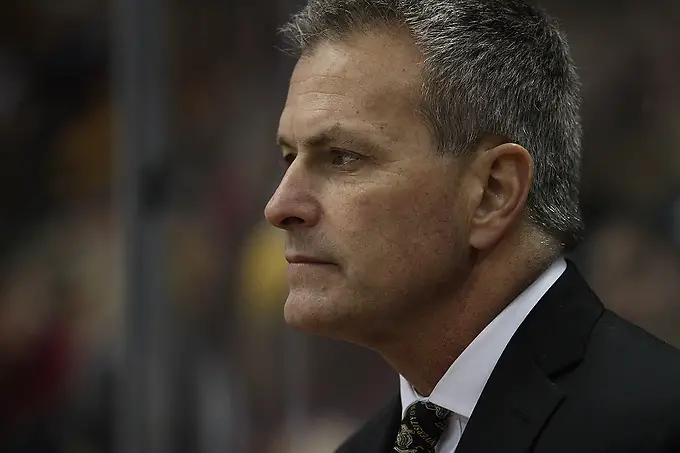 Alaska announced Thursday that former coach Don Lucia will be the fourth inductee into the Nanook Hall of Fame's Class of 2018.
The induction ceremony and brunch will take place on Saturday, Sept. 22 at the Westmark Gold Room in Fairbanks from 10:30 a.m. to noon Alaska time. Tickets to the event are $35 per person and will be available for purchase online in August.
Lucia was the first official assistant coach for the Nanooks hockey team as they transitioned from an NCAA Division II program to Division I prior to the 1981-82 season.
Lucia served as Shafer's assistant from 1981 to 1985, with the duo amassing an overall record of 64-45-1.
Following the 1984-85 season, the Nanooks moved on from an NCAA Division II independent program to a Division I team in the now-defunct Great West Hockey Conference. Lucia made the move to Alaska Anchorage to serve as the assistant coach for the Seawolves from 1985 to 1987.
After Shafer's resignation in the spring of 1987, Lucia returned to Fairbanks to become the Nanooks' third head coach. In his first season as coach, Lucia guided Alaska to a 20-9-2 season in NCAA play, eventually claiming the program's first and only conference title, and was named GWHC's Coach of the Year.
In the 1988-89 season, Alaska moved out of the GWHC and into a D-I independent. Lucia stayed on as head coach for the Nanooks for a total of six seasons (1987-93), earning an overall record of 99-97-19 and an NCAA record of 85-93-7.
Following the 1992-93 season, Lucia moved on to become the head coach at Colorado College (1993-99) and eventually, Minnesota (1999-2018), where he recently resigned. Lucia has gone on to collect two NCAA national championships (2002, 2003), four regular-season titles (2014, 2015, 2016, 2017) and four NCAA Coach of the Year recognitions.