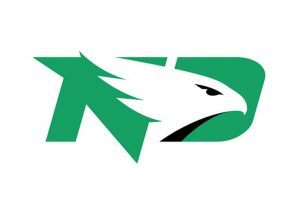 Eleven former members of the since-cut North Dakota women's hockey program filed a class action discrimination lawsuit against the North Dakota University System in U.S. District Court on Tuesday with the goal to get the program reinstated after it was cut in March 2017.
The lawsuit claims UND violated Title IX through the selection of sports and level of competition.
"We want the university to start playing women's ice hockey again," said Dan Siegel, the attorney for the players, to the Grand Forks Herald.
Siegel was also former Minnesota Duluth women's coach Shannon Miller's attorney when she sued the school after not renewing her contract. She was awarded nearly $4 million by a jury in March.
Siegel also said that the UND players are not seeking financial damages outside of court costs.
"I'm hoping UND would decide to take the right approach to this case and will agree to sit down and see if we can work it out," Siegel added in the report. "The sooner we work it out, the sooner the program could be put back to work and the less money UND will spend fighting the case and less money we will spend fighting the case. Hopefully, we can get an early resolution."
UND spokesman Peter Johnson told the Herald said that "the University of North Dakota doesn't typically comment on legal actions that are in process."
The 11 former players named in the lawsuit are Breanna Berndsen, Kristen Campbell, Charly Dahlquist, Taylor Flaherty, Ryleigh Houston, Anna Kilponen, Rebekah Kolstad, Sarah Lecavalier, Alyssa MacMillan, Annelise Rice and Abbey Stanley – all were members of the team when the program was cut and had college eligibility remaining. Nearly all of them transferred to other schools.