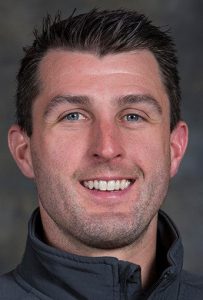 Providence announced Monday that Matthew Kelly has been named the sixth head coach of the women's hockey program.
Kelly joins the Friars after most recently serving as a head scout for USA Hockey and the women's national team. His primary responsibility was to oversee and maintain the player pools for the U-18, U-22 and women's national teams. He recently captured a gold medal with the women's national team at the 2018 Winter Olympics in PyeongChang.
"We are excited to welcome Matt Kelly as head coach of our women's ice hockey program," PC athletic director Bob Driscoll said in a statement. "He has extensive experience as a coach and he has a proven track record on the recruiting trail. As a scout for USA Hockey, he has continued to refine his skills as one of the top evaluators of talent in the women's game. We look forward to the future of our women's hockey program under Matt's direction, and competing for Hockey East championships and returning our storied program to the national stage."
Kelly replaces Bob Deraney, who was not retained for the 2018-19 season after 19 seasons coaching the Friars.
Prior to USA Hockey, Kelly served as an assistant women's coach at Clarkson, helping guide the Golden Knights to a national championship in 2014.
In addition to his coaching experience at Clarkson, Kelly also spent time coaching at Quinnipiac (2007-08) and his alma mater, Wayne State (2006-07).
A 2007 graduate of Wayne State, Kelly holds a bachelor's degree in media arts and studies. As a goaltender for the Warriors, Kelly earned All-CHA Second Team honors in his senior season. He served as a captain and was named the CHA Three Star Award recipient in that season as well.
"I want to thank Father Shanley, athletic director Bob Driscoll and associate athletic director Kyle Murphy for this tremendous opportunity," Kelly added. "The vision, support and rich women's hockey history at Providence College are second to none and my family and I are excited to be a part of the Friar family."