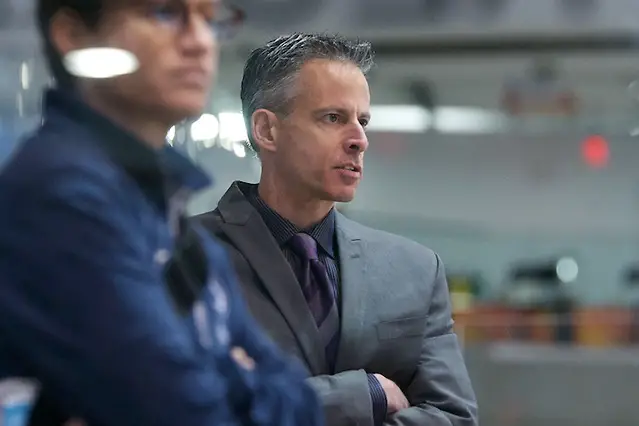 Alvernia announced on Monday the hiring of Josh Brandwene as the inaugural women's head coach.
Brandwene joins Alvernia's staff after serving as the first head coach of Penn State's women's program.
With the Nittany Lions for five seasons, Brandwene guided the program to a third-place finish and two CHA tournament first-round victories and semifinal appearances. Brandwene also led the team to a perfect four-year NCAA Academic Progress Rate, which measures Division I student athlete retention and eligibility.
"We are excited to be starting our new women's ice hockey program," said Alvernia director of athletics Bill Stiles in a statement. "Josh had success building an NCAA program from the ground up, and we are thrilled to add him to the Alvernia family.
"The conversations we had with Penn State administrators and student-athletes who played for Josh underscore his commitment to development on and off the ice. We believe he will be an excellent addition to Alvernia's athletics staff and are excited to see where he will lead the program."
Prior to his time at Penn State, Brandwene gained coaching experience at the men's collegiate level as well as at the boys and girls prep school level. From 2008 to 2010, Brandwene served as the head coach of the girls hockey program at the Kingswood-Oxford School in West Hartford, Conn., before taking over the boys' program from 2010 to 2011.
​​​​​​​Brandwene also has ACHA men's experience at Michigan-Dearborn (2003-04), Delaware's (1996-2003) and West Virginia (1994-96).
​​​​​​​A 1991 graduate of Penn State, where he was a four-year member of the men's hockey team, Brandwene as a three-time ICHL 1st Team All-Star, an ICHL MVP, and was a captain of the team his senior year. Brandwene is also a member of Penn State's Hockey Hall of Fame and the ACHA Hall of Fame.
"I am very excited to join an athletic department that is expanding intercollegiate athletics, and is committed to the growth of women's ice hockey," added Bradwene. "I'm honored to represent Alvernia University. I look forward to partnering with great colleagues, and building a quality women's ice hockey program."
Women's hockey will be Alvernia's 27th sport and competition will begin in the fall of 2019. Alvernia will be the fifth member of the Middle Atlantic Conference, which just wrapped up its inaugural season with Stevenson, Manhattanville, Lebanon Valley and King's all participating. Wilkes will join the league schedule in 2018-19 with Alvernia coming on board for the MAC's third season.
Alvernia is located in Reading, Pa.