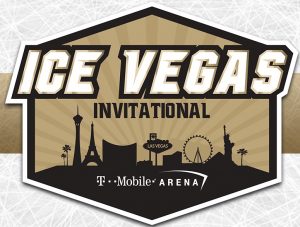 College hockey returns to T-Mobile Arena in January when four teams face off in the second-annual Ice Vegas Invitational.
The four-team tournament, featuring UConn, Air Force, Western Michigan and St. Lawrence, will be played January 4-5, 2019 as announced Monday by bd Global, who will promote the event in partnership with T-Mobile Arena, home of the NHL's Vegas Golden Knights.
The action starts on Friday, Jan. 4, 2019 with UConn versus Western Michigan at 5 p.m. PT followed by Air Force facing St. Lawrence at 8:30 p.m. The championship and consolation games will be played Saturday, Jan. 5, 2019, with game times both days scheduled for 5 p.m. and 8:30 p.m. All times are PST.
"We are thrilled with this lineup in year two of staging this tournament," said bd Global president Brooks Downing in a statement. "There's so much interest in Las Vegas and T-Mobile Arena from the college hockey community and that's largely due in part to the massive success of the Golden Knights. Hockey fans here in the Valley will be able to see some of the very best talent in the sport, future professional stars."
Tickets will go on sale on Friday, Sept. 21 at 10 a.m. PST at AXS.com or by calling 888-9AX-STIX. Ticket information and hotel room information can be found at www.icevegasinvitational.com.