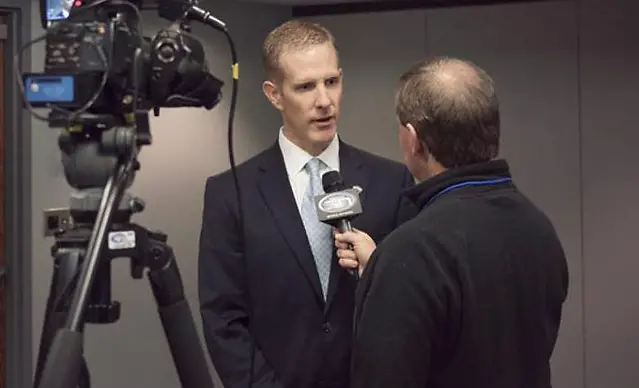 As analytics continue to dominate today's professional and collegiate sports landscape, with recent results and trends being scrutinized by teams in hopes of accurately predict an outcome, who could blame the St. Cloud State Huskies if they believe their time has come?
The Huskies finished atop the powerful National Collegiate Hockey Conference (NCHC) last season and entered the NCAA Tournament as the No. 1 seed. While they were upset in the first round of the tournament, with intrastate and intra-conference rival Minnesota Duluth eventually winning the national title, the Huskies again have the talent to be in the mix.
And then there's this eye-popping fact: The last three national champions — Minnesota Duluth, Denver (2016-17) and North Dakota (2015-16) represented the neophyte NCHC. If the streak continues, the Huskies can reason, they're the logical pick to be next.
The reality, of course, is that things are seldom that clear cut. But there is no debating that the NCHC has accomplished incredible things in just five years, with at least four teams regularly having an impact on the national level. The conference was created in July of 2011, largely due to the creation of the Big Ten Hockey Conference, which pulled Minnesota and Wisconsin from the longstanding Western Collegiate Hockey Association.
Along with the three NCAA titles, the conference has placed eight teams in the Frozen Four in its short history. Its winning percentage of .622 in non-conference games over the past five seasons is the best among the nation's six Division I conferences.
"I always say that we have the best conference," St. Cloud State senior defenseman JimmySchuldt said. "I'm sure others say that (about their conference), but it is hard to argue that we are not the best."
NCHC Commissioner Josh Fenton echoed Schuldt's take on the matter when he addressed the media at Xcel Energy Center in St. Paul, Minn., at the annual NCHC Media Day. There was nothing but good news to talk about, with the exception of highly regarded coach Bob Motzko leaving St. Cloud State to coach at the University of Minnesota.
There's little sign of bad days ahead at this point. Minnesota Duluth is No. 1 in the USCHO.compreseason poll, with St. Cloud State at No. 6, Denver at 9 and North Dakota at 11. Colorado College, Nebraska Omaha, Miami and Western Michigan will strive to increase their footprint on the national scene.
"I think this is going to be another one of those years," Minnesota Duluth coach Scott Sandelin said when asked about the conference's success. "I think this might be one of the strongest years. Some teams just keep getting better, which is good because it pushes all of us. I'm not guaranteeing that we will be holding the national championship trophy in our league again, but I certainly believe there are the makings of teams in this league to do it again."
Sandelin mentioned a number of factors that he believes have contributed to the conference's success.
"When you look at the programs … strong coaching, guys recruit really well," he said. "Every weekend is a different challenge. There is no easy weekend in college hockey, especially when you get into our league. And I think the success of our league has made it attractive to players to come and play in."
Schuldt said that while he never could find himself rooting for Minnesota Duluth, he did feel a sense of pride when another NCHC team took home the national title last April. It also adds fuel to the rivalry when the two teams meet this season, a situation that breeds a widespread commitment to excellence.
"In our conference, every weekend you are playing a quality opponent," Nebraska Omaha coach Mike Gabinet said. "As a coach there's no better way to get better than to have that type of opponent coming at you every weekend. Our guys enjoy it, and I enjoy getting ready for those teams. When you are surrounded by other great people in drives you to continue to get better."
Things appear just as rosy for the conference off the ice. NCHC.TV, the conference's digital network, had a 40 percent increase in subscribers last season, according to Fenton, who added that 85 percent of the profits were distributed among the member teams. Overall, the conference has been profitable over the five years, Fenton said, with money being allocated to each teams this fall for the first time.
Indeed, the conference finds itself in a very nice place, which leads back to Xcel Energy Center, now the permanent home of the NCHC's conference tournament until further notice.
The 2018 Frozen Faceoff moved to "the X," the home of the Minnesota Wild, last season after four years at Target Center in Minneapolis, the home of the NBA Timberwolves. Last year's event established new marks for tickets sold and overall revenues, making for a happy marriage.
"It goes beyond finances," Fenton said. "It goes to the overall experience we can give our fans and our student-athletes at a neutral site venue. In particular, one of the best venues in the National Hockey League.
"Going back to our first year, when we were looking for a tournament site, it was the Minneapolis/St. Paul area that we were focusing on. The passionate hockey fan base was already here. If there is a market that makes sense as a neutral site, this is the market that we believe in.  We're happy and proud of being a small part of the hockey lore that has taken place in this area."
Fenton touched on a number of topics at media day, including possible expansion. When asked whether the NCHC is considering adding Arizona State, Fenton said there has been "little conversation" regarding ASU or other programs being added.
"I still see us a conference that is growing and evolving, with things we have to get better at," Fenton said. "So while we are mindful of what goes on in the national landscape, we don't have a ton of discussion about expansion specifically. That topic, for me in particular, comes down to the general aspect of added value. Does it add value to the conference? The little time we've thought about it, the focus has always come back to the eight member schools."
While Fenton did say that it is unlikely that the conference expands in the near future, he added a caveat. "The reality is that today is today," he said. "Tomorrow is tomorrow, which could be very different."
To borrow a famous phrase from Broadway Joe Namath, the NCHC can't wait for tomorrow because it gets better looking every day.